New Forest Lepe Country Park
Coast, countryside and beautiful views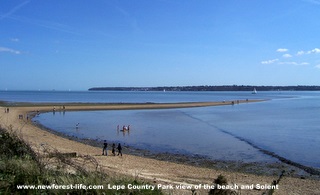 Lepe Country Park - the view across the coast

New Forest Lepe Country Park is a stunning place where New Forest coast and countryside meet and lots of WW2 history too. This is a great day out for all the family whatever age.
Here's what a visit to New Forest Lepe Country Park has to offer you: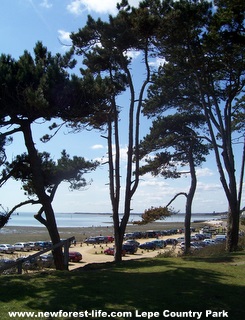 Stunning views across The Solent from Hurst Castle to the Spinnaker Tower in Portmouth
Family fun - pack a picnic and eat on the beach while paddling
Year long events for all the family
Wildlife watch - wading birds from the nearby nature reserve, beautiful butterflies from the wild flower meadows.
WW2 history - D Day remains and fantastic stories of the clever operations of 1944.
Walks and cycling routes for all
Quiz trails
Wildlife Days
Nostalgia Events
Arts and Crafts
Barbecue hire for family gatherings or large parties
Chargeable car park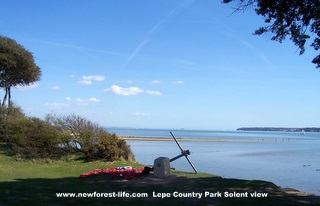 As well as all this you can get:
Meals and snacks - sit down or take away at the beach front cafe.


Dogs are welcome in many areas depending on the time of year.


Disabled facilities and access in most places apart from steep or rough terrain


Toilets for disabled access and baby changing areas too
What would I recommend?
If you are a family with children - go at any time and just enjoy the stunning views, the beach, the walks and perhaps a cycle along the paths.
If you are an older couple I would go out of school holidays to really enjoy the WW2 history, the views and the close proximity of the Isle of Wight - it's seems like just a few hundred feet away.
You can wander around, have a paddle, watch the wading birds, soak up the sun and views and enjoy the feeling of space, hopefully with peace and tranquility.
There is lots going on in the beautiful New Forest Lepe Country Park and the forest really does go down to the Solent here. For more details
Address for SatNav: Lepe, Exbury, Southampton. SO45 1AD.
Telephone: 023 8089 9108
Email: rh@hants.org.uk
Web for Lepe Country Park
To view from WikiMapia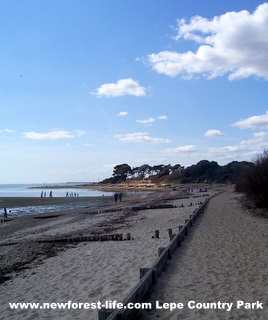 If you need to purchase anything before your day out from a beach ball to a portable table and chairs look on Amazon below :-
I hope you really enjoy your day out at Lepe Country Park. It's a great way to explore the fantastic New Forest coast, enjoy the views, explore by walking or cycling and also learn some WW2 facts too. It is open every day of the year from 7.30am to dusk so you should find lots to explore and enjoy.
To explore this fabulous New Forest Park you may need a good map, treat yourself to a personalised O.S map with your own picture as we have done :-

The latest New Forest National Park weather news is that its finally warming up at last.

Get my up to date news, views and photos on what I've discovered, or want to share with you.

I can tell you the best place to see pigs and other New Forest animals.

Please Contact me for any help.


Here's some really great news - you can now get your very own personalised Ordnance Survey map for any area of the UK you like.

This was kindly given to me recently. It shows the New Forest National Park on 1:50 000 scale and is my own personal copy with my website on.

A wonderful present for anyone!
Return from New Forest Lepe Country Park to Home page
Home | Contact Me | Terms of Use | About Me |