New Forest Horse Riding
A fantastic way to explore the National Park

New Forest horse riding - ready for a forest hack out - even on a dull day you'll get close to the National Park and all its wildlife.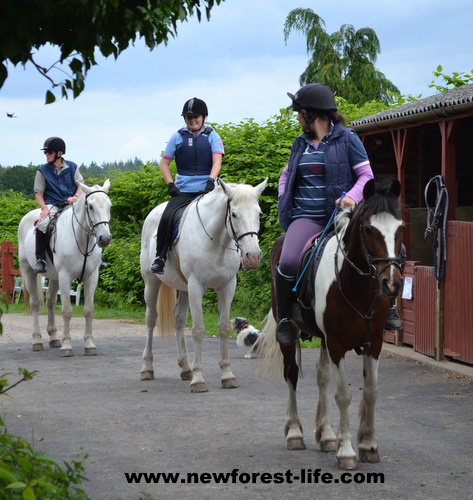 Let me recommend a New Forest horse riding experience I think you'll enjoy. It's a great way to discover the New Forest at its best. I don't make bookings for you and I cannot accept any responsibility for your New Forest horse riding experience, but I'm sure you'll enjoy it and have a wonderful time too.

I've just visited a lovely stables, next to a warm and friendly hotel which I would also recommend for that special, relaxing getaway break.

Sharon runs this yard. When I spoke to her recently she was really warm and welcoming with a great sense of humour.
She told me that they now have a lovely horse called Godfrey who can accommodate a human weight of 20 stone! rather him than me though? He really is huge but rather lovely.

Size isn't any issue here - There are also two cute and very speckly little Shetlands in the yard Sausage and Tomato you can see them below.
Here are 2 riders with one of the experienced and qualified staff ready to hack out onto the open New Forest.
Why do I recommend The Burley Manor Riding Stables?  Update: the website for the stables (and also on Tripadvisor) is not working so please ring the stables direct on 01425 403489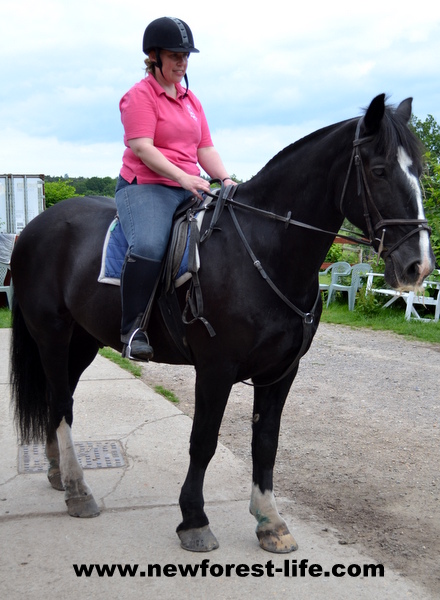 Here's how to book.
Ring the stables on 01425 403489 to get more details
Make sure you tell them your riding skills so they can match you with the proper horse or pony
The minimum age is for children over the age of 4 
Postcode for SatNav BH24 4BS

You can have a one hour ride which is for any standard of rider or a two hour ride for the more experienced rider.
Sharon has experienced and qualified staff on hand and is Association of British Riding Schools Approved. Can you imagine going out into the heart of the New Forest - on a horse ride - what will you experience on the way? All the New Forest ponies and other animals will take much less notice of you as you mingle amongst them - they will be less aware of you, and probably come up closer, as you'll smell more of horse to them than human!
I've always found when I've been riding that you can get a much better experience of nature from the back of a horse - give it a go - I know you'll love it.
If you stay at the Burley Manor Hotel for a weekend break, you can let the hotel make the booking for you, then it can fit in with your plans for your relaxing getaway break.
New Forest Burley Manor Riding Stables - the beautiful Bertie

If you want to search New Forest Life.com without using the navigation bars on the left, then here's a really useful Google tool. Just put your search details e.g. pigs in the search box and hit Search and you can choose to search my site or go onto the Web and come back to NewForest-Life.com.
Custom Search
New Forest Burley Manor Riding Stables - Sausage and Tomato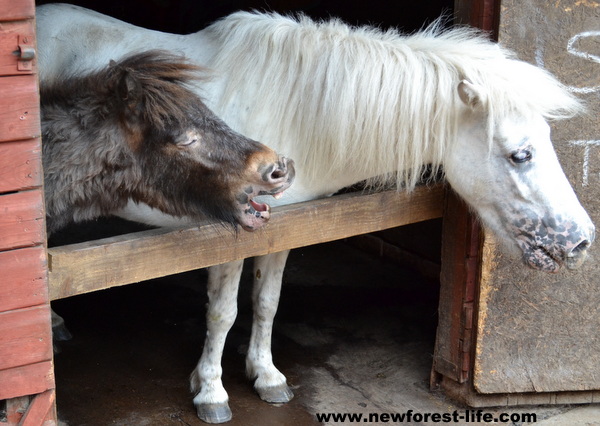 Make your New Forest getaway break that little bit more special by booking a one or two hour New Forest horse ride in the beautiful New Forest - you'll remember it forever.
I would recommend these New Forest horse riding stables. This is a well run, clean and well kept New Forest horse riding stables and the staff are friendly and helpful. The horses all looked lovely, well looked after and happy.
To really enjoy New Forest horse riding at its best you will need a bright but not too hot, sunny day - we wish!
Back from New Forest horse riding to Home Page

Home | Contact Me | Terms of Use | About Me |