New Forest Pigs and Piglets
- a life of swine!
New Forest pigs and New Forest piglets
New Forest pigs and piglets provide a laugh a minute, if like me you are able to share your life with them and their daily antics.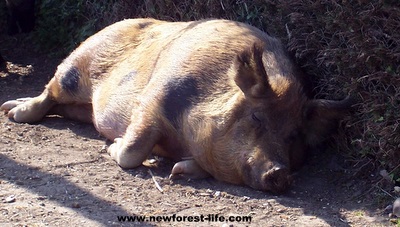 Forest pig relaxing - they are stress-free!
I am lucky enough to live very close to New Forest pigs and piglets in the New Forest National Park.
If you visit around October you should be lucky enough to spot pigs in the open New Forest. They will have been put out on the Commoners Right of Mast. Here's what this means

Common of Mast
The right to turn out pigs during a season known as Pannage.
The start date of Pannage is decided by the Verderers but it always lasts for 60 days.
The Verderers announce the start of pannage when the acorns begin to fall in autumn. Pigs eat green acorns and beech nuts, which would otherwise be poisonous to ponies. Pannage dates are extended for 2013, now up to 15 December, due to the dangerously high level of acorns out in the New Forest this year. They are poisonous to the ponies and can easily cause a painful death.
Look at my latest New Forest piglet video.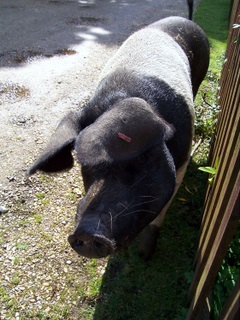 They eat the green acorns before the ponies can get to them, and so prevent the ponies getting the extremely painful, and potentially lethal condition called "colic".
The pigs and piglets will snuffle up as many as they can, and believe me, a full grown pig is a bit like a suction machine - everything goes!
Warning: never touch any New Forest animal unless you have the owners permission, for your own safety please.

We have a couple of pigs who pass by each day. We have called them Grandma and Mama - very soppy and sentimental but who cares?
The black and pink pig "Grandma" really is lovely - yes pigs can be described as lovely. She will communicate through a series of meaningful grunts and likes to have her ears tickled.
She is very clean, contrary to myth that pigs are dirty animals, and only occasionally gives off a heady aroma of warm pig! When she had her first brood of piglets she had 8. Six survived and we had hours of fun as they grew up around us.
They would greet us and play with our trainer laces.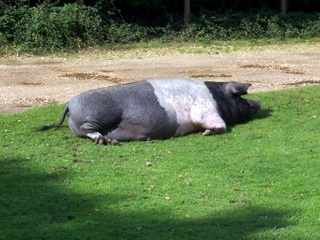 One day my son was tickling a piglets belly and, like a puppy he put his little trotter in the air for a bigger tickle, unfortunately he was on a slope and slipped down the hill!
Pigs do get run over on the New Forest roads. Like all animal accidents they are very upsetting! My animal road deaths and accidents page gives you some helpful safety tips to keep the animals and yourselves safe on our New Forest roads.
If the pigs are out there are piglets about too - so this is doubly bad news for a forest animal.
Would you like to have your say on animal accidents - here is your chance - just fill in the from and share your views with all of us!
Share your views on New Forest animal accidents.
What are your views on the New Forest accidents each year? Share it here!
What Other Visitors Have Said
Click below to see contributions from other visitors to this page...

sad world Not rated yet
I think sometimes that the world has become a really sad place. People just don't care anymore about eachother let alone animals. Is there any wonder why …
I hope you have luck seeing some Forest pigs and piglets if you decide to have a well earned holiday break or weekend away in the beautiful New Forest National Park.


If you want to search New Forest Life.com without using the navigation bars on the left, then here's a really useful Google tool. Just put your search details e.g. pigs in the search box and hit Search and you can choose to search my site or go onto the Web and come back to NewForest-Life.com.
Custom Search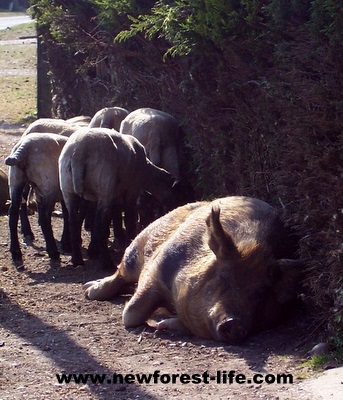 Forest pig and sheep sharing their space

Back from New Forest Pigs & Piglets to Home Page

Home | Contact Me | Terms of Use | About Me |