New Forest Canada Cross (Mogshade Hill) Memorial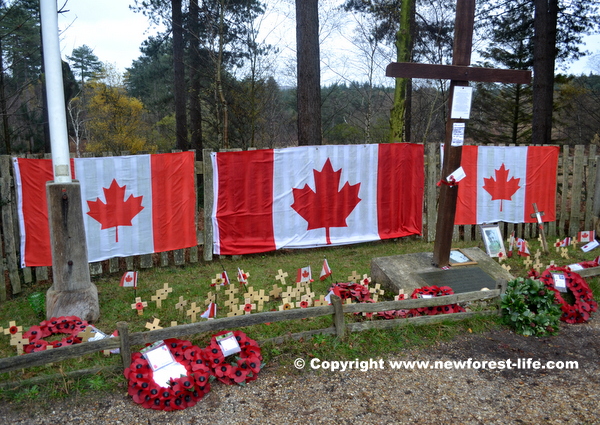 I recently visited this moving WW2 memorial to see the recently added flags and this years remembrance crosses and wreaths.
More personal photos of Canadian servicemen have been added amongst the crosses this year too. Each little cross has its own personal story behind it.
I go past here regularly and often stop off. Although it is set high on a hill (Mogshade Hill) once you enter the little gate you soon forget the wind blowing you about, as you read the personal messages and admire the little crosses set out.
I've noticed that the Harley Davidson Harley Owners Group (HOG) always lay a beautiful poppy wreath each year.
If you want to visit then head for Bolderwood either from the A35 Bolderwood Arboretum Ornamental Dr, Minstead, Lyndhurst, Hampshire SO43 7 (postcode is incomplete) or via Bramshaw/Brook by turning off the A31 at the Cadnam turn off towards Brook,SO43 7HE. It's not the easiest place to find but look at a map before you leave so you get the layout of the area. You'll see lots of lovely little donkeys too if you're lucky!
Continue reading "New Forest Canada Cross (Mogshade Hill) Memorial"