New Forest Luxury Caravan Pitches


New Forest Luxury Caravan Pitches at the Sandy Balls Holiday Centre have a lot to offer. Sometimes, if you go away you know you will have to sacrifice some luxuries. Not here - it really is all laid on for you when you book - you just need to relax and enjoy the beautiful New Forest surroundings and all the centre has to offer.
When I visited the guests all looked very relaxed and happy. Admittedly it was a bright sunny day, but it was October and many were sitting outside enjoying the late season sun.

When you book one of the luxury caravan pitches it has a grass surround and a 6 metre gap between each caravan. This made the whole area much more private than I would have expected.
I remember staying on a club site in Worthing years ago and we could have all shaken hands through the windows we were so close! It is not like this at Sandy Balls - they really have thought everything out well.
As I went round the luxury caravan pitches, I was starting to really regret selling my caravan, but I do live on the New Forest now and so it would have been a very short journey to stay here!
I feel this is a lovely site which offers a great holiday with wonderful surroundings and superb facilities.. all the luxuries of home (nearly) but in the New Forest. You have to like being around other people to obtain the level of luxury but perhaps that's worth it to you?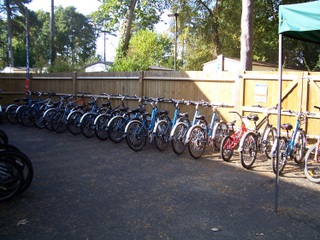 Here are just some of the facilities you'll be able to enjoy from your luxury caravan pitch

Bike hire

Fishing

Swimming pools

Woodland walks

Eating choices - bistro or pub food

Beauty treatments

Gift shop and general store
To find out more about making a booking for your holiday, get more caravan pitch information here.
Perhaps you would like to use WikiMapia to look at more detail of the New Forest?
If you use this map you can find exactly the area of your chosen campsite and what the nearby villages look like before you book WikiMapia
Would you like to be part of my monthly ezine New Forest Life Tales?
You can subscribe and it is free. You can be assured your details will not be passed on, they will only be used, by me, to send you this monthly update on what is happening n the beautiful New Forest and some of the animal adventures that happen to me.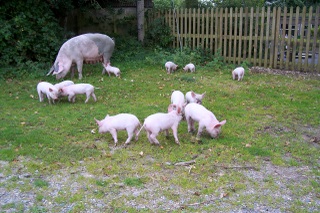 Look out for little piggies like these when you stay in the New Forest with your caravan! They will be around the New Forest during Pannage in October and November each year.

If you want to search New Forest Life.com without using the navigation bars on the left, then here's a really useful Google tool.
Just put your search details e.g. New Forest ponies in the search box and hit Search and you can choose to search my site or go onto the Web and come back to NewForest-Life.com.

You can check any accommodation through

You may need a map before you set off, why not treat yourself to a personalised O.S map with your own photo etc just as we have done :-




Get my up to date news, views and photos on what I've discovered, or want to share with you.

I can tell you the best place to see pigs and other New Forest animals.

Please Contact me for any help.


Here's some really great news - you can now get your very own personalised Ordnance Survey map for any area of the UK you like.

This was kindly given to me recently. It shows the New Forest National Park on 1:50 000 scale and is my own personal copy with my website on.

A wonderful present for anyone!




Back to Home Page from luxury caravan pitches