New Forest Film Festival 2011
Great films and live music too
New Forest Film Festival is about to take place for the second year from Sunday 11th September 2011 to Sunday 18th September 2011 and great news the bike is back too - by popular demand!
Why a New Forest Film Festival?
The New Forest Film Festival is an independent festival joining with other New Forest-based festivals each September to form the New Forest Festival - a "forest of festivals" – creating an annual community celebration of Film, Food, Storytelling, Music, Arts and Crafts, inspired by the natural beauty and cultural heritage of the New Forest.


Here are a couple of press releases to whet your appetite.
On Saturday 17th September we will welcome Richard O'Brien, creator of The Rocky Horror Show, to present his outrageous cult classic Shock Treatment ('not a prequel, not a sequel, but an equal!'),following the further adventures of Brad and Janet. Belting songs, hallucinatory colours, and a dazzling array of cameo performances (including Rick Mayall, Ruby Wax, and Barry Humphries) add cult appeal to this before-its-time gem, which effectively predicted the rise of reality TV. This will be followed by a Q&A discussion with film critic Mark Kermode (7pm, Brockenhurst College). Here's the one that is "green" and really made me laugh at the concept, and it was so good last year it's been brought back again! have you ever watched a film powered by bicycle before?
Sunday 18th September following on from last year's sell-out successful – a bicycle-powered screening of a silent film with live musical accompaniment from The Dodge Brothers and the UK's leading silent movie pianist, Neil Brand. This year they take the reins to provide sounds and songs of desperate times for the classic Russian film The Ghost that Never Returns. And it's all powered by 8 bicycles ridden by our bike team and any audience members who would like to join in. The event also includes the award ceremony for the festival's Short Film, Micro Film and New Forest Film Critic Of The Year competitions. Here are helpful links and more details for you.
New Forest Film Festival 2011 Events
Competitions
2010 Rave Reviews!
Official Festival Fringe info
New Forest Film Festival Organisers

As well as the New Forest Film Festival 2011, as part of the 2011 Forest of Festivals there are some wonderful events for you to experience at Minstead during September too.
New Forest Festival at Minstead is for all the family - there may even be some fairies too for smaller members of your family to look for and leave notes for at their little doors.
My Furzey Gardens Review explains just what happens at this beautiful New Forest village of Minstead. Imagine going to a festival in this idyllic setting?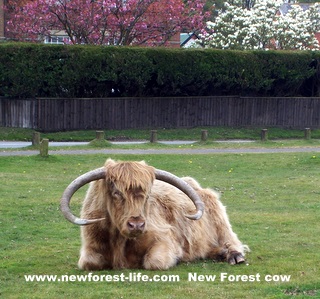 New Forest cow at Brockenhurst - she wont be at the New Forest Film Festival though!