My New Forest Horse Riding Tale
Thank Heavens for soft mud!
Welcome to my New Forest Life Tales Issue #007 March 2011.


New Forest Horse Riding - thank heavens for soft mud!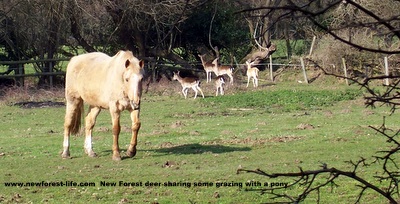 Ever since moving to the New Forest National Park I've dreamt of being able to go out across the stunning and often changeable New Forest landscape on a horse ride.
Thanks to some kind and generous friends I'm now able to achieve this ambition.
I've always passionately loved horses since learning to ride as a child in and around Richmond Park and Wimbledon Common. Part of learning to ride, as a child, often involves the odd (or very odd!) tumble. As an adult it is something you have to consider when you get back into the saddle again.
As a child I was once thrown firstly onto the horses ears where I stayed for a milli-second, before carrying on my journey to land in a huge soft puddle of mud. I must have blanked out for a moment because as I came round, with every orifice in my head filled with mud - eyes, ears, nose and mouth - I actually thought I was dead! Messy but nothing broken and so straight back on and on with the ride.
My New Forest horse riding experience is now from on the back of a lovely mare called Melody. She is around 15 hands, grey, with some flecks and likes she the occaisonal buck. Horse riding has always meant you can get really close to nature. Riding in the New Forest means you can get much closer to grazing New Forest ponies with their foals and cows with their often new born calves. Deer smell the horse as well as the human when you ride out. Last week we saw 2 pure white fallow deer eating the newly burnt gorse really close - all the New Forest animals love to munch at the charcoal gorse - it must be like eating very burnt toast!
A couple of weeks ago Melody seemed to be a bit hyper. We put it down to hormones and set off across the forest. We had come through a long and stunning valley, which changes colour, often by the hour, depending on the light and season. What an idyllic scene. We just had to cross a very muddy area where a hillside drained into the valley and head for home.
Melody had other ideas. She usually tries to have a buck here so I was quite prepared (or not as it turned out) for some naughtiness, before we headed up the hill. Stangely enough she tends to buck the most going up or down hills. We passed through the stream and the bucks started in earnest. I remember thinking she was throwing in a few more this time before I apparently called out "Melodyyyyyyyyyyyy" and found myself flat on my back, laid out in the mud!
Because I'd broken my finger and hurt my wrist in a dog walking injury 18 months ago, once I was sure I wasn't hurt I needed to know I hadn't rebroken my finger again. I actually found myself laying there, in the mud, with my left hand sticking up in the air! Everything whole - except dignity. A sight of true professional horsemanship!
My next priority, after finding no breakages or the need for an ambulance was to check Melody. Usually, when a horse successfully dumps you off (technical term!), if they are out with other horses - which we were, they just hang around and munch as much grass as they can, before being caught again.
Not Melody - on her hormone high she thundered off at breakneck speed, up the hill and out of sight. We were all stunned. We started to follow her trail up the hill. As we were nearing the top Melody came thundering back towards us. This was dangerous. Her reins were hanging down from her neck and could have caught a leg and she was travelling much too fast - down a hill, towards us and a very muddy valley. She came thundering towards me and I ducked behind an old post - the last thing I wanted after a successful landing was to be mown down and have a set of hoofprints along my body!
At the speed she was going she wasn't going to be about to turn or stop without injury. This was really frightening. As she thundered past me I was terrified she would break a leg. She had to turn and because she was going so fast she slipped and fell on her side - just like me in all the mud.
Thank heavens for mud!
I didn't want to look as I was sure she would have broken a leg or really hurt herself. She hadn't. Instead, she took off back up the hill. Those hormones were really kicking in! We were all dismounted by now and we plodded up the hill to try to capture her. She was trying to entice the male horse to follow her. Once she saw we were all walking and it wasn't going to happen, she was called, and came walking over. A different horse. I think she may be menopausal!!
We walked home. My jodphurs were too wet and muddy to ride in and my jacket was plastered all along the back with mud. Melody looked like a half white and half brown horse, she was totally covered in mud down one complete side.
On the long walk home we passed a couple of dog walkers - there was no hiding the fact that something had happened. One happy chap said "Decided to roll did she?" we smiled and said yes. We were too embarrassed to say anything else and luckily he didn't see my obvious signs of having fallen off - flat on my back.
Amazingly, neither Melody nor I had any lasting effects from this equine adventure. No bruises, cuts or even stiffness. Having come down with such a thud (both of us) I expected Melody to be a bit tender, at least on the side she had fallen. The hormone level had dropped overnight and we followed the golden rule of horse riding - get back on! (Although excessive mud prevented it the day of the accident), the next day we went out again. My heart was only in my mouth for the first half hour!
Is it still a joy to be able to ride a horse in the beautiful New Forest? the answer is yes - like all things in life I will have to take care and hope all goes well in the future. Perhaps together our hormone levels can balance and the rest of the menopause for Melody and myself will flow on a wave of serenity. If not she can stay in when she's having a really grotty day and I'll do my website.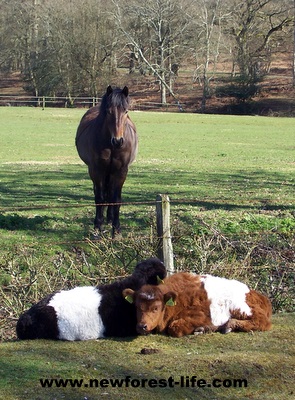 Custom Search
I hope you've enjoyed this small insight into living within the New Forest UK National Park I've been able to share with you.
Visit New Forest Life There are loads of pictures of my life in this UK National Park throughout www.newforest-life.com I really hope you enjoy them.

Thanks for subscribing to this ezine and I hope we can share many more together in the future as I tell you more of my New Forest tales.