New Forest Pubs
enjoy a drink with ponies, donkeys and even pigs!
Pubs in the New Forest can often offer so much more than just a pint and a meal.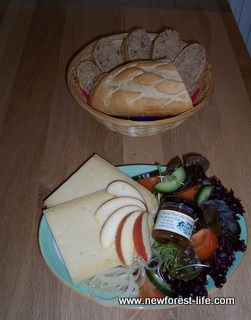 At most of these pubs you will find delicious, often locally produced food.
This tasty food may be award winningcheeses, meats, fruits or vegetables.
They are all doing their best to support local growers and producers. Can you imagine sitting outside on a sunny day looking at New Forest ponies, donkeys and even cows, they'll be enjoying their grass whilst you enjoy your pub lunch or dinner.
At some of the pubs I'll recommend you may even see... New Forest pigs!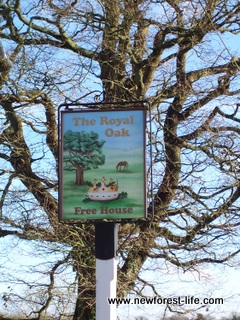 The first pub I really like to visit is The Royal Oak at Fritham.
Why?
Fresh, local food - all freshly prepared
Warm, friendly atmosphere
Log fires
Dog friendly
Wellie and walking boot friendly - they expect you to arrive from
a walk or ride
Great high days and holidays menus - BBQ's in the large grassed grounds
Close to Eyeworth Pond - a lovely day out for all the family
We usually turn up on foot, but...and I think this is really great...you can arrive on horseback and tether up in a small enclosure.
Your horse can have a drink (water I hope!). If it's a cool day, you may even be able to borrow a rug.
Your horse can be safely off the track in the paddock, and you can have a lovely Ploughmans salad with a Case of Wiltshire's English gammon - I love this gammon it really is good quality food.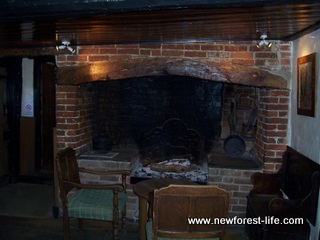 If you are cycling to the Royal Oak you can just have a coffee or tea if you don't fancy cycling on a full tummy - but when you see the food I think you'll change your mind.
Pauline and Neil McCulloch run the Royal Oak at Fritham.
Here's some info about their lunchtime menus, you can see just how much local produce they use:
Cheeses (except Stilton) Lyburn Farm shop at Hamptworth
Tunworth cheese - won the Gold at the World Cheese Awards 2007
Quiches are home made using local free range eggs
Pork pies, sausage rolls and sausages from Uptons of Basset
rated one of the top 5 butchers in the country.
Duck breasts, when available, are cured and smoked on site
Fresh dressed crab (summer only) caught locally - and described by Pauline and Neil
are available subject to the tides and the fisherman's hangover!
Smoked mackerel fillets are from Premier Fish of Downton
Gammons are supplied by Case of Wiltshire and are cooked and honey roasted on site
Homemade pate and soups and broths
Locally produced cask beer
Here are some sample menus:
Traditional Ploughman's Lunch
Lyburn cheeses
Home cooked gammon
Mixed gammon and cheese
Homemade coarse pate
Stilton cheese
Smoked mackerel fillets
Tunworth soft cheese with plum chutney
All served with home baked bread, fresh salad and pickles



Homemade quiches and pies
Traditional English sausage
Home cooked sausage roll
Home cooked pork pie
All served with coleslaw and fresh mixed salad



Pork pie, sausage roll or sausage served with
crisps, an apple, pickle or cider mustard




Home made soup or Ham and barley broth
served with home baked cheese bread


To contact Pauline or Neil

email: royaloak-fritham@btconnect.com

Tel: 023 8081 2606


Here are directions

For Sat Nav - postcode SO43 7HJ
OS Grid SU2314
Google map


A couple of years ago we were cycling along a great cycling track from Frogham. We got to the Royal Oak and my chain broke!
After a lovely meal and a pint we saw there was no way to mend the chain, and so my husband towed me back by me holding on to his jacket. I got a bit bored and my right hand was getting a bit stiff and so on the last mile along the Hampton Ridge I decided to go "aerodynamic". He didn't realise this and the next thing I knew I'd hit a large stone on the track and gone over the handlebars! I thought I'd broken my collarbone and probably was only saved by the thickness of my padded jacket - what a twit. I was in agony for weeks after and wont do that again.

Back from New Forest Pubs to Home Page
Home | Contact Me | Terms of Use | About Me |