New Forest Lost Stolen Found
Let us know about your pet here - Hopefully someone can help?
New Forest Lost Stolen Found  - why?

New Forest Lost Stolen Found page is for you to post about your lost pet. Since I set up this page we've had some good results and also some sad outcomes. I've decided to open the page up to other types of loss as well as pets - no one wants to visit the New Forest and lose something so hopefully we can all help retrieve it.
It's just a way of quickly getting your details out there to try to help.
New Forest Lost Stolen Found - social media

Lost keys near Royal Oak Fritham 19 May 2018
"Hi, my dad lost his van keys whilst walking at the Royal Oak Fritham, Island Thorne enclosure. new forest. They fell out of his pocket at some point, they are a ford custom van key with several other keys on there, quite noticeable".
If you find them please use the contact me form and I'll pass details on. 
Lost: Canon camera 7 May. Can you help? Did you find it? Please contact me 
"Please would you mind posting on your page..... I've lost my camera in the New Forest on 7th May 2018. It has precious memories on the camera and I'm so desperate to get it back. It is a large cannon camera in a black case."

Is this the friendly cat which was posted as lost in August 2017 in the Fordingbridge area? Can you help? Please contact me if your cat is still missing.
"I found a white & tabby friendly cat at Penn Common. You have an ad for a lost one posted Aug last year."

Lost glasses Ogdens Area
Could you please post a "Lost" post on your site for me? Today (26.3.18) 3 of us had a beautiful walk from Abbots Well carpark down to the footbridge near Ogdens Carpark and across Hasley Hole, right round the outside of Hasley Hill inclosure and back to the carpark. I have lost my prescription glasses which have a lime green and aubergine frame somewhere along our route. We spent a long time looking but no joy. I would be extremely grateful if they were found and returned. Many thanks and fingers crossed! Elaine
If you've found these glasses please use Contact me and I'll pass your info on.
Found  - please use my contact me form first and I'll put you in touch

FOUND WATCH FORDINGBRIDGE - LADIES FOUND 11.1.18. SILVER COLOUR IF YOU HAVE LOST PLEASE SEND DETAILS AND PIC

Found Gold Earring - please use my contact me form first and I'll put you in touch
LOST AND FOUND Gold hoop inside out earring - makers mark and gold stamp visible so please contact me with a pic of your earring / brand and I will get this posted back out to you! Found in a car park near the beach in Milford on Sea. I have photos. Please share!

iPhone: Found Sunday 26 November Lymington
Found: an I-phone this morning at the end of Queen Katherine Road, Lymington. Please Contact me and I'll pass on details.

Camera: Found Saturday 18 November Eyeworth Pond
Did you lose your camera today at Eyeworth? If you did please Contact Me and I'll put you in touch with the person who has found it.
Lost Samsung Mini Sunday 29 October 2017 - have you found it?
Quote: "Please can you help find my mobile phone? I noticed it was lost on Sunday after a walk from the Abbot's Well area (nr Hyde/Frogham) I also walked around the Stuckton area where I live. It is a Samsung mini with a black case and a cracked screen. It has some contacts I have no other way of getting including for a student I need to confirm lessons with! It has a lot of value for the contacts but as a hand me down with cracked screen I doubt it is worth anything. I would be delighted if anyone has found it!" Please Contact me and I'll pass details on.

Lost Ray Bans 14 August Cycle Route 2 near Denny Wood
Donna says "Hi there, during a cycle ride on Thursday 14 August 17 we stopped for lunch at a clearing opposite what looked like an underground reservoir  a little way along the lane leaving Denny Wood campsite. We cycled off about 2.45pm and after 10 mins of cycling had realised I'd lost my brown ray ban sunglasses. We immediately returned to said spot  but they were nowhere to be seen. We had passed several people on bikes and walking and also a warden in a van. The sunglasses could have been anywhere between way marker 296 and 324 both on cycle route 2. I'd be really grateful if anyone found them"
Please to contact me if you can help.

Lost watch in Sway on Saturday 26 August - can you help?
Sally says "Hi there I have lost my wrist watch on Saturday 26 August between 10.45am and 12noon, walking on Middle Road, then Manchester Road in Sway and then heading in a north easterly direction towards Settley Pond following the railway line. It is a Tag Heuer two tone metal ladies watch with square links in the bracelet and a grey face with luminous spots on the face and hands. It is about 25 years old." If you happen to have come across it, please Contact me and I'll pass on your details to Sally 

Good news - if you lost your sunglasses on Wednesday 16 August!  
Angus tells us
"I found a pair of Rayban sunglasses lying in the road outside the Gun Inn, Keyhaven on Wednesday 16th August. Presumably they were left on the roof of somebody's car when they drove off from one of the car parks". Have you lost a pair of sunglasses? Please Contact me and I'll pass you on to Angus.

Did You Find a Silver Necklace in Brockenhurst on Wednesday 16 August?
Lost: a women's silver necklace on the path between the Balmer Lawn Hotel and the Huntsman pub on Wednesday 16th August around 19:45 - 20:15. Can you help? Please Contact Me if you found this necklace - many thanks.

Lost cat from the Fordingbridge area 4 August 2017
Can you help Jo please?
My cat has gone missing from Fordingbridge on the 4th August 2017. Can you put an advert on you website for me please? He is mainly white with tabby markings. He has a high squeaky meow and his tail goes to one side. Please Contact me and I'll pass your info on to Jo 
Did you find a children's camera on 5 August in Burley and Lyndhurst? Can you help please?
Can you help this little chap get his camera back please?
On August 5th we were visiting Burley and Lyndhurst with our three year old grandson. He lost his blue, double view finder, v-tech childs camera along the way. It has photos he has taken on it and he is very upset. We are hoping that someone my have found it. He would be over the moon if we could locate it. Could you possibly put the details on your page? Thanks in advance. 
If you did find this camera will you please Contact me and I'll put you in touch with his grandparents.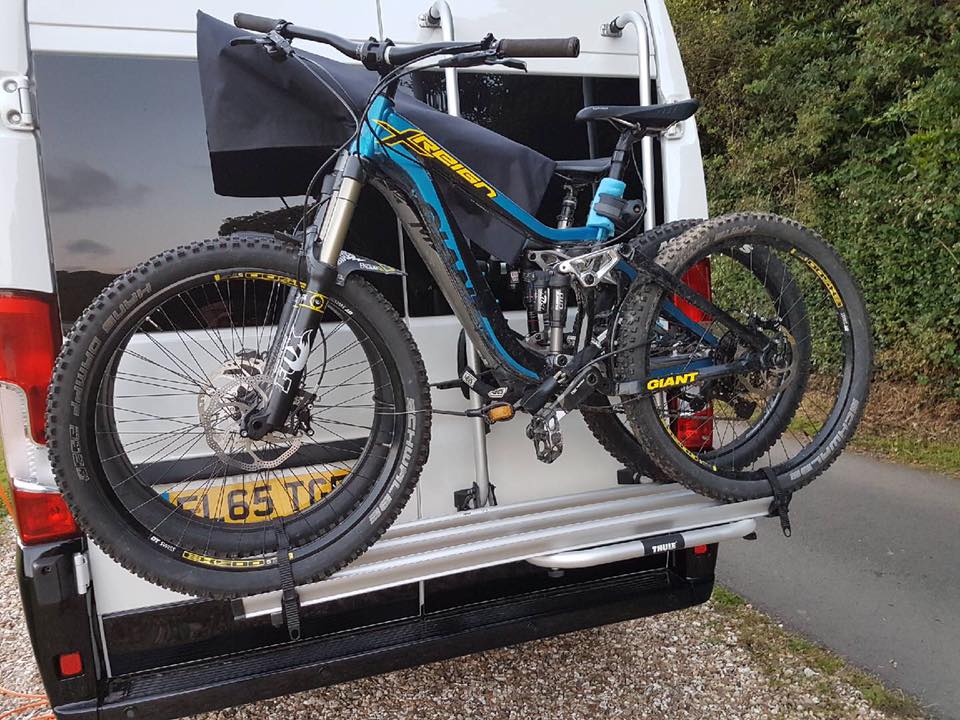 22/23 July 2017 Stolen bikes - ASHURST CAMPSITE
I've just had this post on my Facebook page for New Forest Life - Can you help?
Quote..."Please help....It comes to something when you can't take your bikes on holiday .... in the night my dad and son had there bike taken from the back of the camper ... bolt chopped off as they were locked securely .... very valuable bikes my dads is the first in the country ( it's an electric one )so they new what they were looking at .... bikes have tags and serial numbers police are aware ... reward if found please help if your from the area and share ... also if you no of any pages good to put it on in the local are as apparently it has become an issue in the area of items being stolen ... thanks in advance"
Contact me and I'll pass any info on.
30 May 2017 Lost purse - Rhinefield area
Hello, Tuesday 30th May I lost my purse in the Rhine-field area. A black purse, which inside had £30 cash, debit card, provisional drivers licence, prescription medication and shop loyalty cards. If found or handed in, please use Contact Me
Thanks
---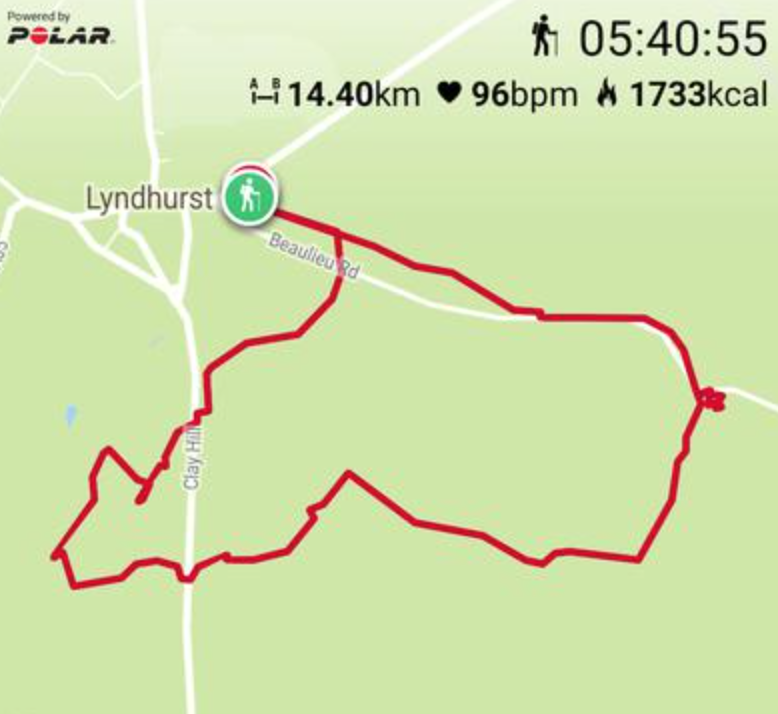 May 21 2017 Lost White Samsung S3
On a hike with friends and lost my White Samsung S3. Below is a map of the route we took. If found plssssssssssss can you get in touch as it has pictures of my kids and family which I have taken over time and deeply cherish :( 
Please use contact me links if you have news of this phone - Christina

May 10 - 13 2017 - have you found a wedding ring? Update 1st June - success! Ring found.
A 22ct yellow gold plain narrow hallmarked wedding ring was lost between 10th and 13th May.
"During a family visit to the New Forest, staying at the Moorhill House Hotel, Burley, my aunt discovered she had lost the ring. Her mother's wedding ring, she has worn it for over fifty years; my aunt is now 89 and obviously this has caused some distress.
I appreciate the probability of finding the ring is very slim, but felt it worth an email just in case it had been handed in. This is also particularly poignant as my grandparents were married in Sway church and the family lived in Sway, Burley and Lymington. Many thanks Kind regards Christine Chubb
Please Contact me if you can help re unite this very special ring to its owner or if you have any info.
Late April 2017 - In or near Picket Post car park
Did you find a ladies watch in or near the Picket Post car park around 26th April? This watch is of sentimental value to the owner so if you found it would you please Contact me? Many thanks.
21 April 2017 - this afternoon
Have you just lost your iPhone on Hale Purlieu? Please Contact Me with details of your phone and I'll put you in touch with the person who has found it.
Have you seen a blue and white handbag on your walks around the Bolderwood area?
There are 2 issues for you to be aware of in this unfortunate post. Obviously thieves are working in some of our New Forest car parks. They probably are parked up and see you place your valuables in your boot before going off for a walk. This is worrying and so please take extra care.
I'd also like to ask you to please look out for discarded items from this recent theft. The owner has done everything to safeguard her stolen items (bank cards, phone SIM etc) but would like to have them returned as they hold sentimental value.
Can you help?
"I just found your page and the lost and found section and wondered if you would be so kind as to share this link to my handbag and contents that were stolen from Bolderwood on 27/2/17? Thanks! https://www.facebook.com/LostBox/posts/1361339643925888"
Please Contact me and I'll pass your info on.
Can you help Helen find her glasses in Garden Road Burley on Friday 17 march please?
"Hiya, I was wondering if you could possibly post about a pair of glasses I lost in Burley last week. They were a birthday present and only a few weeks old. They were retro heavy framed Prada glasses. I lost them in Burley on Friday 17th February possibly in Garden Road outside a property we were renting for my fathers birthday. Much appreciated"
 If you have found these glasses please use the Contact me form and I'll put you in touch with Helen.
Lost 9th October 2016 - International Driving Licence - did you find it? Can you help please?
Lost:  Driving license (European driving license, credit card size, no. 29202976Z) on Sunday the 9th of October near Millyford Bridge car park in the New Forest.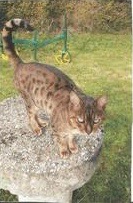 Can you help find Bubbles the cat please?
Bubbles went missing from The Brickyard, Cadnam on 31st August. She has been known to get into cars. 
The last time she went missing was in March, and was down at Holmsead Farm Beaulieu. She was a feral cat before she came to live with us. She's been with us for 5 years and has got tame over time. She is very vocal for food.
Hilary, her owner would appreciate any news good or bad please. 
Lost Canon camera at Burley 20th September 2016
Did anyone find a Canon camera in a grey drawstring bag on Tuesday 20th September 2016 which was accidentally left in the car park WC's at Burley?? Please can you help?
If you did find this camera please contact me and I'll pass your details on to the owner. The photo card in the camera holds many special, irreplaceable memories.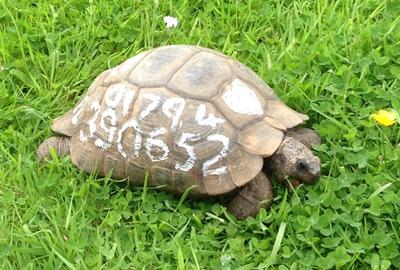 Help! Have you seen this lovely tortoise?
We have lost a beloved family pet tortoise who has lived with us for more than 40 years.  She layed her eggs at the end of July and went missing on the same day. We were hoping that she had buried herself in the garden for a rest, but has not reappeared. If she managed to get out of garden, we are situated near The Bold Forester Pub, Marchwood. Any local dog walkers/riders etc please keep a look out for her - she could quite easily have walked to the Longdown area. She is a large tortoise and has telephone number painted on her shell. Anyone on Facebook/twitter please share. Her name is Marmalade!  Please ring with any info 07469196287.

Update: this lovely old chap has been found!!! Good news eh?Urgent Thursday 01 Sept 2016
LOST - GODSHILL / BLISSFORD, NEW FOREST 
STILL MISSING - 24 HOURS - PLEASE KEEP SHARING, CHECK YOUR GARDENS, THANK YOU 
Very elderly small Jack Russell cross (bit greyer than this pic). Not chipped, poor eyesight/hearing. 15 year old, male. 
Wandered out the gate on Blissford Road this morning 31 August at 8:30am, possibly looking for his sister who was collected from his house yesterday.Please call 07791707696 / 01425 650405 / 07415628865 with any info
Monday 29 August 2016 Lost camera near Ogdens - can you help please? 
Hello All,
I accidentally left my digital camera at a gate between Hasley Inclosure and Ogdens (to the South East of Fordingbridge). It is a Black Panasonic Lumix in a black leather case. If anyone does happen to find it or hear that it has been handed in anywhere it would be wonderful if you would get in touch! Thanks,
Emma Pickup

01722330383
Lost cat in Hythe last seen a month ago - can you help find Tinni?
2 years ago my own cat befriended a stray similar to himself. The stray cat was extremely thin and was so hungry and my cat used to leave food for the stray I named Tinni-tinribs, due to it being so skinny. It's legs were like sticks. It gradually put on weight, so we just named it Tinni who visited every day and kept company with my cat in the garden or went hunting together in the woods.
UPDATE: Jan 25, 2018
Tinni 
by: Helen 

Melonie and I have exchanged contact numbers liaising about the stray cat in Brockenhurst. We established that it is sadly not dear Tinni but she will take Tnni2 to Cat and Kitten rescue in Lymington next week to consider it's health condition. I am keeping track of Tinni2 with an aim to adopt if all is suitable. 

Thank you Christina for sending to me the alert via email. The cat is almost a replica of Tinni who was male but this one is female. 

Thank you again. Kind regards, Helen
A month ago Tinni never returned. I have put up posters with no response. I have asked vets and Cat and Kitten rescue with no response yet. I wonder if anyone has seen this pretty black and white cat with long white socks on hind legs and a white stripe down the nose and beautiful slightly hooded large amber eyes. My cat really misses his pall and I do too.

If you have any news please call 07854142256.
Sunday 26 June 2016
My British Blue Tom cat went missing Sunday 26th June from whitsbury road area in fordingbridge. His name is Freddie he is micro chipped. He is 5 years old and a much loved family pet. We are desperate to know what has happened to him. If anyone has any information please call me on 07722136464. Many thanks Caroline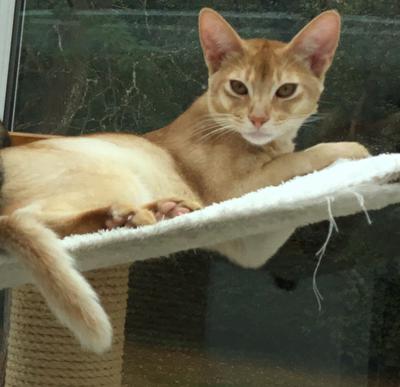 Thursday 9th June 2016 This info has just come through on a comment box below. Please Contact me if you have any info or fill in the Comment form below.
"Our beloved cat Jeremy has gone missing from Bisterne Close/ Bennett Lane area in Burley.  He's been gone for roughly 10 days now. He is a very fluffy friendly ginger neutered male. He has a white chest and a few white paws with a little ginger speckle I'm one of them on the front. He's not chipped." 

Monday 16th May 2016 Have you lost a small brown terrier near Bramble Hill?
I've just had this information in and want to post it to you.
"Driving near Bramble Hill Hotel (Bramshaw) this morning (10.15am) we came across a small brown terrier with a red collar or coat (tartan?). I'm not very good on dog breeds but possibly a border terrier. It looked lost as it was running along the road with no-one with it and was looking at going in different directions. Before we could call it over we think it headed in a northerly direction into the forest by the cottages a couple of hundred yards along the road north of the hotel."

Thursday 12th May 2016 - Have you seen Champion the cat in the New Milton area?
Update: Tuesday 24 May - Champion has turned up safe and sound. He was just a few miles away and apart from being a bit skinny is happy and well to be home.
Our much loved family cat, Champion has been missing since May 4th from Osborne Rd, New Milton.

Please check your garages/sheds and outhouses. He is microchipped but new to the area so may have lost his way. 
Please call with any information 01425 614688 or 07825661001 
Saturday 30 April - an unusual lost request this time not about a pet.
Quote from Dawn
"I wondered if you could post this on your lost and found site - I lost a white gold cartier love bangle, whilst cycling between Black Knowl and Brokenhurst on the Brokenhurst to Rhinefield tall trees cycle route, on Saturday 30th April. The bangle is held together with screws, so it would be in 2 pieces, even if the whole bangle isn't found I would be grateful to get back any part of the bangle as it holds so much sentiment to me, as it was a gift from my husband."
Can you help please? I don't post phone numbers on my web so if you can help please Contact me and I'll pass your info on to Dawn.
Update - 8 January - this little dog was found New Years Day 2 streets away from her home. She'd walked 15 miles home!

Tuesday 29 December - can you help please?
"My Jack Russell has got lost Hatch Pond Beaulieu she's black and white last seen 17.00 hrs."
An update from this frantic owner has been that a dog similar to this has been seen near Kings Hat Car Park. There no confirmation that it's the same dog sadly. This lost Jack Russell is black/white with brown face markings and wears a red collar with white bones on it in leather.
Have you seen her? Please contact through here or Twitter @NewForestpiglet or @NewForestLife1
Many thanks

Friday 13 November
In the early hours of the morning at West Tytherley on the Hants/Wilts border a Cob gelding and mare were seen running down North Lane West Tytherley. They were later found in a sheep field. Their gate padlock and chain had been cut and it looked like the attempt to steal them had been foiled judging by the hoof prints left behind. A motorbike was also stolen nearby. if you have any information please call Hampshire Police on 101 quoting ref 44150394446.

Fantastic news re Biggles - he has been found by his owners!
Biggles went missing on Saturday 31st October, was spotted in a paddock in Burley on Tuesday but he ran off towards the A31.
Earlier this morning (Thursday 5th November) he was spotted back in the paddock in Burley, probably looking very unlike he does in this photo! Wet, muddy and exhausted poor lad.
He's back home safe and sound now so good news all round. Thank you for everyone who has helped by Twittering and FB'ing his journey.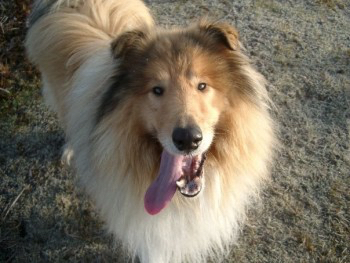 Urgent update re finding Biggles quickly.
We had a sighting of him in Burley late Tuesday, dashed over like crazy but missed him by about 15 mins it seems. He had been lying around this paddock all yesterday and was sleeping on gravel by the house cattle grid last night, was then around all today and playing with a couple of other dogs just before we arrived but something spooked him again and he was off into the wet woods. He's on the Dogs lost website and has been circulated around the NF Dog Walkers. today we put up about 27 posters, we live in hope but he seems to be getting too near the A31 at Picket Post.
Saturday 31st October to today - can you help please?
Lost an 11 year old sable rough collie called Biggles on 31st Oct from Whitemoor Pond, Brockenhurst Sighting on Sunday in Markham inclosure by the stream, nothing since. He is on the LostDog Website, notified dog warden, vet and police, put up posters. He is a bit nervous though to be grabbed.
I Tweet regularly throughout most days and you can find me
@NewForestpiglet and
@NewForestLife1
I don't use Facebook much so the Twitter accounts will be better at getting the news across.
A good example of the success of social media was when a New Forest shetland pony was stolen. The word got out and within a short time she was brought back onto the forest.

I get regular Horse Watch bulletins which is a great way to inform you on New Forest Lost Stolen Found

New Forest Lost Stolen Found - How it works

You can Contact Me and I'll put the post up and also Tweet it on my 2 accounts.
You can fill in the comment form below and I'll OK it and put it up to all the visitors who read New Forest Life

New Forest Lost Stolen Found - recent postings you need to know about

Thursday 22nd October and Friday 23rd October 2015
2 postings I want to pass on to you. One is good news and one still outstanding.
Friday 23rd Hi I saw a lost black and white border collie average size running around not far from long down area running towards Marchwood. He would not stop for me to look at his collar information. I saw him around 3 pm today 23 October 2015. Thanks
Thursday 22nd Good News! Black and white Bull terrier notified via Gumtree now found! Very pleased.

Saturday 3rd October - lost camera and bag
"Daughter lost her dslr camera today, was in black ruck sack type bag, someone may have picked it up and taken it to police please email if you have any found camera's thank you angela"
Please Contact me and I'll pass on Angela's email address - from Christina New Forest Life website

Saturday/Sunday 27th Sept 2015 GOOD NEWS the owner has been found!

Have you lost a mobile phone on the Purlieu recently? Please contact me

Wednesday 20th May 2015 - possibly stolen
"Between 1700hrs and 1730hrs on Wednesday 20th May 2015 a female Border Terrier went missing from the owners garden in the Brockenhurst area. It is suspected that the dog may have been stolen. The owners are devastated and would very much like to be reunited with their much loved pet. If you have any information please contact the police on 101 quoting reference number 44150175633." From the Police at Hampshire Country Watch


Happy endings - Friday 29th May - owner found

Thursday 28th May 2015
Dog Found in Fordingbridge - Police information

"The NFDC Dog Warden has been made aware that a Brown Labrador has been located in the Fordingbridge area. If you have lost a similar dog or know someone who has please call the Dog Warden on 023 8028 5411 during office hours."
Thursday 1st January 2015
More heartbreaking dog theft news I'm afraid.
Message sent by Deborah Holman (Police, Sgt, Hampshire Country Watch)
Between 1645 and 2045 hours yesterday, 01/01/15 New Year's day, two black working cocker spaniels were stolen from their kennels on private land in the Beaulieu area. They are both black bitches with white on their chest area, one is 7 years old the the other 3 years old. If you should get offered these dogs or see them being offered for sale, or if you should see anything suspicious which may help our investigations please contact us on 101 and quote reference 4415000946

Thanks
---
Sunday 23rd November 2014
Black  whippet lost at Burley today - little lady dog wearing a red collar. Please reply here or Tweet me @NewForestpiglet or @NewForestLife1

---
Update Monday 10 November - the owner has been found and advised of this information. A sad reunion.

Sad news - 8 November 2014
Just had this info passed on to me incase you have lost your cat over the last few days.
"White Male Neutered Cat not microchipped found outside William Gilpin school, Pilley. Taken to Seadown Vets Lymington where he was sadly confirmed dead. They will keep him there for 4 weeks."
Here are the vets details: 4 Avenue Rd, Lymington, Hampshire SO41 9GJ

01590 672027
---
Dog Found: Please scroll down page to "Kim Parry" under comments for details of a "brown" dog recently found in Hythe and handed over to vets in area.

---
Update: This pony suddenly reappeared back on the New Forest. The publicity may have meant she was too hot to handle!
30th April 2014 between 1505 - 1530   Stolen Pony from New Forest in Hampshire
Crime Reference 44140151364
Mare Shetland Pony
Description: She is a four years old, "blue" & white, very small, friendly pony.
She was turned out on open forest within a herd of Shetland ponies. Two men were seen loading her into the back of a dark coloured transit type van around the Bull Hill pits (Norleywood/Pilley crossroads), Lymington between 3pm & 3:30pm.
Were you in that area at the times shown? If you were can you recall seeing a dark coloured Transit style van ? If you have any information that may assist the investigation into this theft please contact Hampshire Constabulary on 101 and quote the crime reference number.
Anonymous information which can assist the investigation and recover the pony can be phoned to Crime Stoppers on 0800 555 111
Regards - David
Hampshire Horsewatch co-ordinator and Force Equine Liaison Officer
' 101 Intl: 605 x 191
' Mob: 07867 972868
* david.collings@hampshire.pnn.police.uk
* equine@hampshire.pnn.police.uk
Monday 31 March and Tuesday 1 Apr - 2 stolen horses alert
"Two horses were stolen from the Ringmer area of Lewes by cropping the padlock. The first horse is described as 16.2HH Chestnut Mare with a white blaze and four white socks. Its mane and tail are a darker colour than the rest of its coat.
The second horse is 15.00HH Black Cob Gelding with a white blaze, 4 white socks with feathers on all four legs and a short mane.
If you have any information on this horse please contact Sussex Police on 101 and quote Reference 0527 01/04/2014
Also

Non Dwelling Burglary
Date: 2100 01/04/14 and 0645 02/04/14
Over night a burglary occurred at Hewshott Stables, Liphook.
Thieves broke into a locked tack room and stole a large quantity of saddles and bridles,girths, stirrups. The thieves used a Gator field machine to drive away the stolen tack across fields to a waiting vehicle, the Gator was also stolen.
A number of the stolen items of tack are security marked and as such are identifiable by the owners.
These premises have been targeted before! All those who have experienced similar crimes should be revise their security as it is possible that thieves will revisit on the basis that victims will have replaced their previously stolen items."
Thursday 13 March 2014 - animal abuse bulletin
I'm posting this horrible, sad cruelty bulletin although it didn't happen in the New Forest, just in case anyone knows of the area (Uxbridge river Cowley area). Hopefully the word can get round to catch the scum who did this. Details from local paper contain photos so be prepared please. 

Saturday 8 March 2014 - 4 stolen horses from Botley Hants - updated descriptions
Photographs of horses 1 and 2 are being sought for by the owner.
Horses are recorded on the Stolen Horse Register www.stolenhorseregister.com
Crime Reference 44140074023
Horse 1. Given name - CASH,12 years old. Warmblood Gelding. Bay. 16' 2"
Distinquishing features
White star in middle of face.
2 even white socks up to fetlock on rear legs.
Front legs are dark.
Has a pink mark on mussle.
Described as being a pretty looking horse
At the time it went missing it was rugged in a blue Master Rug. It was shod
Horse 2. Given name -SPRITE, 14 years old. Warmblood. Chestnut 16' 3" - 17'.
Distinquishing features
White diamond mark square between the eyes.
2 white socks on rear legs. Left hand leg the sock is low down and can easily be covered by mud.
Has pink flesh mark on mussle.
Has a whorl behind left and right ears.
Has a whorl in the centre of forehead above eye level
At the time it went missing it was rugged in a blue Master Rug. It was shod
Horse 3. No given name. Colt yearling. Wormblood Bay coloured, colouring described as mahogany . White snips on face. Not shod or rugged
Horse 4. No given name. Colt yearling. Bay coloured. Warmblood, colouring described as mahogany .White snips on face. Not shod or rugged
Thursday 6 March 2014 - 4 stolen horses in Hampshire Wood House Lane Botley

Contact the Hampshire Constabulary by dialling 101 Crime Reference 44140074023
Crime: Theft
Property Stolen: Horses as described below:- (photos of horses 1 and 2 are being obtained)
Horse 1. Given name - CASH,14 years old.Gelding. Bay. Has bits of white on its nose. At the time it went missing it was rugged in a blue Master Rug. It was shod
Horse 2. Given name -SPRITE, 12 years old. Chestnut white on it face. At the time it went missing it was rugged in a blue Master Rug. It was shod
Horse 3. No given name. Bay coloured. White face. Not shod or rugged
Horse 4. No given name. Bay coloured. White face. Not shod or rugged
Location : Wood House Lane, Botley Southampton
Date between 1600 Friday 28th February 2014 and 0630 Saturday 1st March 2014
Friday 27 December 2013
Urgent Archie a liver and white springer spaniel has gone missing from the Wilton area of Salisbury Please Contact Me direct if you have spotted him.
Alfie a cat has also gone missing in the Hythe area. Please see below for more details.

Monday 18 November 2013 Hampshire Horsewatch bulletin
Please take care because the ultimate daring theft has taken place! A bespoke 16'x12' field shelter has been totally dismantled and stolen! Even the screws holding the hay net rings were taken off.
If you see a new wooden structure go up near you please let the police know. Of course, as usually happens at this time of year rugs, tack and food is being stolen too.

Sunday 13th October 2013
Urgent: Hampshire Horsewatch bulletin
"In the south of the county a spate of burglaries in stables, shelters is starting up. Wickham, Warsash, Southampton, New Forest area are currently being targeted. A white small car style van with male occupants was seen close to the scene." Ring 101 with info and check if offered cheap equine equipment.
Urgent news 12 October 2013 Good news Gus has been found

"We have lost out beautiful Jack Russell called Gus. A friend took him out for a walk at Holmsley Camp Site on Friday 11th October 2013 and he got spooked and ran off. It was at around 5pm and he was seen running scared through the camp site and then was not seen again. He is shy and timid. (Personal details have been deleted since Gus has been found)

Reward for any one who can find him! He had a red collar and was wearing a red rain coat.

Please help us."
Please contact Jessica the owner direct if you can help in any way. We wish Gus a safe return home asap.

Urgent news 21 September 2013:
"An elderly collie type dog was found wandering in the high street of Brockenhurst.
It was wearing a high visibility dog coat.
Tried to phone the two numbers on the collar............but no success.
The dog has been taken to Seadown Vets at Hythe.........please contact them for info."
Please ask around - perhaps someone became ill when walking this poor dog? here's a contact number for Seadown Vets
Frost Ln
Hythe, Hampshire
023 8084 2237
Latest news: 23/9/2013
I rang the vets and this dog has now been reunited with its owner - good news to hear.

New Forest Lost Stolen Found -Past postings

Please see the posting below - Sam, a little Jack Russell dog who went missing at Rufus Stone on Sunday has been found but was sadly in a fatal accident.

Recent information I've received from our local Police tells us there have been increased dog thefts in the New Forest National Park, as well as throughout the UK. Please keep your dog close to you at all times and don't leave it in your car, even for a minute.
The thieves seem to be targeting gun dogs in particular but any dog stolen is a tragedy to the owners.

Over the last year we have been successful in finding both stolen and lost pets. Please be careful when on the New Forest, as elsewhere in the country. Your dog may be stolen, sometimes from right in front of you.

If you use the form below to post your details, please try to supply a photo - if you are posting and are quite upset because you have lost your pony, donkey, dog or other animal a photo will really help others who may have spotted it.
I will post everything which is sent through to newforest-life.com but cannot accept any responsibility for the outcome of any information posted on my site.
New Forest Lost Stolen Found- Comment Form

New Forest Lost-Stolen-Found
New Forest Lost-Stolen-Found is the place for you to let us know about your pony, donkey, dog or other animal.
What Other Visitors Have Said
Click below to see contributions from other visitors to this page...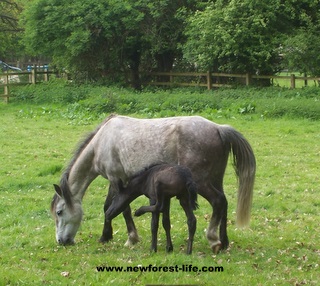 Back from New Forest Lost Stolen Found to Home Page