My New Forest National Park Travel Guide.
I love living here - why not find out why?
Welcome to my New Forest National Park life which I'd like to share with you! I'm Christina and I'm passionate about living here in the New Forest National Park - did you guess? I live inside a cattle grid (in a cottage not a cattle grid!) I'm a New Forest Commoner which means my animal(s) roam outside my gate.The animals you see aren't "wild" but are all owned by Commoners like me. Latest news is updated on my Blog.
Please share my photos (all copywritten) and recommendations with me, ready for your visit. The left hand Nav bars and coloured links on my pages will help you find your way around. Enjoy!          

New Forest National Park photos, tips and tales from my New Forest life.

WELCOME TO THE BEAUTIFUL NEW FOREST NATIONAL PARK
Bienvenue Welkom Willkommen Benvenuti 欢迎 ترحيب  
New Forest National Park Life News February 2016

It's nearly time for romance to blossom. My New Forest Valentine's Day info can help it bloom!
Then it's time for us to treat our Mums on Mothering Sunday Where to go and what to do?

New Forest National Park Dog Friendly News, Tips, Pubs and Hotels
The Animals - are my passion in case you haven't guessed?
Since I saw my

New Forest pony born

 I've become even more passionate about the safety, welfare and protection of all our

Commoners'

animals. No animal you see is wild - they're all owned by a Commoner - that's why I want to share this way of life with you. 

Follow 

my little foal blog 

 and discover why I saved this little foal from slaughter and what is involved
The

pigs and piglets

are hilarious and during Pannage in October and November (the actual date changes every year) and is when you're most likely to see them. Sadly, we no longer have our lovely pig and piglets outside our cottage but you should look out for them all over the forest in the autumn. 
New Forest National Park ponies on The Drift - always take care.

New Forest National Park Eats and Sleeps


New Forest getting about and having fun!

Getting About

Having Fun
Now is a good time to visit our fairies at Furzey Gardens - you can even leave your own fairy message.

I've recently visited the New Forest Wildlife Park. I saw

beautiful animals

in a wonderful woodland setting. I really can recommend a visit here.

Exciting news if you're an Elvis fan. The last car he bought and drove the day before his death has come to the New Forest! My Beaulieu Review tells you all. 
Find out why I recommend visiting Buckler's Hard Maritime Museum is fascinating. Find out all about

Nelson

Explore my

Days Out

tips with a

Visit the coast at

Lepe Country Park

with wonderful views across the Solent, WW2 history and wildlife to explore and enjoy, for all the family!
A New Forest National Park autumn scene - pigs out for Pannage in the woods

 New Forest National Park History and Wartime Life

It's a wonderful way to get close to the history of this beautiful National Park.
Visit New Forest Family Tree Forum and post your questions to find out more of your family history during WW1 and WW2. Were your relatives stationed here during WW1 and WW2? My Family Tree Building Tips suggests ways to find out about your past. We have discovered in our family tree searches that we don't come from royal blood!
Get to know this beautiful National Park - as I know it, through my pictures. You can share your experiences on any page where you see * or Contact Me and ask a question.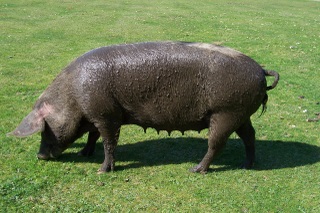 Our local Miss Pig after a cooling mud bath - she actually attended the local school fete on this day - without an invite!
 New Forest National Park Important Safety Information

Animal and Road Safety Advice from the Police 
"Remember that animals have the priority on the roads within the New Forest boundaries. Please drive to the road conditions, be mindful that animals can be concealed within hedges, behind trees etc and will walk out into the road without any notice despite your approach. Please keep your speed down and by doing so you will increase your chances of being able to avoid collisions".  For more advice please read my  Animal Accidents info.
---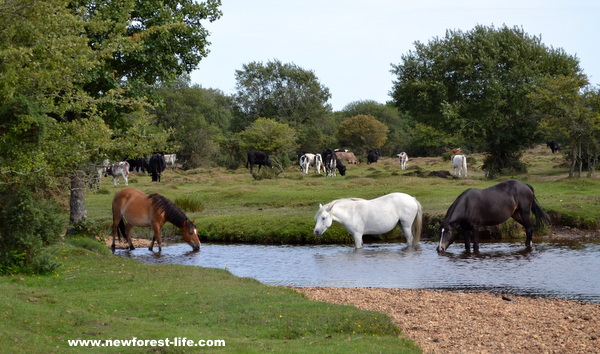 At the moment, to live here I need to work to support this lifestyle.  When eventually silver surfer status takes me over I know I can work from home and earn money from my very own home business. It is and will be hard work but whether you are a mum who wants to work from home or a silver surfer looking for a great way to spend some retirement time - there is a light at the end of the tunnel! Now, you can learn how to Build Your Own Site. Why not put on the kettle and find out more? And at the moment there is a Special offer for you to try!

Now you can opt to pay monthly throughout the year - 2015 may just be your year!
Anyway, back to my favourite subject..............
I hope you enjoy visiting New Forest Life and that you explore and enjoy this beautiful area with me.
Finally, please do let me have feedback on how you feel about my New Forest Life website, and do tell me if there is anything you would like to see added to the site for your enjoyment. I hope you enjoy visiting the New Forest National Park with me, and that you take home many lovely memories too. Please Contact Me if you have any questions. Many Thanks.

---
Check the latest weather for your visit. We do a weekly local update.


Get my up to date news, views and photos on what I've discovered, or want to share with you.

Find out where to go to discover pigs like these. I can tell you the best place to see pigs and other animals.

Please Contact me for any help.


Here's some really great news - you can now get your very own personalised Ordnance Survey map for any area of the UK you like.

This was kindly given to me recently. It shows the National Park on 1:50 000 scale and is my own personal copy with my website on.

A wonderful present for anyone