Are the New Forest ponies I see really wild?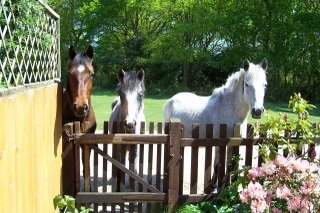 New Forest ponies are lovely animals.
This is a sight which sometimes greets me at my garden gate, which is one of the reasons I love living on the New Forest.
But are they wild? The simple answer is yes although they all have owners.

These three ponies are owned by a Commoner. They are a mother (the grey in the collar), the bay (brown) older sister, and the small grey which is now 2 years old. The mother was found by one of the New Forest Agisters as an orphan.
They go round together in their small herds or in pairs and have areas which they graze and return on a daily basis. If you would like to skip to my foal page you'll find lots of my photos here.

Who owns the New Forest ponies?

All the New Forest ponies you see on your visit to the New Forest are all owned by someone - these ponies owners are called Commoners.
I'm now a Commoner and you can read my Pony Blog and also see why I wanted to rescue him after I saw him born.
As Commoners we have the right to put our animals out on the forest. However, it is a highly regulated right, and each pony must be kept fit and healthy, and if necessary must be taken off the forest if they become poorly.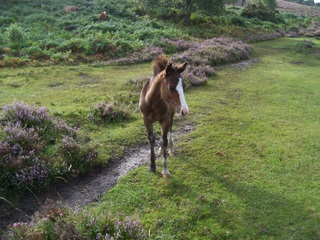 The Agisters play a major role in the New Forest in ensuring that all stock, whether it is ponies, horses, cattle, donkeys or pigs are in good health and have not got any injuries.
The Verderers and Agisters role is to protect, administer, conserve, and safeguard this unique working environment. My pony wears a florescent neck band so that she shows up at night on the forest roads. Many New Forest ponies, horses, donkeys and cows are killed or injured each year on the New Forest roads.

This is something I feel very strongly about - if you are coming as a visitor or tourist to the New Forest please be very careful. Horses and ponies have no road sense and will either suddenly "spook" or just step out in front of a car.
Cows are probably the worst as they just wander around in complete innocence - until often it is too late. My animal road deaths and accidents page gives you some helpful safety tips.

Please take care on the roads and keep to the speed limit. These are lovely animals please help to protect their lives.
I thought you might like to know a bit more about the laws and who enforces them, on behalf of New Forest pony welfare.
The ponies are allowed out on the forest by an ancient law called "Rights of Common of Pasture" - this is a Verderers byelaw. Verderers are the managers of the ponies welfare and they are supported by a team of 5 Agisters ( at this present time). When a pony or other forest animal is injured by a car etc it is the Agister who attends, and most times needs to destroy the pony. You can also find out more about the Agisters and look at a map to show which area the five agisters cover. There is also lots of really great information about the New Forest ponies
For a much more in-depth look at the Verderers and their role on the forest, I think you'll find this interesting
Here are a few facts for you.
When you are out and about look for the branding and also look for the tail marking or

cutting

If you see a pony with its tail cut or cattle with ear tags, the Agister fee has been paid on that animal and it is allowed to take up the right of "depasture" on the New Forest.

A New Forest pony will have a brand mark (usually on its back)

All disease control methods must be upheld - recently a very nasty outbreak of a disease called strangles broke out - this is virus based and caused some animals great discomfort and was extemely contagious.

No-one is allowed to put out a vicious or mischievious animal

Today there are appoximately 3000 depasturing animals on the forest and there is no upper limit to the number allowed out

During breeding times, when mares are in season, approx 150 Approved Registered stallions are put out - this is a time to be very wary as it all can get quite noisy, and the odd stampede occurs a time to head behind a tree if you hear the sound of thundering hooves!




The Drift

Each year, from August to November the Commoners of the New Forest conduct The Drift and round up all the New Forest ponies. The Commoners get together on their own able footed horses and take part in the round up which is known as The Drift.
This is done for health and welfare checks, to take foals away from their mothers to wean them, to mark them (cut their tails) and also collect the annual fee the Commoners must pay to put it animal they own out.
You can find out what happened when I went to the New Forest Drift and see more photos.
This is a great example of a Commoners pony which is very well looked after.
Throughout the winter she is checked daily and fed hay to keep her in good condition. New Forest winters can be harsh, especially over the last few years when we have had snow.
Snow means nothing available to eat for a New Forest pony. Their health soon suffers. I think this photo sums up her gentle, laidback nature. But please remember never to touch or feed - thanks.
One of the saddest things I've found as I look back through my site at some of the photos and make amendments and updates, is when I see a new Forest pony who is no longer with us. Some have been lost to road deaths, some to people feeding them and them dying of colic and others have just met with accidents on the forest.

I miss all of them, especially when the little foals are taken away from their mothers at the end of summer.
There is a great equine directory for the New Forest ponies, I often look at this site- especially if you want to buy a pony or enter a show.
We were out and about the other day and found a fabulous area, right by the sea, and found some serious beach grazing going on!
You can see how the wind must race across the Solent by the angle of the tree.
The New Forest pony adapts by facing her rear to wind and rain and letting it bounce off her tummy and past her head - very successfully as far as we've seen!
Share your views on New Forest animal accidents.
What are your views on the New Forest accidents each year? Share it here!
What Other Visitors Have Said
Click below to see contributions from other visitors to this page...

Speed... Not rated yet
I have driven through the forest today and was so upset by the arrogance and ignorance of some drivers, they have no patience it seems...overtaking and …
I hope you discover and enjoy seeing many New Forest ponies and their foals during your visit to this wonderful New Forest National Park.