New Forest Farmers Markets
Local food and produce for you to taste and enjoy.
Please check which markets and farm shops are open due to Covid 
New Forest Farmers Markets are usually held once a month to sell fresh local produce such as cheese, bread, eggs, meat and vegetables, which have been grown or reared on the forest.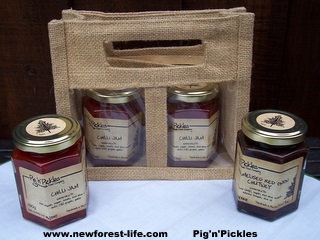 New Forest Farmer's Market Pig'nPickles
Update: 2021 Farmer's Market dates - once again confirmed dates have been a bit of a nightmare and I've found that many farmer's markets have closed. I've listed those still available and where I think you'd like to visit.
My favourite New Forest Farmers Market which I can personally vouch for is held at Hale Village Hall the 3rd Saturday of every month and can be found at SatNav SP6 2NB. I love it so much I've devoted a page to it on New Forest Food.
I recently enjoyed some delicious pork. Tender, succulent textures and flavours - all free range from animals who'd enjoyed their lives and been slaughtered locally and with compassion - I'm starting to sound a bit like Hugh Fearnley-Whittingstall or Jamie Oliver!
I can also recommend as one of my personal favourites Pig'n'Pickles  - their chilli jam is really more-ish!! A visit to a New Forest Farmers Market means fresh, local New Forest food and many products from rural businesses within the UK National Park.

New Forest Farmers Markets 2022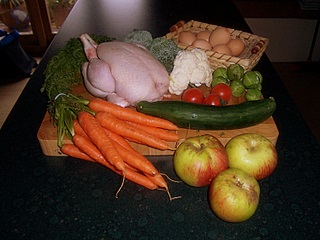 Due to closures last year there are sadly far fewer New Forest Farmer's Markets for you to explore.
Ist Saturday of each month
        The Farmer's Market held here is on the nursery grounds but not actually run by them.
2nd Saturday of each month
New Milton Farmer's Market Station Road New Milton BH25 6HY tel: 01420 588671

9 to 1pm
3rd Saturday of each month

Last Saturday of each month
---
Here are the New Forest Farmer's Markets which are no longer open.
Brockenhurst, Beaulieu and Lyndhurst

Burley has no confirmed dates for the year ahead and The Queens Head Pub on 01425 403423 had no contact number either for the market.

---
Weekly New Forest Town Markets - OPEN

Every Wednesday
Ringwood

Mixed market in this lovely New Forest town from 8a.m.

Head for

The Furlong RingwoodBH24 1AT

Park in the main car parks as you come off the A31.

Email: town.council@ringwood.gov.uk Contact numbers Ringwood Town Council 01425 473883 or Edward Morant 01590 622361 There are wonderful shops in Ringwood: Fish merchants and butchers as well as The Furlong shops Hobbs, Aga, Waitrose, East, and lots more too. 
Every Saturday

Lymington

Charter Market

Mixed market along the High Street

from 8a.m. Contact 01590 676009

Email: info@lymandpentc.org.uk

  

Lymington & Pennington Town Council, Town Council Office, Town Hall, Avenue Road,

Lymington, Hampshire SO41 9ZG. As well as lovely shops you can wander down the cobbled path at the end of the High Street to the sea.
Great New Forest Farm Shops I've Visited - OPEN
New Forest Farmers Markets tip:
If you're traveling some distance I suggest you confirm dates/times by phone prior to leaving home. I have given telephone numbers, where available.
To find out more about the New Forest Marque Sarah Hunt is the New Forest Marque Manager. Her telephone number is given on many venues as 01590 646692 but this would be office hours.
If you want to set up your own business using New Forest produce I've put a few contact details below of producers and also the The New Forest Transition Hub will be able to give you further advice and information. You'll find an email address and phone number via this link.
---
Hampshire Farmers Markets are held throughout the county. One of my favourites is held at Winchester. The selection of produce is fantastic and well worth a visit. It is one of the biggest in the country and sells fantastic food, much of it organic and all locally grown. The plants are also really good value too.
It is well worth a visit, although slightly out of the New Forest area.
If you want to search New Forest Life.com without using the navigation bars on the left, then here's a really useful Google tool. Just put your search details e.g. pigs in the search box and hit Search and you can choose to search my site or go onto the Web and come back to NewForest-Life.com.
New Forest hand crafted cheeseboard with antler handles from Wood Workouts fantastic range. We give them as gifts - we've got a wedding coming up and so it makes a perfect gift.

Have you got a New Forest Farmers Market question for me?

Please try to visit a New Forest Farmers Market, to experience life here and eat wonderful food too!

New Forest Farmers Markets to Home Page