New Forest Wedding Tips and Planning Help 
Are you thinking of a New Forest wedding for your special day? Surrounded by the beauty of the New Forest and its animals? Here are some tips which I hope might help.
5 top tips for stress free wedding planning
Planning a wedding can be one of the most stressful and time-consuming periods of your life, and yet it is the most enjoyable and fun day of any couples time together! 
Make sure you don't let the pressure get to you with these top tips from The Bell Inn for preparing for your big day in the New Forest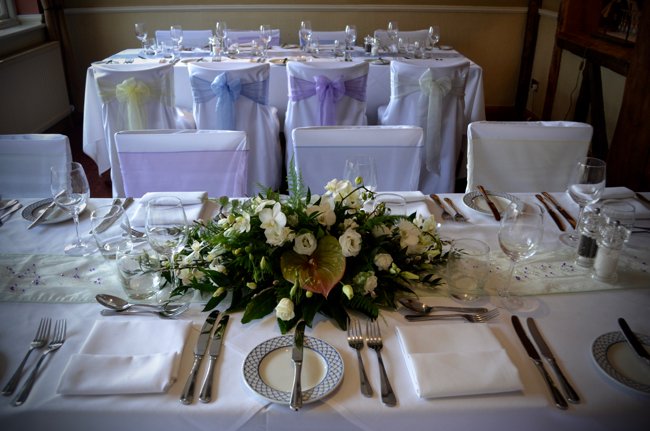 The Bell Inn New Forest wedding venue table arrangement
New Forest Wedding Tips and planning ideas for a stress free wedding day
1. Setting Your Budget

Set a budget that both you and your partner are happy with.

You needn't spend a fortune to have the wedding of your dreams, but establishing a good financial limit saves on future squabbles. 

Work out how to allocate your spending, which service is the most important to you and what do you want to spend most of your money on. 

Start saving early; those little pennies make a big difference!
2.  Use a wedding coordinator
Why? – To ease the stress of wedding planning.

Why not utilise the venues wedding coordinators? 

This removes the stress of organising everything and allows brides and grooms to relax and enjoy the build up to the wedding and the actual day itself, ensuring that everything is taken care of.

Establish a good working relationship with your wedding planner, bouncing ideas off each other and working out how much involvement you would like them to have.

A wedding planner is one of the easiest ways to ensure a smooth, perfect big day with minimal stress.
3. Find the Venue

There are so many wedding venues to choose from, where to begin? 

Think about the theme and style of your wedding and how many guests you want to invite, plus added details like if the venue is child friendly. 

There are plenty of beautiful venues to choose from, particularly within the New Forest. 

Make sure you find a venue that caters for everything you need for a wonderful and memorable wedding day.
 4. Choose the perfect dress 
This is the most fun and exciting part of the whole wedding preparation!

Whatever your shape, size or style, there is a beautiful wedding dress out there that will make you feel like a princess. 

Make sure to take an honest friend or family member with you to ensure that feedback on your look is as honest as possible. 

It's also recommended not to try on too many gowns, otherwise confusion sets in! 

Aim to try on 10 dresses or less, removing the confusion of too many choices.
5. Organise the honeymoon

After all that fun, it's time to head off into the sunset and spend some quality time together. 

Have a think about what kind of honeymoon you would most enjoy.

A relaxing fortnight by the beach? 

Or an active week in the New Forest seeing the fascinating wildlife and stunning landscapes?

Whatever your style, make sure it is something you will both enjoy and will allow you to unwind after a hectic few weeks/months planning!



I hope you've found my New Forest wedding tips and planning info from The Bell Inn helpful. 
A visit to the New Forest should be really enjoyable and I think if you choose to get married here too you should have some happy memories to treasure always.
If you have any questions please feel free to Contact me.