New Forest Tea Rooms
New Forest Tea Rooms for afternoon tea - where do I recommend?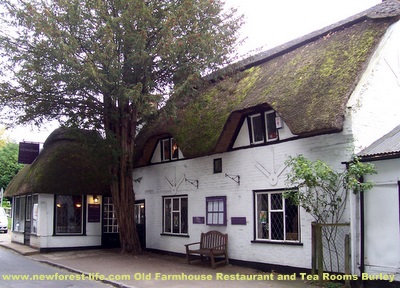 New Forest Tea Rooms - Old Farmhouse Burley

Here are some of my recommendations for New Forest Tea Rooms in the National Park, afternoon tea, cream teas, snacks, or even a lovely restaurant meal.
The list is small because I'm only recommending those I've visited and really enjoyed!

Old Farmhouse Restaurant and Tea Rooms Burley review As you can read from my review I thought this was an excellent Restaurant and Tea Rooms.
They have lots of menu choice, fresh local produce often and warm friendly surroundings.
The old cottage is steeped in history and the New Forest ponies walk past the door - what more could you want?
Contact: Tel:01425 402218
Sat Nav: BH24 4AB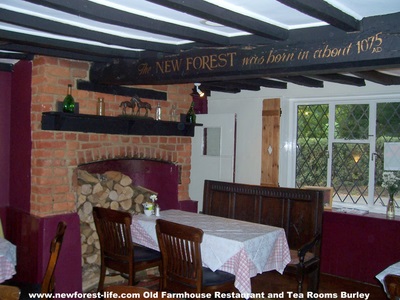 The Old Station House at Holmsley

The Station House at Holmsley review tells you why I can recommend either breakfast, lunch, afternoon tea or dinner at this lovely Cafe Bar.
It was once the Station House (obviously!) and so you are greeted by wonderful cakes and station house memorabilia.
Contact: 01425 402468
Sat nav: BH24 4HY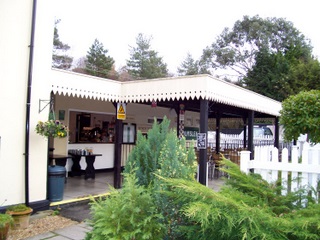 New Forest Tea Rooms - not yet visited!
Update: Black Cat Tearooms I recently walked to Burley from Bolderwood to check on whether the Black Cat Tearooms were still open. Sadly, they are no longer open but the cafe now operating from this site is lovely. The dog and I shared a very tasty home made sausage roll and I had a hot chocolate before the long walk back! No website for this cafe and I think it was called Noohoo.

Now it's up to you!

I haven't visited (yet!) the Tea Rooms below but I'm listing them until I do visit or hear from you?

I'll put a feedback form below and you can add your comments and photos if you find a great New Forest Tea Room which you feel really deserves a mention.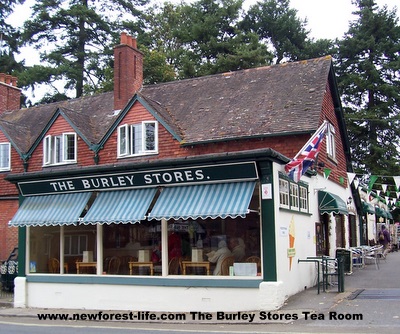 The Burley Stores is a Tea Room in Burley which is alongside a walk through area to the car park.

There are various little shops along this walk way, which you might enjoy visiting.

This Tea Room was open and people were enjoying sitting by the window, as you can see in this photo.

In the past when I've visited Burley a New Forest donkey or pony has often been standing in the car park trying to get through to the path through from the car park.

Sat Nav: BH24 4AB

Here's the form - now you can share with us your comments :-

Best New Forest Tea Rooms
New Forest Tea Rooms - afternoon tea and lots more!
Have you been to a really great New Forest Tea Room? Share your experience with us and tell us where you went, what you had to eat and whether you would recommend it to us.
What Other Visitors Have Said
Click below to see contributions from other visitors to this page...

Back from New Forest Tea Rooms to Home Page