New Forest food
Fresh, local produce for you!
New Forest food is not only fresh, locally sourced and fantastic to eat but it also helps the New Forest to continue in its traditional values. These have developed over the centuries since this beautiful area was a Royal hunting ground for King William the Second, or Rufus, as he was more commonly known.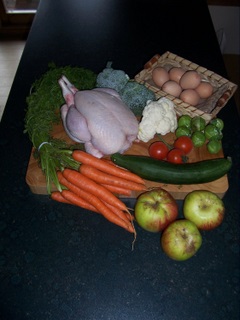 Don't forget it wont be on my pages unless I have tried it!

Latest News and Events.
Local Food Markets

Hale and Redlynch Transition Group now hold monthly Food Markets at Hale Village Hall. Check out my Farmers Market dates for more info. What a wonderful opportunity to buy fresh, local produce.

Did you visit the last one? Share what you thought of this event with us. Fill in the comments further down the page. I thought it was a lovely display of beautiful, fresh local food. Do you agree?
The Pig "n" Pickles Chutney is very more-ish!!
Sadly, at the moment I'm experiencing "Spam" on my Comments section. How ironic on a food page! A nasty Spamming nerd. If it continues I'll take the comment facility down and you can use contact me to post your views. Hopefully they'll just get a life and move on to annoy someone else. I'll keep you posted.

If you want to set up your own business using New Forest produce I've put a few contact details below of producers and also the The New Forest Transition Hub will be able to give you further advice and information. You'll find an email address and phone number via this link.

Now you can contribute to this page. Just add your comments on the form further down the page and share with others what was your favourite New Forest Food, it's easy and free!

I've also just discovered a wonderful initiative called Incredible Edible which I think would be a great campaign for the New Forest to think of trying. (I've been contacted by Rob Sutcliffe who tells me the lucky people of Burnley now have an Incredible Edible too! The word is spreading and food will get better for us all.)
Incredible Edible run a scheme called Every Egg Matters which shows a map where you can buy your eggs from local producers - what a fantastic idea?
Free range local eggs fresh from the New Forest? If you want further info please just Contact Me or ask a question.
Here are just a few producers of fresh, wonderful, New Forest food, all sourced and grown locally, which I can recommend.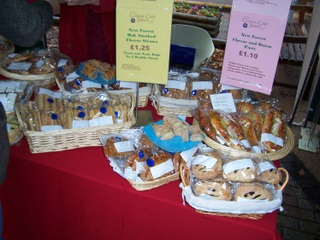 Pickles, Jams and Chutneys

We've been munching our way through homemade chilli jam and caramelized onion chutney over the last year and it is delicious. You can contact and buy online at Pig'n'Pickles - I know you'll love them!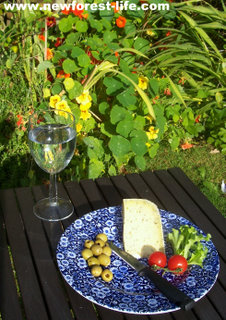 Cheese

Update 2021: Sadly there is no link to this wonderful cheese producers. I've just discovered the link I had put up was infiltrated by far eastern script. Hence no links.
I've just bought a Loosehanger Nettle and Wild Garlic cheese at a food show I attended today through a local New Forest Transition Group - more about this group later.

I've had this cheese before and it is fantastic the flavour combines stinging nettle
(yes honestly and it's great!), wild garlic, celery and parsley. mine will be combined tonight with olives and a chilled white.

There is also a Loosehanger Bustard with Mustard cheese which is a special blend of horseradish and wholegrain mustard steeped in "Bustard Beer". This gives it a tangy finish which is delicious - I know, I tried it!
A donation from each cheese sold and also from the Bustard Beer company goes towards the Great Bustard Trust a group who are trying to re establish the Great Bustard back onto Salisbury plain - I mean - how interesting can buying a piece of cheese get around the New Forest?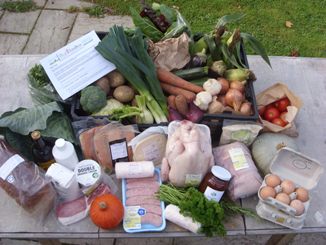 Food Boxes and more......


These fabulous food boxes were part of The New Forest Food Challenge, which is an ongoing campaign to get people to grow and eat more local food.
Recently, a local food fair was organized by the Hale and Redlynch Transition Group, and as you can see this was just one of the 40 boxes of food ordered by local people through The Local Food Box project.
The food boxes looked fantastic and were brimming over with fresh, local food. Beef, chicken, eggs, bread, vegetables and lots more - my spinach was the freshest I had ever tasted!

Here are just a few New Forest food products I try to buy as often as I need - infact I never do a huge supermarket shop now - how fantastic is that?

I don't take more time shopping locally but I do find I shop and plan more - but it is easy - honestly!.
Pork, beef, lamb and chicken

Milk, cream, cheese, eggs

Seasonal vegetables and fruit - sometimes a bag of tomatoes appears in the porch!

Fish - delivered to the door

Bread, pastries, cakes - if I'm not making them from local flour!

I hope to expand this list in the future, and use even more local New Forest food and produce.


Would you like to enjoy your fantastic New Forest cheese on one of these unique cheeseboards?
Each one is handcrafted by Gill at Wood Workouts
We've bought 2 so far to give as personal New Forest wedding gifts. The bride and groom were delighted to have such a lovely wedding present.
If you contact her I'm sure she will tell you the wood she has available and you can ask her to make your cheeseboard unique to you!
A word of caution re adding your personal links - don't!

To all my lovely, honest and sincere visitors/readers please add your comments below - they are always welcome and a help to genuine readers/visitors to my site. Please Contact Me if you genuinely want to advertise on my website.

To the Spammers who are trying to dishonestly attach to my website:
Please don't make a false comment just to add your personal links to my website - it will be treated as Spam and removed (not eaten!)

What was the best New Forest food you have eaten?
This is your chance to share your great New Forest food story with others!
What Other Visitors Have Said
Click below to see contributions from other visitors to this page...