New Forest Camping and Caravan Holidays

Enjoy a New Forest camping and caravan holiday in this beautiful UK National Park. The New Forest holidays I'm suggesting are all inside a cattle grid so the New Forest ponies and other animals will be right outside your tent or caravan door. I recommend you try one of the 10 New Forest Campsites owned by the Forestry Commission and run by Camping in the Forest and the Camping and Caravanning Club.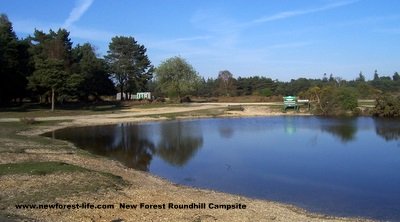 The 10 managed New Forest sites are all run by Camping in the Forest. Each listing gives you facilities, dates, prices, directions, availability and how to book. They run forest and woodland based caravan parks and campsites all around the UK, with the Forestry Commission and the Camping and Caravanning Club. The Caravan Club also have one site at Black Knowl just outside Brockenhurst but you would have to be a member to holiday here.

There are private New Forest camping and caravan sites which I can also recommend like Red Shoot at Linwood. (Private brewery attached here too so good local brews available)

To make it easier for you I'll list them alphabetically for you.
The 10 New Forest Campsite Listings and Opening Times for 2023 - to be advised

        Please NB: Aldridge Hill is closed mid summer dates for the New Forest Show                                                                                                                                                                                                                                                             
I'll be updating this page as the season goes on as I visit each campsite and speak to the individual managers. I'll add photos of what I think you'll enjoy and discover.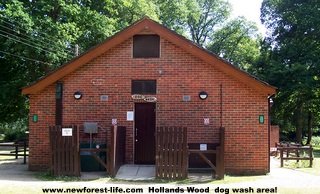 Facilities and amenities differ in all the 10 caravan and campsites, some you need your own toilet others have shower facilities and even dog showers too - very handy if your dog finds a nice green bog area!
You'll find all the details you need on each page. If you have a specific question, please Contact me I'll try to get you the answer or point you in the right direction.
If you're looking for a specific area of the New Forest for your camping or caravan holiday here are the nearest areas to the campsites.
Ashurst:

Ashurst - good public transport links here but NO DOGS



Brockenhurst: 

Aldridge Hill, Hollands Wood, and Roundhill



Burley:

Holmsley

Lynhurst and Beaulieu:

Denny Wood and Matley Wood

Stoney Cross:

Ocknell and Longbeech

Sway:

Setthorns
Some are nearer to villages but others like Stoney Cross are just areas of the New Forest with no shops etc nearby.

How to stay safe when having a New Forest Camping and Caravan Holiday

The New Forest National Park is a living and working forest. Part of the experience is being amongst the animals but here's a few tips.
Always keep your food secure

Put it in your car boot and never leave it out

New Forest ponies are inquisitive and very greedy

They can see easy pickings from a long way off and will just walk through your pitch and eat all your food

Never, ever feed them

I've seen the outcome of ponies who have been fed and believe me the agonizing death they suffer is not what you'd ever want to have to experience

They bite and may kick so always keep children close

They poo so be prepared to experience a few up close and personal examples!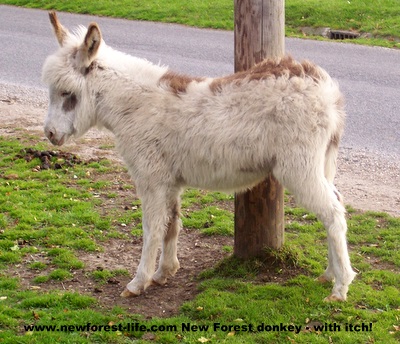 New Forest donkey. Please don't feed and keep your food safe!
I hope you have a wonderful New Forest camping and caravan holiday and the weather is kind to you. There's loads to explore and discover in this stunning UK National Park so happy holidays!

Back from New Forest Camping to Home page