New Forest Cycling - where, how and when.

New Forest cycling is one of the very best ways to explore and discover the beauty and diversity of this National Park. I hope my info is helpful to you but don't forget you can always ask me any questions you have via my Contact Me link. if I don't know the answer I'll certainly try my best to get it for you!

Update 2022:
Cycling is allowed on the New Forest ONLY on the way marked numbered cycle routes. More people are going off road across the forest which will damage this sensitive environment.
Please make sure you stick to the allowed cycling routes and help protect this beautiful place and all our livestock and wildlife too.
New Forest Cycling info for you.

Where?
Here's a handy walks and cycling map from the New Forest National Parks Authority.

There are over 100 miles of off road

tracks and routes. Here are some of my trails and route recommendations

If you choose to stick to the roads, apart from being careful of passing cars (and idiots!) you should enjoy a good cycle and see lots of lovely sights too

If you want to go for the road options, stick to the villages and then head out over a cattlegrid asap!

From Brockenhurst village head off towards the Ober Water routes (as I've recommended)

using rough SatNav guide of SO42 7ZG or

OS Grid ref:

SU 274 026 and just meander either along the road or follow the actual marked cycle trail.  You'll go over the bridge above if you follow the cycle route, otherwise you'll eventually pass the Rhinefield House Hotel SO42 7QB and be on the Ornamental Drive.
I was tempted to suggest routes from Lyndhurst and Burley but the roads are a bit more busy and you may want to test them out first before you get on your bike?

How?
You can hire a bike if you need one at many places including some of the campsites and hotels. The main hirers are in the villages of Brockenhurst and Burley.


If

you are planning to stay

on the north side closer to Fordingbridge

at places like Sandy Balls

as you can see in this photo they have a good choice of hire bikes and offer repairs too



These are my New Forest cycling hire recommendations.

When?
You can do New Forest cycling all year round if you want. Obviously you may prefer the warm spring days (less flies about) or hot summer days and evenings.

New Forest tip: I always wear sunglasses and keep my mouth closed (difficult) as going along and getting a fly in your eye or mouth can nearly make you fall off!

Because the tracks and paths are gravel based apart from a bit of puddling now and again you're pretty able to cycle 365 days a year - how good is that?

Because we're quite a wet region you may get some flooding of paths as streams and brooks overflow, but if it's been that wet you may have decided to wait for drier weather anyway?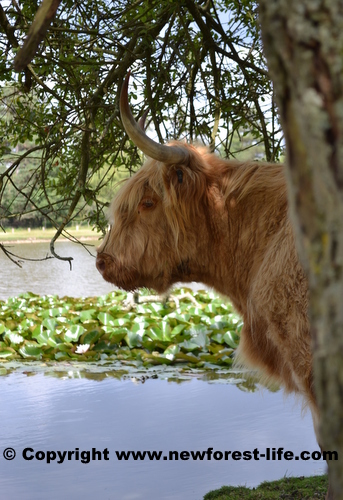 Because many of the off road tracks and routes are gravel you will need quite a sturdy bike and mountain bike specs are the best to go for.
The chunkier the tyre the more likely you are to stay on, corner more safely and go through any wet more easily.
A couple of weeks ago we set off on an off road cycle track but by the time we got to the pub I'd got a puncture.
More fool me for not checking my bike throughly before setting off!. At least it ended in a pub lunch and a pint but I did have to walk a couple of miles to get back to the car!
Your safety and animal safety and welfare
As you can see there are lots of wonderful New Forest animals and wildlife about. They generally keep away from you but they do chose to cross paths at the daftest moments.
Please always watch out for them and give them the respect they deserve and most importantly of all - enjoy your visit!

If you decide New Forest cycling is the best way to thoroughly enjoy your visit I hope you have a wonderful time. The good news is that generally it's quite a flat area and so hopefully you wont go home too saddle sore!

Back from New Forest cycling to Home Page