Hotels New Forest?
My star rated guide for you to choose.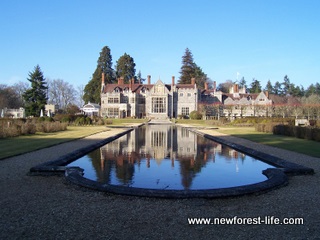 My Hotels New Forest guide hopes to offer you, at a glance, independently inspected accommodation.
I want to offer you the widest possible range I can in my hotels New Forest guide and so I have used links and information from the official New Forest Tourism Guide which is the New Forest District Council working in partnership with the New Forest Tourism Association.
Although I will also personally recommend hotels throughout my site, I have built this page to give you an at a glance way to quickly get an overall view and choice of what is on offer.
How to use this page
New Forest Hotels allows you to use the link to put in a village or hotel name.
It also shows you photos and further information for all hotels featured - I hope you find this helpful.
You'll find

Nationally inspected accommodation


Locally assessed accommodation


Ungraded accommodation and finally


Welcome Host accommodation.
They will also offer Accessibility information based on mobility, visual and hearing disabilities needs, which have all been inspected under the National Accessible Scheme and Standards.
I will be visiting hotels in the New Forest all the time and will be personally recommending my own favourites to you like the
I will be visiting hotels in the New Forest all the time and will be personally recommending my own favourites to you.
My Hotels New Forest recommendations - some welcome dogs too!

££££
Lime Wood Lyndhurst - top end luxury in the heart of the New Forest. Dogs allowed

Chewton Glen New Milton - top end luxury but not within a cattle grid. Close to the sea
£££
Spot in the Wood Ashurst - just outside a cattle grid but in a lovely quiet New Forest area.
Rhinefield House Hotel Brockenhurst - lovely setting deep in the forest. Excellent disabled facilities - read my review
The Cloud Brockenhurst  - genteel hotel in a wonderful setting
££
Stanwell House Hotel Lymington - coastal village with lovely shops to explore and enjoy. Dogs welcome

The Bell Inn Bramshaw - lovely family owned inn with golf on tap. Dogs welcome
Dog friendly
Please make sure you contact the hotel before even thinking of booking. I can't guarantee a warm welcome for our 4 legged friends at all times. I once arrived at a hotel in Dartmouth having confirmed 3 times by phone that I would be bringing a big black dog, to be refused at reception when we arrived. Things happen and dog policies change! Needless to say we ended up staying, but not a relaxing experience whilst we thrashed it out!

Hotels New Forest Guide Disclaimer

Disclaimer
The complaints and problems procedure

As applies to the whole of www.newforest-life.com site, I cannot take responsibility for any complaints, inaccuracies or ommissions either on this page or throughout the site, you may have, based on suggestions you may have followed on this site.
However, for this page in particular, because it is based on information from New Forest District Council and the New Forest Tourism Association, there is a complaints procedure which needs to be followed.
Bring your complaint to the attention of the manager or proprietor at the time.

Take your complaint to the grading body ie. AA or VisitBritain if it has not been resolved

If you have found something misleading contact

New Forest District Council

who will be happy to investigate further
I hope you find a fantastic New Forest hotel to stay in when you explore this beautiful National Park. If you need any extra help just contact me and ask whatever you want to find out.
Back from Hotels in the New Forest to Home Page