The Remembrance Day poppy
a New Forest memorial day
flower forever.
The most important memorial day in the New Forest, as throughout the UK, is symbolised by the Remembrance Day Poppy.

Throughout the forest, WW1 and WW2 memorials will have these stunning red poppy displays placed on them as a memorial to all those who lost their lives in both World War One and World War Two.
This lovely memorial is at Canada Cross
It is known as Mogshade Hill and the Forestry Commission are trying to make contact with anyone who has looked after this memorial over the years or who has a personal interest in the memorial site.

Perhaps more significantly today, they are also sold to symbolize and make us reflect on the huge loss of life our Armed Forces have and are experiencing in Iraq and Afganistan. This year is a very special year for the Remembrance Day Poppy, it is the 100th Anniversary of the outbreak of WW1, lapel badges will be on sale commemorating this anniversary in the lead up to Remembrance Day . The UK charity has been helping the Armed Forces community in many ways over the last 90+ years and continues to do so today with both current serving forces and those that may no longer be on active duty, but who require help, care and support. There are many events for you to take part in.
If you have your own special family memories which you may like to share whether wartime stories from the past or today, just fill in the form further on down the page.
I've just found some paperwork from my grandfather which shows the directions he was to follow when he set off in just one of the many little boats, one of which is still on the River Thames, to pick up from the beaches at Dunkirk during WW2.
I strongly believe that the wonderful work of the Help for Heroes charity (which was founded in a village on the edge of the New Forest) has done much to bring war and its consequences into our modern day experience. Before H4H I think our WW1 and WW2 heroes were in danger of slipping from the public memory, apart from the November memorial service. Sadly, it took body bags and a new charity to bring it into our modern day mind and for us to fully empathize with the sacrifice our service personnel have made through the decades.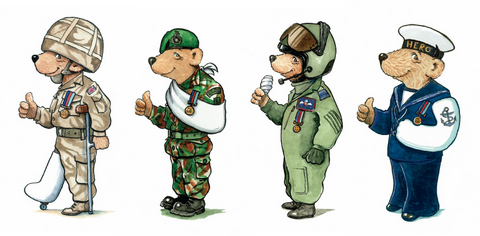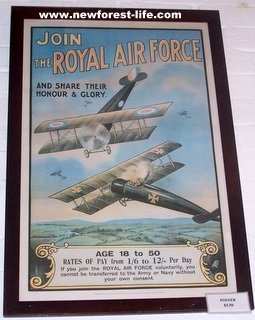 The New Forest Airfields Enclosure now hosts an American War Memorial to the Pilots of the 404th Fighter Group. The US Memorial Day held throughout the United States each May, is also observed at the New Forest Airfields enclosure in May.
You may like to read my New Forest Airfields page which details all the wartime airfields  This memorial site, Friends of New Forest Airfields also has lots of fascinating information to share with you. Lots of the information I have been able to share with you has come from the Royal British Legion.

They have so much to offer both leading up to Remembrance Day and each Poppy Appeal but also throughout the year. You might want to dedicate a cross in memory of a loved one? Or use their expertise on your special memorial day by getting their Remembrance Day advice and expertise to help your day be a memorial day to remember forever.
How did the poppy become the symbol of this special memorial day?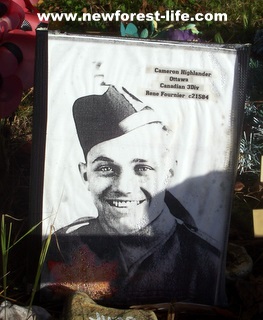 It epitomized new life out of destruction, but also through its brilliant red colour, provided a very poignant memorial to symbolize the carnage and blood letting of these WW1 battles.

During World War One, complete devastation was experienced on the Flanders and Picardy war zone fields of Belgium and Northern France.
The poppy was the only flower to bloom from the mud of this war zone. Their seeds had lain dormant for decades but trench digging and bomb explosions had activated the seeds into their brilliant floral display. To me it was natures way of remembering the fallen.

The first official Legion Poppy Day was held in Britain on 11 November 1921.
Each year since, throughout the UK, the death and destruction which was experienced by our troops on those Flanders' fields during WW1 has become an annual event in which to remember and reflect on, for all generations since. John McCrae, a doctor serving with the Canadian Armed Forces wrote this poem, In Flanders' Fields, which sums up what he experienced, first hand as a WW1 medic.


1915 In Flanders' Fields
In Flanders' fields the poppies blow
Between the crosses, row on row,
That mark our place: and in the sky
The larks, still bravely singing, fly
Scarce heard amid the guns below.
We are the dead. Short days ago
We lived, felt dawn, saw sunset glow,
Loved and were loved, and now we lie
In Flanders' fields.
Take up our quarrel with the foe;
To you from failing hands we throw
The torch; be yours to hold it high,
If ye break faith with us who die
We shall not sleep, though poppies grow
In Flanders' Fields.
On the eleventh hour of the eleventh day of the eleventh month in 1918, the First World War ended.

Civilians wanted to remember the people who had given their lives for peace and freedom.
In America, a War Secretary, Moina Michael, inspired by John McCrae's poem, began selling poppies to friends to raise money for the ex-Service community. And so the tradition began. In England by 1922, Major George Howson, a young infantry officer, had formed the Disabled Society.
At this time there were many disabled ex-Service men and women from the First World War.
Employment was hard to find, and Major Howson suggested to the Legion that members of the Disabled Society could make poppies. The Poppy Factory was subsequently founded in Richmond, Surrey in 1922.
It was designed to be easily assembled by workers with a disability and this principle remains today.
The New Forest has lots of memorial day sites to visit. Leading up to Remembrance Day in November each year, you will see a new array of poignant letters or personal items, which may have been placed beside the beautiful poppy symbol throughout this lovely landscape.
Visit at your leisure, they usually remain all year. They are added to as visitors come from overseas to see where their relatives were stationed or even may have lost their lives during WW1 and WW2.
What special New Forest memorial day memories does your family hold?
Why not share that special New Forest wartime story of WW1 or WW2 that has been part of your family for years? Who knows who you may be able to share a New Forest memorial day memory with?

Do you have a great WW2 memory you can share?
WW2 memories are heartfelt, poignant and very personal. Some of them can be funny - have you got one to share?
What Other Visitors Have Said
Click below to see contributions from other visitors to this page...

Would you like to visit some New Forest memorial sites?
They range from medieval murdered (or not?) royalty to WW1 and WW2 sites.
Explore my New Forest memorial page and find out more about the New Forest and its history.
Back from Memorial Day to Home Page