Welcome to my Days Out New Forest recommendations
New Forest National Park piglets - where will you see them?

Days Out New Forest National Park

My Days Out New Forest info should mean you get the very most out of your stay or visit to the New Forest National Park. I'll recommend major events and places to visit and also smaller venues which allow you to get to the heart of this beautiful area, with me.

Days Out New Forest - Activities

Here's a venue I think you'll enjoy. The St Barbe Museum and Art gallery is a lovely museum for you to enjoy in Lymington in the New Forest. Lymington is a lovely coastal town with a great mix of shops, eating places and hotels too. The harbour area is also beautiful and there is a sea water swimming pool for you to enjoy if you fancy a swim!
Here's an example of a fantastic exhibition which was on last year - as a little taster.
Archive info only:
EXHIBITION: Birds of the New Forest 
by Geoffrey Dashwood and Chris Packham
St Barbe Museum and Art Gallery, New Street, Lymington, SO41 9BH
Internationally renowned for sculpting birds in bronze, Dashwood's work has transcended wildlife art and is now firmly established in the wider field of contemporary art. This exhibition focuses on the birds of the New Forest (past, present and future!) and is interpreted by writer, campaigner and TV presenter Chris Packham who is a friend and long-time admirer of Dashwood's work.
"These sculptures defy the need for anatomical or ornithological justification - they are quite simply ravishing." Chris Packham
Just visit the St Barbe Museum to see what fun you can have in the year ahead - for all the family!
The Southern Counties Heavy Horses Association Events

ARCHIVE INFO
If you want a great day out admiring the hard work of this wonderful heavy horse association the details are below for you. I go every year and have a lovely day out amongst "gentle giants"! 2018 SCHHA Events are below - they're wonderful value for money.
Last year we visited the Spring Event of the Southern Counties Heavy Horse Association and saw wonderful displays of horsemanship performed by dedicated heavy breed enthusiasts and their beautiful horses. It was wonderful as usual! There's something I think you might also enjoy a bit later in the year too.
The Southern Counties Heavy Horse Association are a wonderful society dedicated to the wellbeing and future of the working heavy horse.
Spring Event - New Forest
Date: Sunday 15th April 2018
Time: From 10:30am
Heavy Horses working the land
Wagon Rides
Ring Displays - Horses Ridden and Driven
Refreshments
Free Parking
Venue:
Harbridge Farm, Ringwood (A338), Hampshire, BH24 3PW
Adults £6.00    OAPs £5.00    SCHHA members & children under 16 FREE
Further details and Trade Stands;
info@southerncountiesheavyhorseassociation.co.uk
Dogs welcome, but must be on a lead at all times
-------------------------------------------------------------------------------------------------------------------------------------
The Great All England Horse Ploughing Match and Country Fair 
Date: Sunday 21st October 2018
Time: From 10:00am to 4:30pm
Heavy Horses Ploughing Show Classes - in-hand and ridden
Ring Displays - including gundogs, birds of prey, side saddle and ferret racing
Fun Dog Show - sponsored by Farringdons Pet Care Centre and Hoof and Hound
12.30-2.00 p.m. - Entry on the day £2.00 per class
Classes: Prettiest Bitch; Handsomest Dog; Waggiest tail; Best Trick; Dog the judge would
 most like to take home
ChampionshipTrade and Craft Stands
Refreshments & Free Parking and disabled parking area
Toilets and disabled toiletsVenue:
Bushey Down Farm, Droxford, Southampton, Hampshire SO32 3QW
by kind permission of Mr S Horn
Adults £8.00, Seniors £6.00, SCHHA members & children under 16 FREE
Secretary: Anne Dawson 07773 155817 Trade Enquiries: Anne Dawson 07773 155817
Dogs welcome, but must be on a lead at all times
---
Family Fun at Beaulieu with New Forest Activities. Located in Beaulieu village you will do your activities here and also in the beautiful Bucklers Hard area of the New Forest. It's family fun for all with canoeing, kayaking, archery, Bush Craft and rope courses.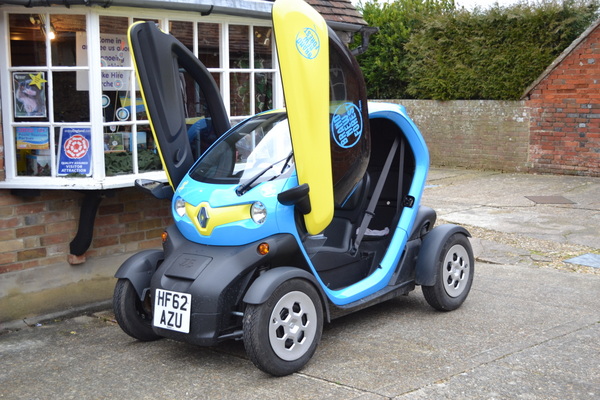 Days Out New Forest - Country and Theme Parks
Paultons Park fantastic family fun! - Romsey Jct2 M27

Lepe Country Park is alway lovely at any time of year. There is lots to to do and see along this beautiful bit of coast line. Discover more about Lepe Country Park from when I visited. It is on the New Forest coast with stunning views across the Solent.

Days Out New Forest - Historic Houses and Gardens and a Tudor Castle!
Hurst Castle near Keyhaven - update March 2021 part of the external wall has collapsed
Hurst Castle provides a remote escape by the sea with centuries of history to uncover. Built by Henry VIII it was one of the most advanced artillery fortresses in England, commanding the entrance to the Solent. 
The Tudor castle is the original part of the building and received fame when used as a prison for Charles I before his trial and execution in London in 1648. Throughout the centuries, the Tudor part of the castle has been strengthened and the whole site added to especially in the Victorian era, with huge armoured wing batteries, making it one of the largest coastal forts in the world. 
Access to the castle is via ferry from Keyhaven or a 1.5 mile walk along Hurst Spit. 
Tel: 01590 642500 email: info@hurstcastle.co.uk web: www.hurstcastle.co.uk
Beaulieu Motor Museum
Read my Beaulieu Review and find out why I recommend visiting Beaulieu and The National Motor Museum. All through the summer there are various events going on at Beaulieu to keep adults and children amused so check out our Beaulieu Events Link here.  
Buckler's Hard Maritime Museum is fascinating. Learn about Nelson and the New Forest.
Read My Breamore House and Countryside Museum Review It really is my favourite historical house to visit. Breamore House and Countryside Museum

Exbury Gardens and Steam Railway a lovely place to visit - take a picnic or eat in the lovely restaurant and tea room - near Beaulieu

Highcliffe Castle - Highcliffe - a lovely setting for afternoon tea - stunning views - right by the sea! and a lovely wedding venue too.
A Day Out on the Farm?
Longdown Activity Farm - this farm is family run for family fun!
you'll meet piglets, goats, chicks and lots more - and have a tractor ride too. If you are staying near Ashurst Campsite this would be an ideal trip for all the family to enjoy.
Owls, Otters and Birds of Prey and lots more too
The New Forest Wildlife Park - a fun day out meeeting lots of wildlife - for all the family Liberty's Raptor and Reptile Centre - for the largest collection of birds of prey in the New Forest - and you can leave your dog in the kennels whilst you enjoy your day out!

Days Out New Forest - Getting About
New Forest National Park Tour Bus usually runs from July  to September every year.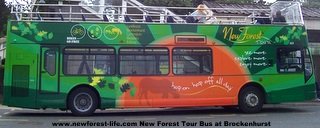 New Forest Water Park - for a great day out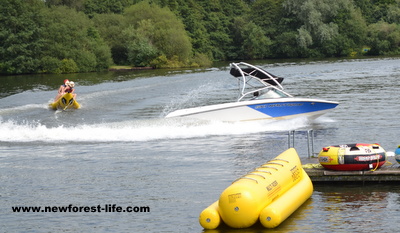 New Forest Water Park Banana Boat fun
Days Out New Forest - Water Activities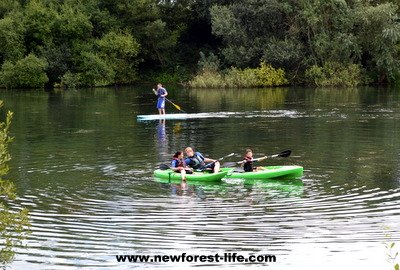 New Forest Water Park Stand Up Paddle Boarding and Kayaking
New Forest Water Park

- Ringwood - waterski, waterboard, bananaride and tyres and more. We visited today and saw the new Stand Up Paddle Boarding and Kayaking facilities. It looked great fun out on the massive lake. The inflatable yellow watersled was whizzing about and on the home turn they were all bounced off! The prices look very good too so please check it out for yourselves.

Water skiing is also popular too!
Days Out New Forest - Fishing

Fishing at Sandy Balls Holiday Centre

- for the experienced angler who wants to fish the River Avon - also nearby Somerley Lakes - day tickets are available from the Sandy Balls Cycle Centre Season closed 15 March to 15 June.

Fishing in the New Forest

- Forestry Commission sites close to Ocknell or Roundhill Campsites - there's lots of other really great suggestions and Events info on this page too!

Rockbourne Trout Fishing

- off the New Forest but offers day permits and evening fishing - relax after work!
Would you like to ask me any questions about the New Forest?. Just fill in the contact form below.
Perhaps you would like to use WikiMapia to look at more detail of the New Forest? If you use this map you can find exactly the area of your chosen campsite and what the nearby villages look like ...before you book! Give it a go.....
WikiMapia

National Trust Properties near the New Forest :-
There are numerous National Trust Properties within easy driving distance of The New Forest, here are a few that are approximately an hour away from the New Forest :-
The Vine, Basingstoke RG24 9HL
Hinton Hampner, Bramdean Alresford SO24 0LA
Avebury (To the Manor Reborn on TV) SN8 1RF
White Mill, Sturminster Wimbourne BH21 4BX
Kingston Lacey, Wimbourne Minster BH21 4EA
Mottisfont, Romsey SO51 0LPWinchester City Mill, Winchester SO23 0EJ
Mompesson House, Salisbury SP1 2EL
Stourhead, Wilts BA12 6QD
And many more slightly further away, but still within approximately 90 mins drive. We've been members for many years and have enjoyed visiting both beautiful properties and stunning landscapes and have found that if you use your membership well it is excellent value for money, and is a great way of putting something back to help protect the historical and architectural beauty of England.

Read how the New Forest and National Trust have teamed up to help preserve this beautiful National Park and its heathland.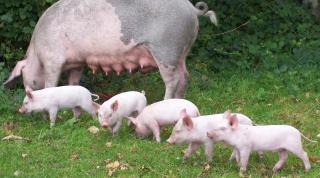 Back from Days Out New Forest to Home Page