Which New Forest memorial
shall I visit?
New Forest memorial suggestions for you to visit

New Forest memorial sites are very varied. Here are just a few for you to explore.
The Rufus Stone murder - or was it just an accident in August 1100?

WW1 New Zealand and Australian troops stationed in the New Forest

Indian casualties including Sukha who is buried in Brockenhurst


The Portuguese Fireplace

The Canadian War Memorial. You can also read my full review

Fascinating histories and insights into New Forest life during World War One and World War Two. Start by visiting my

New Forest Airfields used during WW2

information

Visit my

Remembrance Day Poppy

info and find out all about the 90th Anniversary of this beautiful flower and all about its history too.
Lots of choice for you to discover and explore. Don't forget you can also add your own personal memorial story (just fill in the WW2 Memorial box below.)
Important News
The New Forest National Park Authority have received funding for a very exciting project called New Forest Remembers - Untold Stories of World War ll Do you have any relatives or friends who lived, were stationed, or were evacuated to the New Forest during WW2? They would love to hear from you. If you live locally you could also become a volunteer. This is a great chance to share your memories. Contact me for the email address if you want.
New Forest - the early years

On August 2nd 1100 in the New Forest - the death of a King.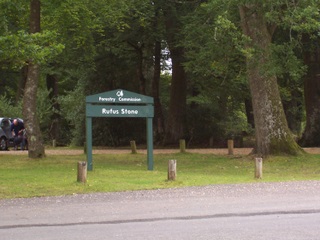 The Rufus Stone - (no nearby facilities)

You can see by the photos I've taken that the site history is described on a three sided memorial.  There is no postcode for satnav (no properties nearby) but the map reference is SU 271 126.

When this royal murder (or accident - no one can be sure) happened it must have been a truly stunning event. Not only for the royal family, but also for everyone in the New Forest - would there be repercussions in their lives as a result?
Here is the memorial information, you read each side.
1. Here stood an oak tree, on which an arrow shot by Sir Walter Tyrell at a stag, glanced and struck King William the Second, surnamed Rufus, on the breast, of which he instantly died, on the second day of August, Anno 1100.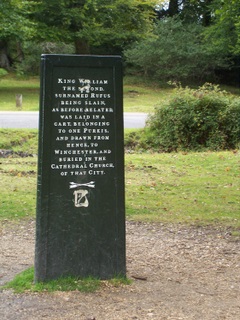 2. King William the Second surnamed Rufus being slain, as before related, was laid in a cart, belonging to one Purkis, and drawn from hence, to Winchester, and buried in the cathedral church, of that city.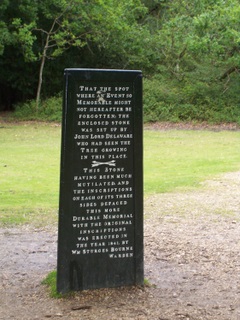 3. That the spot where an event so memorable might not hereafter be forgotten; the enclosed stone was set up by John Lord Delaware who had seen the tree growing in this place.
This stone having been much mutilated, and the inscriptions on each of its three sides defaced, this more durable memorial with the original inscriptions was erected in the year 1841,
by Wm Sturges Bourne - Warden
The Purkis family (who owned the cart and transported the body) still live on the New Forest.
I read more information about the New Forest Rufus Stone memorial and the man accused of the causing the death of Rufus - whether murder or accident!
I just want to add a little bit about a visit to the Rufus Stone. I can understand that people may be a bit underwhelmed when they reach the site - it is literally just 3 information blocks. A visit to the New Forest means you are entering a living, working forest - there aren't going to be toilets and shops at every place, in fact they are as rare as hens teeth. The whole point is to preserve an ancient area of vital ancient habitat and culture in the overcrowded south east. There is interesting history and culture to find out about but it will not be seen in an urban environment setting.
I'm going to add facilities (if there are any!) to any info I list.

World War 1 (WW1) and World War 2 (WW2) memorial sites
Other New Forest memorial sites include areas where the First World War and Second World War had a great impact on the New Forest. There were very many overseas casualties of WW1 and WW2 for you to discover on your visit.

St Nicholas' Church Brockenhurst - (facilities a short walk to Brockenhurst Village)

At St Nicholas' Church in Brockenhurst there are around 100 graves of soldiers who were amongst thousands injured in France during World War 1. They were brought for treatment at Brockenhurst Hospital during wartime. The graves are cared for by the Commonwealth War Graves Commission (previously the Imperial War Commission). Included in graves within St Nicholas' churchyard are:
93 New Zealand soldiers

1 Austalian soldier

3 Indian soldiers

One Indian soldier who lost his life during WW1 was Sukha you can find out more about his poignant WW1 epitaph and the New Zealand soldiers in Brockenhurst, if you want - it's a really thought provoking memorial.

The Portuguese Fireplace - (no facilities at all including parking)

This World War 1 New Forest memorial stands where the site of a camp cookhouse used to be.
Labour became scarce during WW1 and a Portuguese army unit who were working within the Canadian Timber Corps were used to fell mature New Forest timber for the war effort.
I have visited this site and think it is a lovely New Forest memorial, and again shows how the New Forest contributed so heavily during World War One and World War Two. 
World War 2 memorial sites
The Canadian War Memorial Site - parking nearby and toilet/parking facilities at Bolderwood car park
Canada Cross.
I've written my own review of this poignant war memorial site which I hope you find interesting. It is regularly visited by relatives of Canadian servicemen. Photos, personal messages, flags and poppies are kept up to date throughout each year.
This is a wonderful, quiet and peaceful site near Bolderwood and just before you go under the A31 towards Linwood, on the right handside. It's a New Forest memorial to those Canadian Servicemen killed in action during World War2.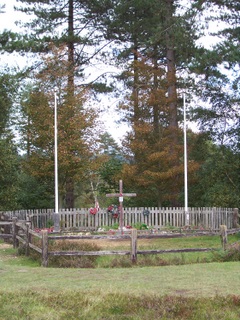 A simple wooden cross stands in an enclosed area. There are usually poppies, wreaths, flowers, cards and personal messages to those who fell in action.
The plague reads
"On this site a cross was erected to the Glory of God on April 14th 1944. Services were held here until D Day 6th June 1944 by men of the 3rd Division R.C.A.S.C.
The cross was erected on the same day (14th April) as my wedding anniversary, and that makes it quite special to me too.
I found out a lot more here on New Forest memorials


Land and buildings within the New Forest National Park were appropriated during the Second World War. These included The Balmer Lawn Hotel.
General Eisenhower and General Montgomery used it as headquarters for planning the D-Day invasion of Europe in 1944. It looks a lot different today
Ibsley Control Tower and nearby memorial - no nearby facilities

During WW2 the small New Forest village of Ibsley between Ringwood and Fordingbridge, was the site of one of the 12 wartime airlfields. The whole area has some very interesting WW2 history including General Patton being stationed at one time at nearby Breamore.
Sadly, the control tower is now on private land but if you read my Ibsley wartime info you can find out lots more about future plans in progress to restore this important wartime part of New Forest history

Prior to the D-Day invasion of Europe, the New Forest was used as a massive area (3,500 hectares) for troop training. This included: military training, airfields, and bombing and explosive ranges.
Some of the impact of this Second World War legacy is still seen on the New Forest today.
Charcoal burning
During World War 2 much more charcoal was needed, to provide absorbers for gas masks!
Local timber was burnt to make this charcoal, and alder was used if particularly fine charcoal was needed.
New Forest charcoal during World War 2 helped to make around 40 million gas respirators!
I'm amazed there is still a New Forest National Park - aren't you?
Do you have a great WW2 memory you can share?
WW2 memories are heartfelt, poignant and very personal. Some of them can be funny - have you got one to share?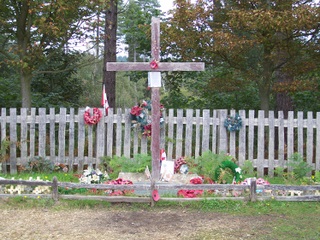 Back from New Forest Memorials to New Forest-Life home page