New Forest lodges - sea or forest setting?

New Forest lodges closer to the sea
I've just been given some details of where to find New Forest lodges with a touch of luxury in this beautiful National Park, close to the sea at Shorefield Country Park 

Located near Milford on Sea they have a Spa, pool and really friendly staff in their on site shop too.

Ask about the Romance and Select 1 Lodges


You'll be close to the sea (if it's a bright day it can be just as good as mid summer - just take warm clothes!)

If you want to be in the New Forest near Ringwood you could try Shorefield Forest Edge Holiday Park.
I know you can make visits to the Shorefield Country Park from here too, where you can make use of the facilities. Check what's on offer when you book.

 Are you looking for luxury and romance in a woodland setting?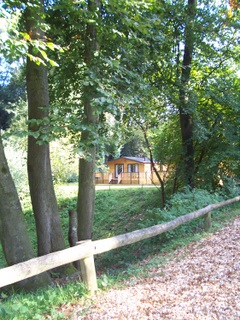 New Forest lodge
Some New Forest Lodges can offer you a wonderful romantic break in a beautiful woodland setting. I've visited the Sandy Balls Holiday Centre and seen their luxury lodges. Some of them have stunning views from a hilltop location. The sunsets from these views are wonderful, especially with a nice. chilled glass of white!
See my recommendations and lodge numbers for you to choose for yourself where you would like to stay.
The current trend is to go for luxury lodges rather than luxury camping or glamping. This is good news in the New Forest National Park as lodges can fit better into the landscape. Campsites are restricted by the need to keep moving the glamping tents around unless set on a concrete base, which isn't really good for the New Forest.

This New Forest lodge is tucked away in woodland but has a swimming pool, spa, bistro and lovely riverside and woodland walks and cycle hire and tracks nearby.

I know from living on the New Forest that the sunsets are truly powerful and a real joy to see and experience. As you can see if you pick the right New Forest lodges, you will be able to experience stunning sunsets like this one.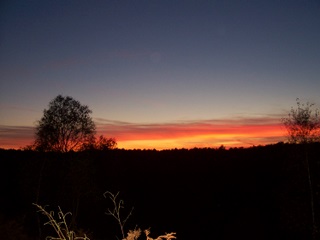 New Forest sunset
Disclaimer:
Please always check with
Sandy Balls Holiday Centre
Godshill
Fordingbridge
SP6 2JZ
T 01425 653042
T (Booking Line) 0845 2702 248
F 01425 653067
E post@sandyballs.co.uk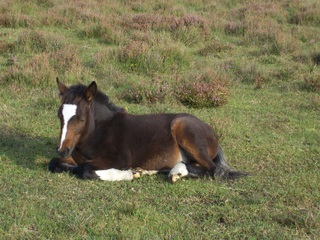 I hope you enjoy your New Forest Lodges holiday and that your stay is memorable. It is a wonderful environment to discover and enjoy and the ponies and other animals will always make it just that little bit more special - enjoy! 
Did you know there are numerous National Trust Properties within easy driving distance of The New Forest. The Vine at Basingstoke; Hinton Hampner at Bramdean Arlesford; Avebury (To the Manor Reborn on TV); White Mill Sturminster Wimbourne; Kingston Lacey Wimbourne Minster, Mottisfont Romsey; Winchester City Mill; Mompesson House Salisbury; Stourhead, and many more.
All within an hours drive. We've been members for many years and have enjoyed visiting both beautiful properties and stunning landscapes and have found that if you use your membership well it is excellent value for money, and is a great way of putting something back to help protect the historical and arcitectural beauty of England. So join now and save money by clicking below :-
New Forest lodges back to Home Page