New Forest Donkey

The New Forest National Park Donkey

New Forest donkeys are scattered throughout the National Park. Generally, they are gentle and affectionate animals and have a much more serene personality than some of the ponies - usually! If they are fed they can become very greedy and bad tempered so please never feed them!
The New Forest ponies don't particularly like them especially when they turn up to a new area. It's often very entertaining as the donkeys stroll around sedately ignoring the ponies who are on full alert at these intruders,  often trying to intimidate them. Very amusing and usually harmless. These two beauties turned up outside my house one day - seemingly out of the blue.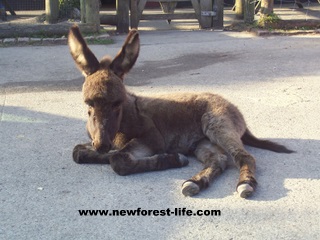 The New Forest National Park donkeys love food and can be found often near to pubs. We once arrived at the Royal Oak at Fritham to see a donkey polish off 2 meals from a table! It took just a few minutes and the whole lot was gone!

This is really dangerous to their health and can actually kill them by causing colic so please be careful if they're anywhere around you if you're having food.
We once saw one start to climb into the back seat of a car which was parked to eat a birthday cake! Really dangerous to the health of the donkey and the birthday person too.
Please, admire them from a distance but hang onto your pub lunch or food too!

A New Forest donkey tale.
When we were renting a cottage, between finding a house to buy, we were in an area that had many of these lovely animals out at de pasture.
We got to know many of them and their kind and gentle natures.

Here's a personal tale I thought you might enjoy.

One morning my husband crossed the track outside our cottage.
A lovely Jenny (female) donkey was facing him head on.
He went to walk carefully past her only to find she was in the middle of giving birth!
He gave her plenty of space until it was all over - which he said was surprisingly quick - and then very tentatively approached her. When he felt he was at a distance she was happy with he glanced around to check that both she and the new fola were both OK.

When he was sure he looked at the new little donkey and it was a beautiful, dark brown bundle of fur - a large head, long legs and a body smaller than our big black dog!
A truly wonderful experience to start your day with!
We knew this Jenny and so were able to get close to her but would never attempt to feed her.
Although I have shared this story with you, the rule on the forest is not to touch the animals, so please be very careful!

New Forest National Park donkey and foal

To see these lovely creatures in the New Forest UK National Park, one area to try is on the Fordingbridge side of the forest.

Head towards Fordingbridge from Ringwood on the A338 turn right off A338 at a cross roads sign at Bicton and take the road signed Hyde and Frogham.
There are many New Forest donkeys on Hyde Common and there are two pubs in this area.
The Royal Oak at North Gorley is good for a pint and there's a duck pond too!

The Foresters Arms, Abbots Well Road, Frogham.SP6 2JA. I've heard this pub described as the New Forest donkey pub because they love to congregate round it in the summer.
I do hope you enjoy seeing these beautiful litle animals when you visit the forest - if you have food be very careful as they are usually after your sandwiches and like all the animals in this National Park they may bite!
Sadly, one little donkey foal was killed by a car during Summer 2014. I have met them all over the summer and they are/were all so lovely little animals it is such a terrible shame to think one died in this way.

Are you concerned about New Forest animal accidents, which may affect the donkeys or other forest animals? My animal road deaths and accidents page gives you some helpful safety tips.
Do you have your own personal story to share with us?
Here's how you can - just fill in the form and we can all hear your views.
Share your views on New Forest animal accidents.
What are your views on the New Forest accidents each year? Share it here!
What Other Visitors Have Said
Click below to see contributions from other visitors to this page...

Mad Drivers Not rated yet
Why is it that people can't slow down in the New Forest.Over the last weekend I saw a number of drivers driving too fast including one who was overtaking …
MRS BINDERLY Not rated yet
I love going out in the New Forest with my new husband and looking at the New Forest ponies and donkeys. What does make me angry and upsets me is the speed …
Back from New Forest donkeys to Home Page