Food, Fags, Nylons in WW2 vital to New Forest life?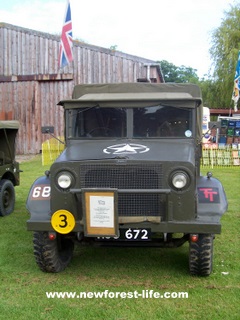 Food, fags, or cigarettes, and nylons were all rationed during WW2, not just for the New Forest but throughout Britain.
Although, despite rationing, there probably wasn't a town or village which didn't have a thriving black market going on in most food stuffs or other rationed items. The New Forest was no exception.
Just like other areas of Britain, with Allied Forces camped locally, the Commoners would have had access to the generosity of the US servicemen and the provisions they could get from their Naafi or PX. I know my mother has stories of chocolate bars being handed out and nylon stockings exchanging hands at dances at the bases in Richmond Park. She is always a bit reticent about who got the stockings and how!
Fuel was also rationed and it must have been very difficult, if you even still had a car to get around - only the most vital journeys were allowed and as you can see by this fuel coupon each gallon was rationed.
The feeling in the New Forest was that if you were living close to where a camp had been set up then the chances were you would be better fed!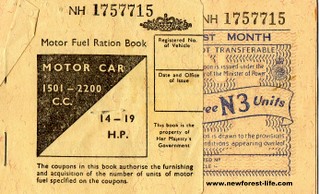 In the country at the time you were less limited than those in the towns and cities as you often had a chicken or vegetables to barter with.
This never seemed to stop my own father from providing fresh food for the table as he always had ducks and hens for eggs and meat although he didn't ever have a pig in the small town back garden, as far as I know.
If you visit the Eling Heritage Centre site - You will see what a weekly portion of basic foodstuffs such as sugar, eggs and milk looks like, no wonder people were never fat during World War Two!
There were still tea rooms and restaurants open for those who could afford it. This was great for the servicemen who apparently were astounded at what the Commoners had to live on.
A roast lunch and pudding and a cup of coffee cost 2shillings and sixpence - which was the same amount offered to the Commoners for an acre of their land! World War Two was a time of great resourcefulness whether within the New Forest or throughout Britain.
Nothing was wasted and no opportunity passed by.
Now you can add your own personal WW2 stories and memories to share with others here.

When you have finished reading all you have to do is fill in the form at the bottom of the page
Here's a funny story which shows that there were some good use to be made of German items. Lord Teynham recounts in The New Forest at War how he and his mother found their lawn to be strewn with lots of strips of silver paper. They were unsure at first what this meant. In fact the silver strips had been dropped by the Germans to confuse coastal radar! Lord Teynham and his mother put them to much better use as tinsel Christmas tree decorations that year!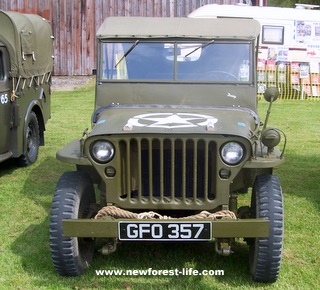 Do you have a great WW2 memory you can share?
WW2 memories are heartfelt, poignant and very personal. Some of them can be funny - have you got one to share?
Back from Food, Fags and Nylons to WW2 main Page