Hollands Wood Review for you.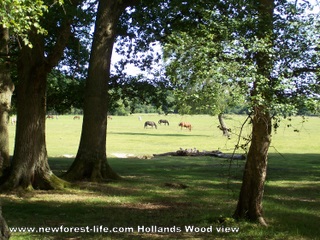 My Hollands Wood review of this New Forest campsite will tell you all the great reasons to book your camping holiday here. Like all the Forest Holiday camping grounds it is a winner of the David Bellamy Gold Award for conservation.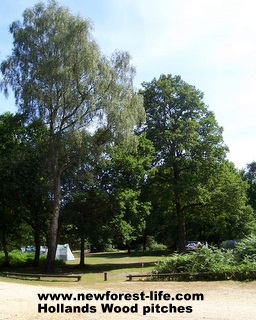 My Hollands Wood  review recommendations for this New Forest campsite:
Wonderful woodland setting
Views from many pitches across the beautiful Balmer Lawn area - as you can see in the photos.
An easy walk into Brockenhurst
Easy cycle hire - on site or in Brockenhurst
Cycle Routes
on camp - you don't need to use your car again if you want!
Well spaced pitches - when I visited there were still approx 70-80 pitches free - and it wasn't the summmer holidays break - but I was still surprised by the space and tranquility of this New Forest campsite.
Spotlessly clean showers and toilets all set up environmentally friendly but with good security
Happy, friendly staff - who visit on bikes with advice and help throughout your stay
Dog friendly - there is a great dog wash area! - how helpful is that to a dog owner with either a muddy pooch or one who has just found the most delightful dead fox to roll in - sound familiar to any dog owners reading?
Dog biscuits greet you on arrival - how great is that?
There are nearby pubs, hotels and tearooms for a snack, beer, meal or cream tea. 
Anything to worry about in my Hollands Wood review?
This is a very popular New Forest campsite and caravan and motorhome park but it is on the main road into Brockenhurst so at times you may here some road noise.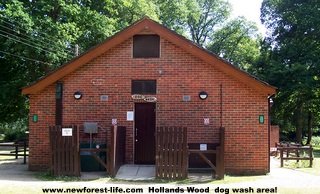 Hollands Wood dog wash area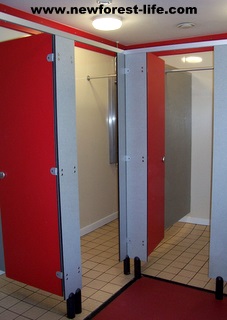 Hollands Wood Showers (for humans!)

Like all the wonderful Forest Holidays and Forestry Commission campsites I've visited and recommended to you within the New Forest, Hollands Wood offers the camper the opportunity to explore this wonderful UK National Park and really camp close to the animals and experience the wildlife fully.
Hollands Wood campsite offer bulging noticeboards with loads of information for you to use and also offers dusk walks and other wonderful ways for you to take home more facts and experiences of this beautiful area than you arrived with. Do you want to search for more info?

WikiMapia gives you an arial view of the campsite.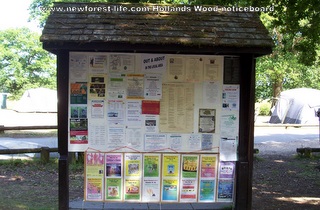 If you choose to stay at Hollands Wood New Forest campsite I hope you have a wonderful time. It is a beautiful woodland setting with magnificent views across open grassland, with ponies, cows and deer grazing freely.
I would suggest you book a pitch closer to the open lawn area rather than nearer to the Brockenhurst road boundary, as you may hear some road noise at times - the woodland absorbs most of it and you may not even notice it. Ask when booking your pitch. Have a great stay.


Enjoy your stay and I hope my Hollands Wood review has helped.

Back to Camping Page

Back from Hollands Wood Review to Home Page