New Forest Resources, Links
and Services I can recommend
My New Forest Resources, Links and Services information should help you find and source everything you may need to know about either a visit to this beautiful New Forest UK National Park, or if like me, you live here, help to put you in touch with just the right people. They are my personal recommendations too!
New Forest Resources-Links-Services. How does it work?
It's hopefully quite simple:

Resources will be the headings and categories
Links to relevant information will be accessible here
Services when recommended, will be from my own experience of living in the New Forest
A reciprocal link back to New Forest Life is required please.
Just Contact Me and I'll show you how to do it.
New Forest What's On?

I'd like to recommend at some time during your visit to the New Forest that you take time to visit the New Forest Centre
This is a registered charity which has the New Forest Museum, the New Forest Gallery,
The Christopher Tower New Forest Reference Library (accessed by appointment) and all the maps and pamphlets on making your New Forest visit memorable you could ever want, all in one beautiful building.
The New Forest Tour bus stops here so you can hop on/hop off to suit your trip during the summer months. 
Find out all the fascinating events and exhibitions they have on display throughout the year.

Conservation using New Forest timber to produce award winning furniture can be seen again this year at The New Forest Show in July. Find out about last years exhibition and winners by visiting The New Forest Trust for more info.

I've recently discovered The New Forest Guide which has some fascinating info about so many aspects of the New Forest, the history, villages, airfields and even smuggling and lots more too! I think you'll enjoy visiting their website.
New Forest Resources-Links-Services
 Campsites, camping and caravan information
Search for your campsite and then book through Camping in the Forest for individual campsites, camping and caravan listings on the 10 sites
Update for 2019
Links for Private Campsites, Camping and Caravans

New Forest Park Holidays

Are you looking for a New Forest Park Holiday? There are some wonderful choices for you either inland or by the sea. The coastal views are stunning and the New Forest coastline is a wonderful place to explore - anytime of the year. We often pop off to Highcliffe, walk along the beach to Mudeford Quay and finish off with fish and chips!
The New Forest Holiday Parks website has great details of not only the New Forest but also other areas of Hampshire and Dorset where you might like to stay. Like they say you can "Find your perfect holiday." Well worth a visit I think! 

New Forest Resources-Links-Services
Accommodation - where to stay

New Forest Accommodation I suggest

Links for New Forest Accommodation


Weekend Breaks UK

has great suggestions from Forestdale Hotels. Also, if you want to try New Forest horse riding or book a dog friendly hotel in the New Forest National Park, they have a selection for you to try.

New Forest Holiday Cottages

 can also offer you some lovely places to stay - who knows what you might discover in this beautiful environment?



You'll need a map to get around OS Explorer 22 gives you the most in depth details of the whole UK National Park and you can buy it here.

Here's some really great news - you can now get your very own personalised Ordnance Survey map for any area of the UK you like.

This was kindly given to me recently. It shows the New Forest National Park on 1:50 000 scale and is my own personal copy with my website on.

A wonderful present for anyone!

Get my up to date news, views and photos on what I've discovered, or want to share with you.

I can tell you the best place to see pigs and other New Forest animals.

Please Contact me for any help.

New Forest Resources-Links-Services


New Forest Activities




Fishing
If you're looking for anything to do with a good days fishing or if you're a keen angler thinking of coming to the New Forest Loni's Angling at 

119 Old Milton Road,

New Milton,Hampshire, BH25 6DP 

Phone:

 01425 616323 is the place for you. Great products, massive angling knowledge and lots more too. Highly recommended.
I've just discovered a great way of keeping up to date with walks you can enjoy throughout the UK and Ireland. 

Discover all the

Walking

Festivals in the UK & Ireland 

so that you can take part too!
New Forest Resources-Links-Services
Farmers Markets and Food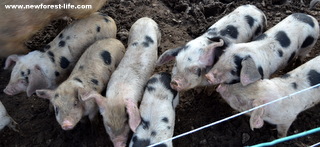 I've just visited Tinkers Cross Farm in Fordingbridge and met some very friendly hens and these lovely piglets. You can buy free range eggs, succulent pork, sturdy little weaners, or even order next years Christmas turkey! Sales are from the farm gate or from the website. Forward orders are proving popular so why not get yours in now?
New Forest Farmers Markets and Food Links and Services
New Forest Marque look out for this blue emblem on anything you buy in the New Forest to support local business.

New Forest Food Challenge

an eat local, grow local initiative to support New Forest producers. It's working as the monthly food markets are becoming more and more popular - just ask some of my friends!
Want to start your own business or have a stall? Contact the above for further details of how, where, when and what you need to get started.

Photographers I would recommend
New Forest Fairies and Tiny Doors
If you visit

Furzey Gardens

with me you will have a treat. Visit

Tiny Doors

to see what a fantastic fairy experience is waiting for you!

WW2 Information and websites I recommend
Tinker's Cross Farm Fordingbridge friendly hens!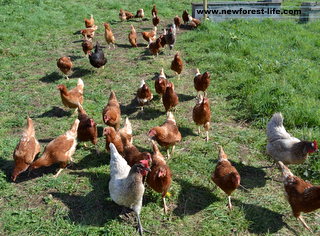 Back from New Forest Resources, Links and Services to Home Page