New Forest camping stories
New Forest camping stories (and caravanning too of course!) is where you share your campsite experiences with us all.
Add your funny, sad or heart warming story to my website and share your own personal tale with us all.
Did you want to check out my New Forest Camping and Caravan Sites first, before you share your tale?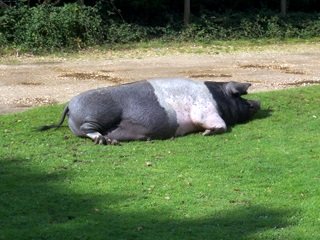 Would you have liked this New Forest pig in your awning?

Here's our New Forest camping story to start us off
We were staying on a caravan site and just packing up when one of the 5 CL campervan owners came up to us and gave us a small chat/preaching on religion. As you know packing up can be fraught, but out of politness we listened and took the small bible he insisted we had for our journey.
This was done with good intention so we viewed it as that. We set off for a very hilly part of the country and eventually got to our new caravan site, another CL. We pulled onto the immaculate grass site and proceeded to see the wheels spin and smoke and burning smells come out from the car. The clutch was burning out and we nearly went through the bottom hedge of the field!
Did we ditch the bible or not? Was it an omen or just bad luck? How would we get us, the car and the caravan 200+ miles home? it was all resolved by the following Saturday and we brought the bible home. It sits on our kitchen table as we're in mixed minds whether it influenced our trip or not!
When you're away from home you're always a bit more vulnerable. In our case we've got a fantastic New Forest mechanic (Dan Waters take a bow!) who looks after our cars reliably and at a good price. We would have had to go into an unknown garage as an emergency and the quote we got was astonomical. How lucky were we to stagger home? Or as it luck or divine intervention? We still can't decide.
That's my start of New Forest camping stories - I hope you enjoyed it?

Here's the New Forest camping and caravanning story form........just fill in and share your tale with us

Have you got a great New Forest camping and carvanning story to share?
New Forest camping and caravanning stories is the place to share your story with others....and maybe have a laugh??

Well done, not only have you just shared a New Forest camping and caravan story with us all but now you have your own individual web page on the Internet!
Back to camping page
Back to Home Page