New Forest History covers nearly 1,000 years
New Forest history goes back nearly 1,000 years - no wonder it's such a fantastic place to live - or have a really special holiday.
Your holiday will always involve a part of the past history - even if you don't always realise it. Here are a few examples of where history mingles side by side with life in the forest today.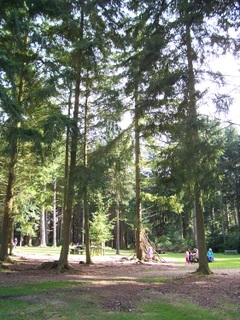 Ancient woodland, trees and even fungi!

During your visit you may want to stop and have a picnic, whilst getting ready to absorb some New Forest history.
Bolderwood provides a great site: toilets (a must!) a good area to lay out and relax in, an area to play and also helpful info from the Forestry Commission staff.
As usual, much of the following information is based on my own experience of New Forest life.
You will be bound to drive through ancient woodland some will be thriving and alive but some may have given up the ghost during a heavy storm - they will all be spectacular. Make sure you visit the Knightwood Oak too on your journey through to see this magnificent old oak tree. There's a car park across the road for easy access.

One of the best drives through the forest is the Bolderwood Ornamental Drive which takes you from the Bolderwood Deer Sanctury all the way to Brockenhurst. You can walk, cycle or drive through majestic Giant Redwood trees and also visit the Black Water Arboretum.

You will see the Giant Redwood Trees and pass some of the historical sites on the way but you will need a good map to find them so click below to order one. You can even personalise it now with your own photo :-

Don't forget to look out for stunning fungi if you're visiting in October and November

The New Forest Ponies and other animals and wildlife

The New Forest ponies are a hardy and quiet natured breed. They also have their own unique New Forest history.
Can you believe I filmed this on 6th April 2008?
Please always be aware that they should never be fed...and they are not used to human contact and so always be aware of hooves and teeth - they can kick and bite if they feel in danger!
The New Forest National Park has an intriguing history of Commoners and Foresters lives Each animal you see is owned and their health maintained, by a Commoner. There's loads for you to learn about their history and struggles against the reigning monarchies over the years.
Deer run wild through the forest, and these are some you are likely to see. If not you can always visit the New Forest Deer Sanctury at Bolderwood. Cows and donkeys also run freely and you can find out where to see them and enjoy a good lunch and a pint!
Sometimes visitors drive through the New Forest and are amazed that the whole area isn't just forest. It's a very special habitat and includes Heathlands and bogs which also hold a fantastic history and a life of their own.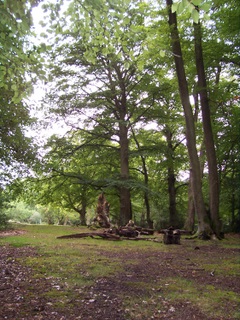 When did it all begin?


There are quite a few Memorial sites - like Rufus Stone, and WW1 and WW2 sites, within the forest, ranging from the far distant past to the last century and its occupation during WW1 and WW2.
Did you know? New Forest timber actually helped provide WW2 gas masks. I didn't realise charcoal was used in gas masks - did you? Let's take a brief look at some New Forest history dates and their significance on the New Forest today.
1079 King William l makes the New Forest a royal hunting ground
This protects both the animals roaming on it and the food they eat - it wasn't a truly altruistic move - it meant his hunting forays would always be good!
1086 The New Forest is recorded in the Domesday Book
1100 William Rufus, the son of King William, is killed by an arrow whilst out hunting in the forest.
You can visit this site and read the triple sided information board which is on the site of the accident (or murder)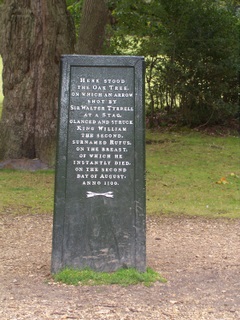 1217 King Henry 111 protects the New Forest further by a Charter of the Forest
1483 The first Tree Growing Act introduces enclosures on a wider scale
1698 More enclosures, this time under William lll, to protect timber for the Navy
1845 The Forest is divided by an extension through to Dorset of the London to Southampton railway
1877 The Court of Verderers is re-established
.1939-1945 World War 11 reaches the New Forest - airfields are built for wartime use
1969 National Nature Reserve status is given to recognise and protect wildlife and natural habitats
1971 Site of Sprecial Scientific Interest status given - but - Traditional Forest Laws are abandoned
2005 The New Forest becomes the latest UK National Park. 
This i
s just a small example of New Forest history, starting with Rufus Stone and going up to the present day.
I hope you will want to delve further into New Forest history, and all it's fascinating past.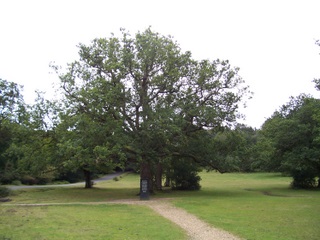 Return from New Forest History to New Forest Life home page