A New Forest Mothers Day treat?
Experience a lovely break in a stunning setting.
Not Long to go to Experience a New Forest Mother's Day!
UPDATE: Covid has changed what is available to us for 2021.Please check with all individual recommendations.
A New Forest Mothers Day spent in the hotels I can recommend or trying activities I suggest, could mean a cherished memory for your Mum on Mothering Sunday which will stay with her forever. 

There are lots of lovely choices for her no matter her age or whatever level of fitness she has. Although you don't need any fitness levels to eat Afternoon Tea at the places I suggest! I have visited all of the hotels I can recommend, and they each offer that special experience for you to enjoy.
As well as my suggestions here if it's definitely a New Forest Afternoon Tea you want to treat her to I've got some lovely New Forest Tea Rooms to share with you.

New Forest Mothering Sunday Tea and Fairies too!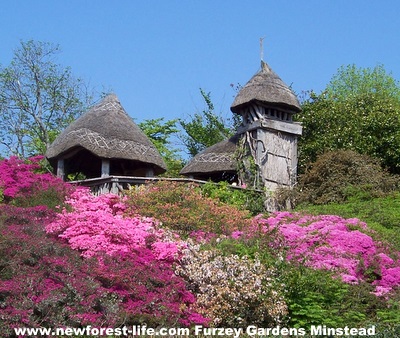 Furzey Gardens is a wonderful place to visit - for many reasons. On the special day you have the choice of a scrumptious afternoon tea experience. Full afternoon tea experience for your special Mother's Day treat for you know who! 
Sandwiches, scones and colourful macaroons are all part of this fun menu - but booking is essential!
Call 023 8081 2464 and enjoy this enchanting gardens and tea rooms.
New Forest Furzey Gardens Minstead is part of a registered charitable organisation which provides day and residential accommodation for young people with learning disabilities.
It aims to develop the students' maturity, self respect and independence through life skills which can help them throughout their lives. It is an award winning training and theraputic centre. Part of the students project work involves regeneration and conservation work in the garden and you can help support them by buying plants and gifts which are for sale on site.
New Forest Furzey Gardens Minstead (SO43 7GL for your Satnav) is a truly enchanting place to visit when you are exploring the New Forest.
New Forest Mothers Day Hotels I like

The Bell Inn Bramshaw
Is your Mum a keen golfer?
The Bell Inn in the beautiful New Forest village of Bramshaw is the place for your mum to celebrate Mothering Sunday. This hotel offers great accommodation as well as a beautiful golf course for her to enjoy. Your Mum can use the two 18 hole golf courses on site if she is a keen golfer or even if she wants to learn golf.
This hotel offers a very warm welcome in an immaculate setting. The Pro Golf shop is well equiped in case you forget anything crucial on your special Mother's Day break.
Bramshaw is a lovely New Forest village offering beautiful walks. If you are feeling very generous you could buy your Mum a Bentley car from the Bramshaw Village showroom!
The village church is lovely and on the way you will pass some of these New Forest animals.
Rhinefield House Hotel

This New Forest Mothers Day treat can start with a champagne afternoon tea experience. Or if you want to make a day of enjoying this beautiful hotel and its idyllic setting you can book a Day Spa for Mum and also add on a lunch too.

The Rhinefield House Hotel and its lovely setting will make it a really memorable New Forest stay to remember and cherish.
This New Forest hotel is set in the heart of the forest close to Brockenhurst.

Ask to see the Alhambra Room - it is really gorgeous!
Things to do?
There are lots of lovely walks I can suggest. With routes and walking trials close to the hotel.
Blackwater Arboretum is just up the road and Brockenhurst Village is also very near.
You may see a New Forest pony with it's head in the door of the butchers! - not a sensible move.
How fit are you? And how much energy do you want to use up?

Cycling is great from around Rhinefield House Hotel - the roads and tracks are quite flat - so not too much energy used up.
If this sounds too much like hard work then it's got to be the Spa followed by a relaxing treatment, then perhaps more pink champagne!

Balmer Lawn Hotel
This is another hotel I have visited and would recommend. My son recently got married here!
You can choose either a wonderful Mother's Day Lunch or Afternoon Tea.
It's a lovely mix of traditional and modern. You could even stay in a 4 poster bed, if it was still available - the bathroom in this room is beautiful too! Use the Choose Your Room before you book and see where your room is actually located - a great idea I think!

There are leisure facilities, indoor pools and spa, treatments and holistic therapies available too.
The views from some of the rooms are lovely so why not make use of the Balmer Lawn Hotel offers
The Balmer Lawn Hotel is also in Brockenhurst and so is very handy for a stroll into the village and again you can go for lovely walks along walking trails and routes I can suggest to explore the New Forest National Park or perhaps a New Forest cycle.


New Forest Mothers Day Activities

How about treating Mum on her New Forest Mothers Day break to fantastic views of the forest? If you are really buzzing to get out onto the New Forest then why not try Horse Riding?
Saddle up and head out for some New Forest fun with a spectacular horse ride.
I'm going to recommend you try the Arniss Riding Stables for following reasons
Lovely horses to suit your abilities

Great location to ride out from

Beautiful part of the New Forest but away from the main crowds

If you do just fancy a New Forest tea my New Forest Tea Rooms  should suit you well for your New Forest Mothers Day treat for your lovely Mum. Cup cakes and scones and clotted cream and jam - naughty but very nice! Whatever you both choose I hope you have a lovely time.

Enjoy your New Forest Mothers Day and explore and enjoy this fantastic UK National Park and all its beauty.