New Forest Show 2012 ARCHIVE

The New Forest Show 2012 proved, yet again, to be a fantastic day out for all the family. At the New Forest & Hampshire County Show there was just so much to see and do. I'd advise careful planning of how you go round. You can get distracted by the shops and miss the important arena displays etc. We were lucky enough to have a royal visitor attend on Wednesday of the show and I must say it looked as if great enjoyment was being had by H.M. The Queen.

The New Forest Show - what was it like?

I've tried to give you a picture view of the New Forest Show 2012 and share with you some of the areas I enjoyed during my visit this year. I hope you will make a date in your diary to visit next year.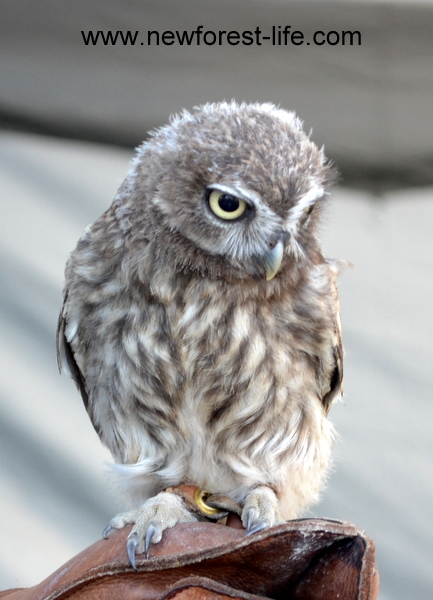 Tip: Once you get your New Forest Show programme take a few minutes to plan how you will go round. We found in previous years we had missed some events in the main rings by not planning well.

We started in the Countryside Area with the British Deer Society The displays of antlers were astounding. We picked up lots of information about New Forest deer and handled a Red Deer antler which weighed a ton! This little owl was on the CJ's Birds of Prey exhibit.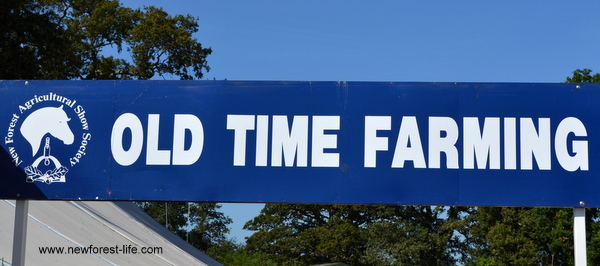 We then headed off to the Old Time Farming area. Her Majesty The Queen and H.R.H. The Duke of Edinburgh visited this area and enjoyed seeing, and probably remembering, some of the old time machinery, tools and crafts on display.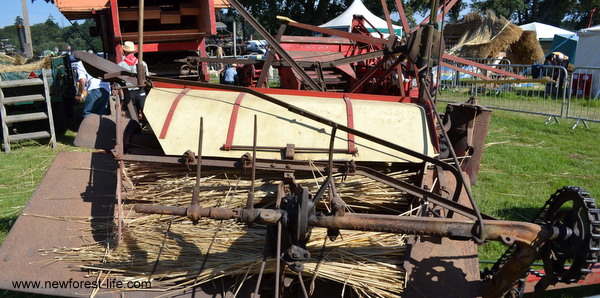 The New Forest Show Old Time Farming Area

We visited the New Forest Show with my mum who was a Land Army "girl" during WW2. She remembers working out in the summer sun until it got dark, using many of the old machines on display.
She was able to describe in detail what it was like to stack all the cut straw into these "stooks" and how high the cart was loaded before the good old cart horse took the heavy load back from the fields.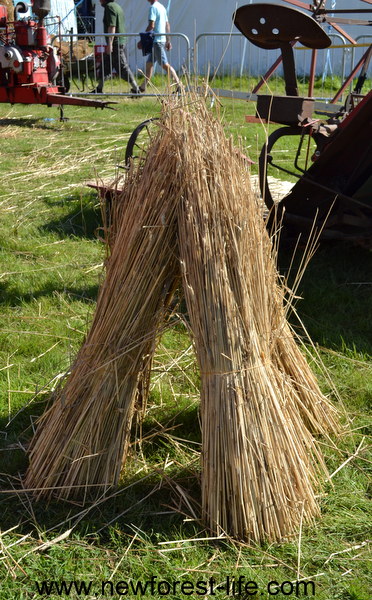 The New Forest Show is a wonderful opportunity to catch up with old friends, reminisce about the past and put the world to rights, surrounded by relics from a farming past that has nearly disappeared today.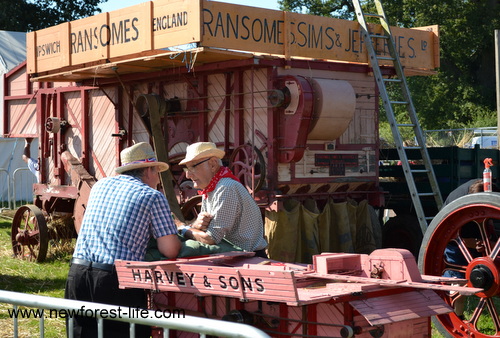 The Victorian Cooking display was also of interest to our royal visitors. I still weigh all my ingredients with an old fashioned brass weight scale, have one of the old storage jars and irons knocking around at home somewhere, like the ones on show here. My son was astounded when he saw my wooden rolling pin, but then I tried to dry it off in the Rayburn cooker and forgot it and turned part of it black! Such culinary skill - now I use a glass one which he thinks is even worse!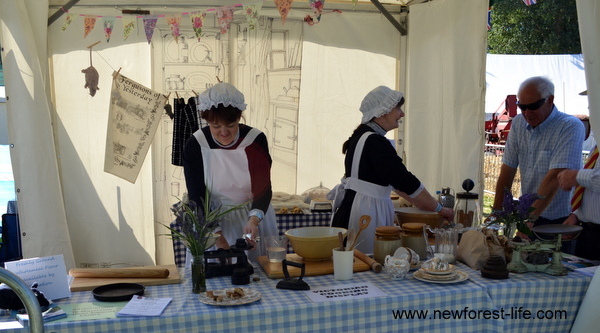 To me a country and agricultural show needs a mix of country skills, animals, flowers, crafts and history. The New Forest Show ticked every box for me this year. There were massive carrots, leeks, onions and cabbages on display on the Main Avenue and also stunning floral displays like the sweet peas below. My childhood summers always featured a huge display of sweet peas grown by my father, on the table when you came into our house.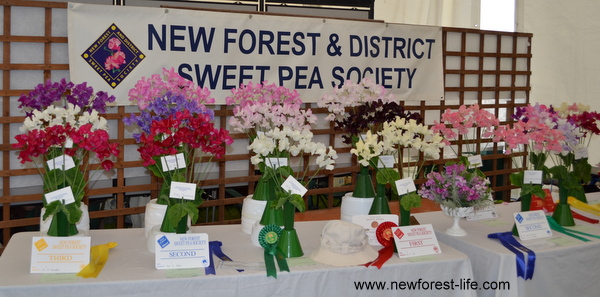 If you love horses and ponies (as I do) you were in heaven. Various rings had competitions going on over all 3 days; from Irish Draught in Hand giants of the equine world to the tiniest Shetland Grand National. Every animal on show had been perfectly groomed and prepared to look and perform at their very best for their proud owner.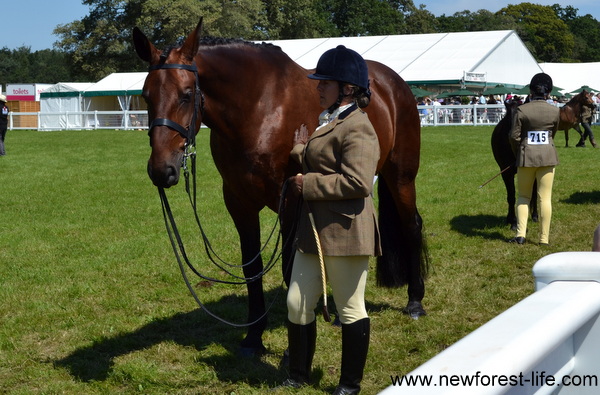 Look at this beautifully turned out horse, gleaming in the warm July sun awaiting a judges decision in the show ring.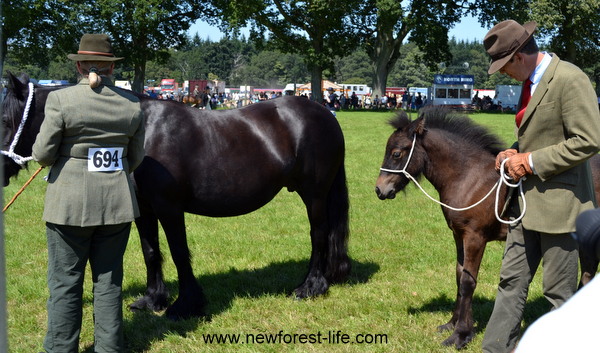 The royal visitors wanted to see our New Forest ponies on display and luckily all the New Forest Commoners were able to present the guests with a magnificent show in the main ring on Wednesday. New Forest ponies are known for their tough, sturdy build but also for their kind and gentle temperaments. (I know the ones which visit outside my cottage every day throughout the harshest winters, show all these characteristics) I'm sure they were able to impress on the day.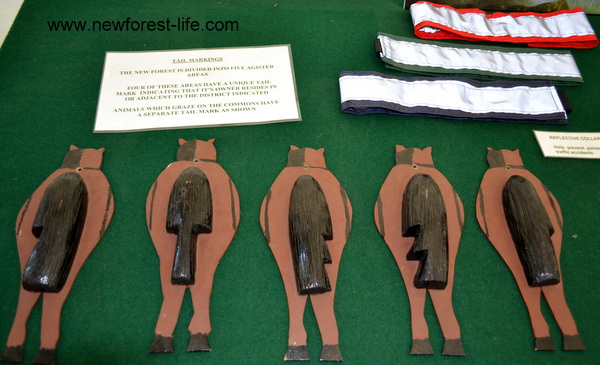 When we headed off to the New Forest Corner, apart from managing to get a bit of shade in a lovely little Forestry Commission cabin and a sit down, all the fascinating history of the New Forest National Park was on display.
Here you can see from the Agisters of the New Forest stand how every New Forest pony you see out on the forest has its tail cut. This means marking fees, health checks and anything else the Verderers may need done to the ponies is confirmed. There are 5 Agisters working the New Forest and the tail cuts give an indication of whose area a pony comes under.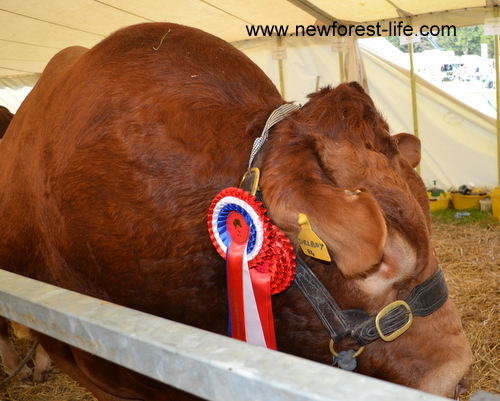 No country or agricultural show is complete without visiting all the top class animals on display. The New Forest Show put on a fantastic selection of farm animals like this huge beauty called, according to his name tag - Delboy. Delboy was a small, chirpy cockney lad but this Delboy was a stunning, muscled giant of a bull. I've never seen such a huge animal with so much muscle - needless to say like most bulls he looked a gentle giant - but he was behind a bar fence!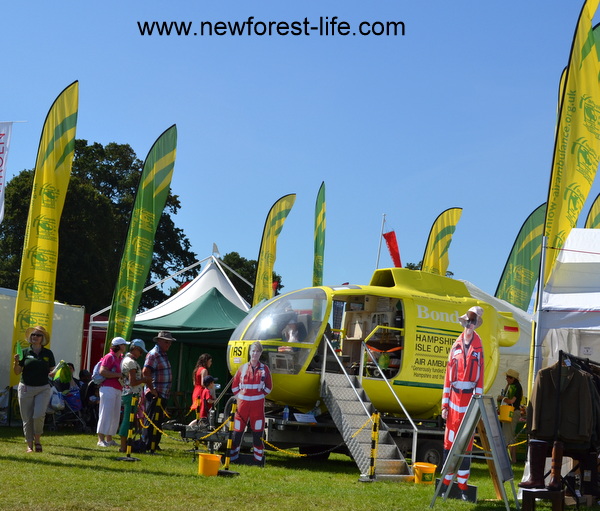 Living in the beautiful New Forest is a privilege and a joy. It also holds its own dangers. We have had an air ambulance land outside our cottage on 3 occasions when neighbours have been taken seriously ill. Successful fund raising at events like the New Forest Show may mean the difference between life and death for some of us living in the New Forest.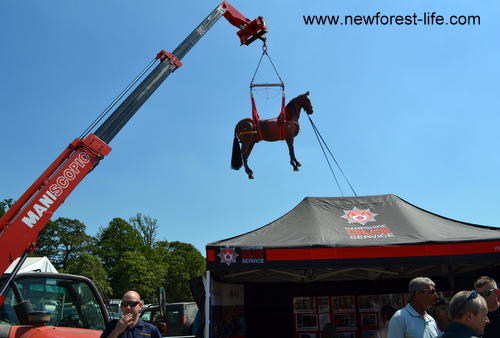 It's not only humans who need the emergency services on the New Forest. The New Forest ponies, donkeys, cows, and pigs and piglets are quite capable of getting themselves into terrible trouble. The Hampshire Fire & Rescue Team then come into their own. Whether it is rescuing a foal from a deep muddy ditch or sadly sometimes cutting a pony from a road side accident, they are here to offer help and support.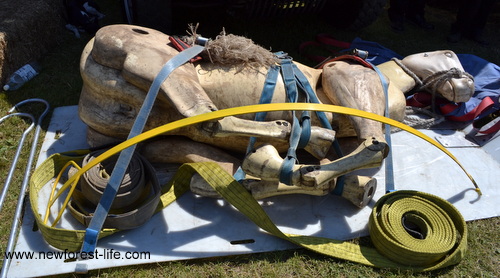 Here you can see how they would try to get a New Forest pony lifted to safety. The pony has been placed with a board under it and tied up to prevent legs breaking. Although in real life it would look cruel it is the safest way to try a rescue of this type. The pony would struggle and injure itself even more if not restrained like this.

I loved visiting the New Forest Show this year. I hope you have had a small taste of what was on offer and what a fantastic venue it is, especially if you are staying in the New Forest on holiday. If you live in the New Forest you may have seen youself in some of the photos?

Back from New Forest Show to Home