New Forest beef
delicious, traditional, local meat
for you to enjoy.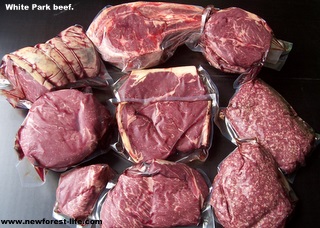 New Forest White Park beef from Home Farm in the New Forest.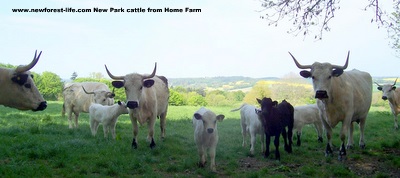 New Forest beef is sometimes on sale at Hale New Forest Farmers Market
If you choose to buy this beef I think you'll find it is a quality product which meets all welfare standards. The cows are extremely well looked after, spending their lives on beautiful rich pasture, even with splendid views! 

Update from White Park New Forest beef at Home Farm April 2017
I've just spoken to Helen at Home Farm after the wide publicity White Park beef received on the recent Countryfile programme. 
White Park beef won't be available from this New Forest farm until June/July 2017. This allows time for the beef to mature fully. As well as buying direct from Home Farm you can also buy, when available from Hockey's Farm Shop and also Woodgreen Community Shop. Both these shops provide delicious beef and also other wonderful New Forest products. Visit, buy and enjoy a lovely cuppa too!  
If you buy this delicious New Forest beef from Home Farm you can be assured that it is over 30 months old.
Traditionally matured for 28 days, it is beautifully marbled with lines of fat running through each piece.
This delicious beef will remind you of how beef used to taste.
You can buy a box so check the per kg price when you ring.
Individual packs are also available, again just ask when you ring.
As you can see there is no website for this beef which is why I've put a photo up of Mark and Helen's details.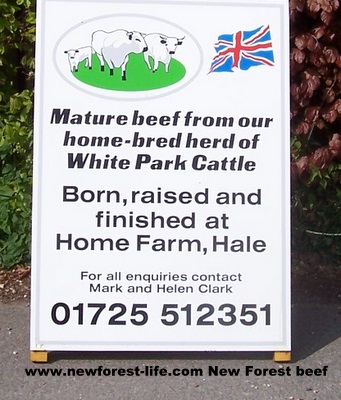 These White Park beef cattle spend their lives in idyllic settings where they receive the very best food, pasture and animal husbandry. Here's what you will find in each box.
Joints
Brisket
Topside
Silverside
Top Rump
Rolled Rib
Rib on the Bone
Steaks
Rumpsteak
Sirloin
Filet
Longer Cooking Meats
Braising Steak
Diced Steak
Diced Skirt
Diced Shin
Mince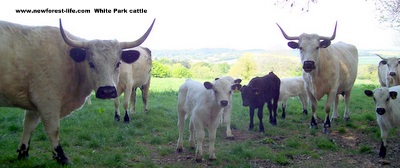 Why not try this delicious New Forest beef for yourself? If you want to buy it from a local shop New Forest beef at Woodgreen Shop is always readily available to buy - and you can have a coffee too, in this community shop and Post Office!