Setthorns Campsite New Forest  for camping and caravanning.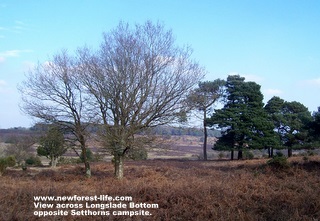 Setthorns Campsite New Forest offers you camping and caravanning amongst the pines and oaks in this beautiful forest setting for longer than the other campsites. (12.4.2021 - 31.12.2021)
Pitching up in this open woodland site, means an enjoyable holiday where you can get closer to nature. It's a secluded camp site with lots of lovely walks and valley views to take in too.

I've recently visited this lovely site and it is really beautiful. Wild birds were flying and feeding from a wonderful eco area at the reception area.
You can also enjoy the fantastic BBQ facilities at nearby Wilverley Plain - if you booked early enough the whole family could join you for the day here!
Setthorns New Forest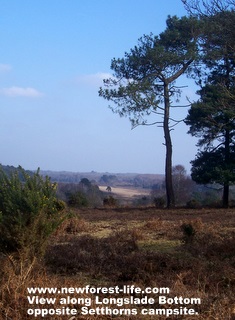 Setthorns Campsite
New Forest 12.4.2021 to 31.12.2021
On site camping facilities offer
235 pitches tents, trailer tents, caravans and motorhomes
Standard and premium pitches
Select pitches

Hard standing pitches some with electric hook up
Seasonal pitches
Storage facilities
Sheltered site
Chemical toilet disposal
Motorhome service point stop off
Winner of the
David Bellamy Gold Award 2009
Bike Hire
Dogs welcome
Payphone
Recycling facilities
Some disadvantages
No toilet or shower facilities on site - bring your own chemical toilet
No generators allowed on site
No disabled facilities

Ready to Book or find out more info? You'll also find directions here too.
Please check all these details before booking with Camping in the Forest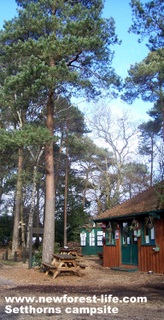 Setthorns Campsite New Forest
Wooton
New Milton
Hampshire
BH25 5WA

T: 01590 681020
Grid Ref: OS195 262 003
Sat Nav POI 50.80234167,-1.627531667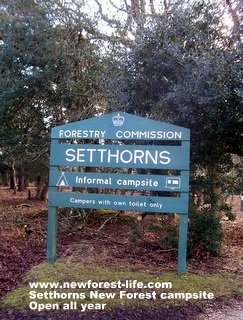 This beautiful valley is really close to Wilverley Plain and Enclosure where you can hire a family sized BBQ. This is an example of just how beautiful the New Forest is - and this was taken in February - so winter months are lovely too!
Don't forget Setthorns Campsite New Forest is for 8 months of the year! If you want to avoid the crowds but still enjoy this unique area and its wonderful habit and wildlife then perhaps it's time to make an early booking?
Would you like to be part of my monthly ezine New Forest Life Tales?
You can subscribe and it is free. You can be assured your details will not be passed on, they will only be used, by me, to send you this monthly update on what is happening in this beautiful place and some of the animal adventures that happen to me.

I hope you enjoy your stay at Setthorns Campsite in the New Forest whether you arrive with your tent, caravan or motorhome. Being open all year when you come to visit this stunning National park is entirely up to you. Just enjoy!

Back from Setthorns Campsite to New Forest Camping

Back to Home Page