WW2 and Breamore House
General Patton stays in the New Forest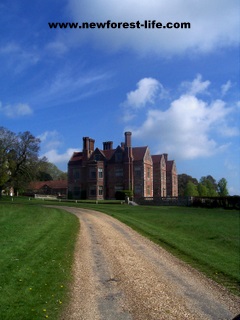 During WW2 Breamore House was occupied for a time, by General George Patton. He left quite a few memories in the minds of the local Breamore villagers with his larger than life personality.
Breamore House is a beautiful Elizabethan manor house set in splendid grounds just outside Fordingbridge.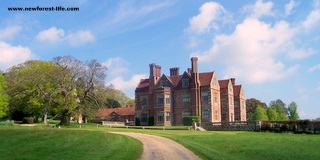 The British Army didn't arrive in force at Breamore during WW2 until 1942.
It was an ideal location for them. The British were quite subdued but all that changed when the Americans arrived, a bit like all other areas of the New Forest during World War Two.
Coffee and doughnuts, the American institution food of choice was a surprise to the local population, especially when it was served by attractive American girls.
Both the house and local hall were put to good use as venues for parties and dances and the whole area became quite lively. This lively female presence at Breamore under the American occupation was very different to what was happening just a few miles up the road at Longford under General Montgomery - women were banned even for the married men!
The New Forest Home Guard was based at Breamore House and uniquely was a mounted division which is really appropriate when you think of the New Forest.
They sensibly did their patrols on horseback but what surprised me about Breamore and WW11 was the vast amount of equipment which was moved by horses during this time.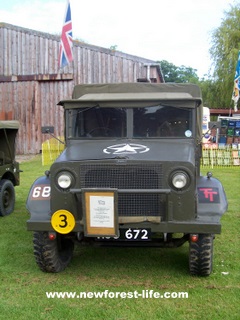 Apparently there were horses all over the estate, hopefully most of them could be turned out in fields and didn't need the expense of stabling and food. General George Patton spent quite a short time at Breamore, thanks to Goebbels, the German Propaganda Minister announcing on one of his broadcasts that Patton was here.
It was then felt for security and his own safety, he should be moved. Patton was a hero amongst the American soldiers, who had complete faith in his abilities to win WW2 for the Americans and the Allies.
Patton was very much a hands on general - to such an extent that when a man failed to salute him, rather than put him on a charge Patton simply hit him - the man didn't get up for a while!
A saving of paperwork but a bit of an extreme way of handling the issue perhaps?
Patton was famous for always carrying two pistols with him which made him stand out from any other officers. He insisted on two instead of one and they were always visible. He was a good shot and so would often drive himself around. At the time, the usual habit of senior officers was to have a driver.
Patton was larger than life, a very physical man (as you have just heard) who did everything on a large scale.
This included how he drove - he was known for driving his jeep at great speed and racing round the village.
If you visit Breamore village today you will realise even by todays standards this must have been frightening for the locals to have to put up with.
In fact this sort of example being set to his men resulted in a tragic accident.
The publican's daughter at the Horse and Groom pub at Woodgreen, just across the road (A338) from Breamore was tragically hit by a speeding American vehicle and was killed.
During WW2 this sort of incident was often brushed under the table.
The Great Hall, which you can visit today and which houses two wonderful tapestries (with their own quite amusing history!) was General Pattons office.
At this time it was a map room where the maps for the Utah and Omaha beach landings were kept. Unfortunately these beaches turned out to be a failure for the Allies during WW2 - the Germans seemed to have intelligence about the landings here and so huge Allied casualties resulted.
Like other areas of the New Forest, impromptu landing strips were set up on what is known as the Butcher's Ground at Breamore and the likelihood is that General Patton may have taken off from here during his stay in a small Piper aircraft.
Would you like to view Breamore House and this area of the New Forest on a map? Use WikiMapia.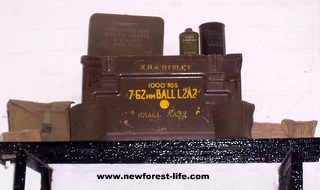 Back to WW2 page

Back to Breamore House page

Back to Home Page