A long way from home
by Nevile Chalke
(Auckland New Zealand)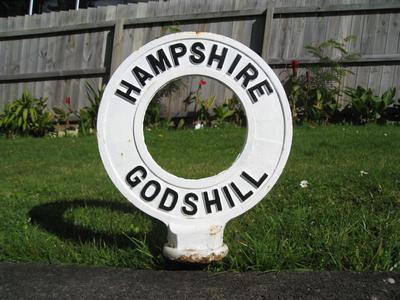 When I returned to Godshill in 1981 after having lived in Papua New Guinea and New Zealand for ten years I noticed many changes. The village school was still open but was soon to close. The village shop had taken over from the old Post Office and the landlord of The Fighting Cocks had retired with his wife to what was the old Post Office. They had turned it into a B&B. Sitting in their garden reminiscing one afternoon I notice an old County Council road sign lying in the hedge. Jim had saved this when the council came to erect a new sign at the realigned junction of the B3078 and the side road which led to Woodgreen.


I asked him if I could have it and take it back to NZ as a momento of my boyhood in the village. Jim thought that that was a good idea and the sign duly came back with me. I had it grit blasted and repainted and it now sits in the garden up in Auckland where twelve thousand miles from its original home it occasionally leads to conversation with passers by.
The original sign has been replaced with something plastic I believe.
Hello Nevile
Thanks for your wonderful memory and also it's good to know Godshill is being commented on 12,000 miles away. We have got some nice new direction signs now in many areas which when I'm out and about I'll take a photo of and post on here. Just taken the photo near Buckler's Hard of road signs in the New Forest today, they're very posh!
Any comments anyone?
All the best
Christina