Cycling from Brockenhurst
Cyclexperience covers it all
in the New Forest!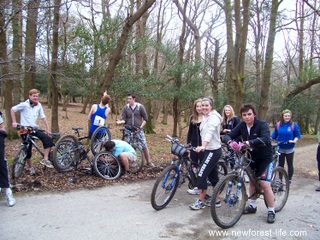 Cyclexperience in Brockenhurst really know the cycling business inside and out.
They have a great range of bikes to choose from Giant being just one brand on offer. Their staff are knowledgeable and experienced and friendly too!
Here's an example of their routes which cover all levels of experience.
Leafy lanes

Burley on your Backside

To the Deer Sanctuary

Ornamental Loop

Back through Balmer Lawn

Bike to Beaulieu

Bike of the Rising Sun

Bike to the Beach

Bite of Wight
Don't they sound great. may have a few tender bits on some of them! that's part of the fun though isn't it?
Biking, in my experience is often a painful experience -especially after the 20th mile - but always worth it! Are saddle designers masochists? Answers on a blister please.
If you want to stock up on the current latest gear before you start out or if you don't need to hire a bike but want to update or replace, Cyclexperience Brockenhurst is the place to visit.
They stock GT bikes which I like. I might be a bit prejudiced about GT bikes - I did the London to Brighton on mine a few years back and managed Ditchling Beacon without stopping - fantastic, and it was a lovely shade of blue! Bit of a girl thing that though!