Cycling from Burley Village
beautiful New Forest tracks for everyone.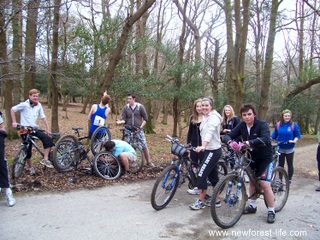 Cycling from the village of Burley means you can see lots of wonderful New Forest sights from the comfort - or not - of your saddle. You'll get closer to the animals - but remember not to touch - and also get a really good feel for the forest. Once you leave the village you'll see lots of lovely open heathland
Forest Leisure Cycle Hire are based in the centre of this beautiful New Forest village and as well as offering you lots of great bikes to hire, can also suggest some really lovely routes and trails.
Here are five great examples of mixed ability bike hire and routes for you and your bike from a company in the New Forest which was voted A Top 10 Family Day Out by The Independent.

Forest Leisure Cycle Routes and Trails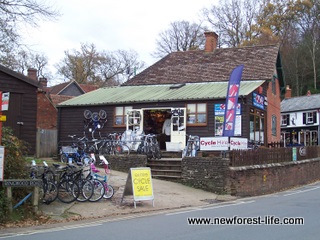 The Old Railway through Burley.
This means you'll pass The Forest Tea Rooms at Burley and also The Old Station Tea Rooms on the way to Brockenhurst. This is 5 to 13 miles on flat and level gravel, so there should be plenty of room for a cream tea!
The Deer Sanctuary
This route is another biking experience for you. This is longer, at up to 18 miles but you can stop, pay a penny, have an ice cream and see the deer at Bolderwood.
You can also have a pint or squash at the New Forest Inn or Trusty Servant Inn near Emery Down and Minstead.
Woodland Trail
8.5 miles through picturesque New Forest woodland and perfect for children.
The Hill Fort
9 miles of quiet lanes and gravel tracks. Also a great family pub and the old railway and Mill Lawn.
The Linwood Loop
Nearly 20 miles of quiet gravel tracks, again passing the Deer Sanctuary at Bolderwood.
You will pass the High Corner Inn pub which is set in the middle of what seems like nowhere, but is really lovely and will be a welcome rest from your biking adventure. You'll also see the Red Shoot Inn, which is a good camping base, if you want to arrive with a tent next time.
Find out more about your bike hire in Burley and what routes you might fancy doing from Forest Leisure Burley

Back from Cycling in Burley to Cycling Activities

Back to Home Page