Cycling with Country Lanes Brockenhurst New Forest
The active family travel company


Cycling with Country Lanes, Brockenhurst New Forest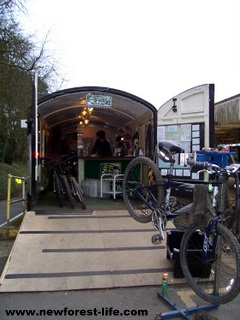 Cycling with Country Lanes Brockenhurst in the New Forest couldn't be easier.
They are based beside the railway line of Brockenhurst Station and so you needn't even arrive by car.
As an active travel company you determine what level of luxury (or not) you require to make your cycling holiday suit both your bike needs and holiday plans.

You can also venture further afield to the Isle of Wight for a day ride round the island or a short break.

Whatever you decide cycling in this beautiful National Park means traffic free pedalling on New Forest tracks passing thatched country cottages and always close to beautiful animals.
Cycling with Country Lanes Brockenhurst - what's on offer?

Here's what Country Lanes can offer
Bike Hire using Ghost and Trek Mountain or Hybrid - you can cover any trails with these




One Day Getaways to the Isle of Wight - check what is included




New Forest one day cycle ride - your choice from 6.7 to 23 miles and a cream tea too!

Sense of Place History Ride - discover the fantastic history of the New Forest - by bike

Cycling Holidays - custom designed breaks where you decide the level of luxury for you and your bike

Cycle Quest for Corporate or Group cycles - this is a custom built service of 8.5 or 15.5 miles - you choose

When we turned up recently Malcolm was just doing a bit of TLC to some of the bikes ready to hire.
As I took this photo, a train actually pulled up on the Brockenhurst line beside us - a bit surreal for a minute, or had that pub lunch hit the spot a bit too well??
Cycling the New Forest National Park with Country Lanes active travel company is a wonderful way to explore, discover and enjoy this stunning place. I hope you enjoy your biking experience with them and that you see and remember forever some of the ponies and other animals you see whilst pedalling through the beautiful New Forest.
Country Lanes
The Railway Station
Brockenhurst
Hampshire SO42 7TW To reach us by phone please call 01590 622627.

Back from Cycling New Forest Country Lanes to cycling main page