Cycling from Sandy Balls around the New Forest
Cycling from the Sandy Balls Holiday Centre in the the New Forest means you'll have an opportunity to discover and explore over 100 miles of Forestry Commission owned off road cycling tracks in the beautiful New Forest.
What better way to really experience this beautiful and unique area?
If you need to hire a bike it couldn't be simpler Sandy Balls should have the perfect bike for all your needs. We often see families out with a little trailer attached and a young family member inside peering out as Mum or Dad cycle valiantly over the hills and tracks of the New Forest. Sometimes you see a dog peering out too!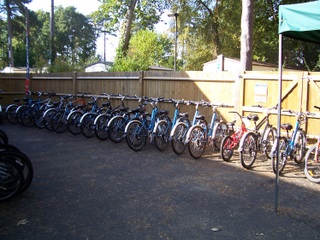 There are some great places I've found and they all have biking routes to suggest and maps available, which are often free.
Whether you are a family out for a days light biking or someone who is looking for more challenging cycling you'll find it in the New Forest.
If you want, you can buy a map when you hire your bike, if you need more details of where you're going to be heading for.

By choosing cycling as one of your New Forest activities it can all look a bit "green" if you don't have a detailed map! This is from someone who, on a bad day, had only followed a detailed map for half a mile and got lost! but you will be better than me, I'm sure.

Cycling from Sandy Balls - where to start?
Fordingbridge and the North Western area of the New Forest
This area is away from the main tourist areas and one of my favourites.
It is a quieter area and so you should encounter less traffic as you puff up and down the hills on your bike.
I often meet families having a wonderful day out and enjoying the beauty of these lovely little donkeys.

The road traffic that you may encounter is mainly local people just getting about and so you should be able to stop easily, park the bike and have a good look at the animals.
If you don't see a donkey on this cycle, I'll be surprised.

Sandy Balls Cycle Centre is a good New Forest activities cycle and bike hire centre for all the family.
If you arrive with your own bike they are also great at bike repairs and for biking gear too.
Why does your chain break at the furthest point from home when you're out - usually after you've just left the pub?
The photo on the right shows you a child trailer which you can hire, the kids will love the little flag!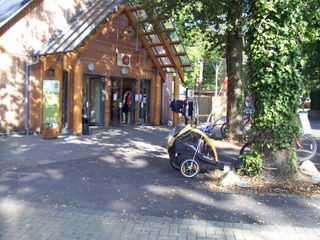 Here are some of their routes, graded into
Easiest - Abbots Well Family Ride
Not so easy - Hampton Ridge and Fritham
Hard - Lover Loop
Harder - New Forest Tracks
Hardest - 3 Shires Circuit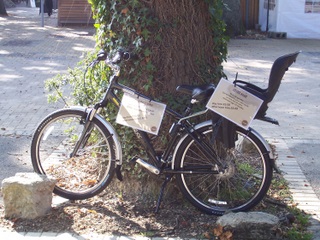 Here is an example of a family bike which is available to hire here.

You can hire this bike and have your child sitting right behind you.

You may prefer to fix a child trailer to the bike you hire - you can usually take two children in this type of bike trailer. Balancing may be easier for you, but you would need to remember they are there ... especially when cornering!
Sandy Balls Bike hire cater for all sizes and age groups so whatever your requirements they should have a bike to suit you.
And your dog comes too?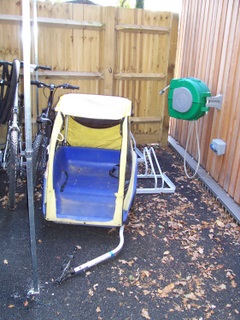 Do you want to take your dog on the back?????


This is a New Forest bike hire dog trailer!


When you come back from some arduous biking, as you can see in the photo, both you, your dog and the bike can all be hosed down!
Personally, my dog wouldn't fit in but what a great idea - especially if like me your dog would find it hard to keep up because of age or infirmities etc?
Well, that's the theory!

You could even base your entire holiday at the Sandy Balls Holiday Centre if you want.
They have luxury lodges, lodges and a fleet of modern holiday homes and pitches for Ready Tents and touring and camping pitches, all with the opportunity to use the great leisure facilities.
Add to all this the beautiful woodland surroundings and cycling will be just one of the New Forest activities you do if you stay here.
If you want to search New Forest Life.com without using the navigation bars on the left, then here's a really useful Google tool. Just put your search details e.g. New Forest ponies in the search box and hit Search and you can choose to search my site or go onto the Web and come back to NewForest-Life.com.

Perhaps you would like to use WikiMapia to look at more detail of the New Forest? If you use this map you can find exactly the area of your chosen campsite and what the nearby villages look like ...before you book! Give it a go.....
WikiMapia

Have you got any cycling questions I can help you with? Just contact me and I'll try to get you the answer.

If you choose to stay and use the cycling from Sandy Balls options I've suggested I hope you have a great time.!