New Forest Tour Red Route
Open topped sightseeing bus
New Forest Tour Red Route 6 July to 8 September 2019 Archive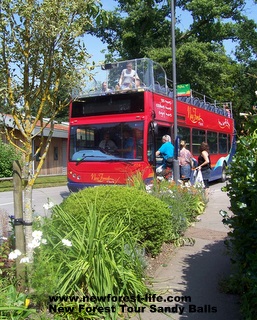 We went on the new New Forest Tour Red Route last year. What great news. You can now discover even more about this beautiful National Park from another hop on, hop off open topped bus route.

It ran every hour, daily from various stops and covers Burley, Ringwood, Fordingbridge, Godshill, Brook, Bartley, Ashurst, Lyndhurst, Holmsley on a circular route. We had a lovely time discovering lots of beautiful scenery, and of course seeing all the New Forest animals too.
We decided to start our sightseeing bus trip on the New Forest Tour Red Route at Sandy Balls Holiday Centre at Godshill.
Find out more about Sandy Balls Lodges or about Sandy Balls camping, tenting or cycle hire
You can stop off here for a swim, a bite to eat or a bit of pampering.


We were soon setting off onto the open forest after passing over the cattle grid and saw our first views from the open topped bus. Two huge valleys spread out from either side of the bus. The first New Forest pub, the Fighting Cocks, was on our left.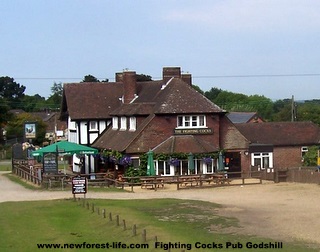 There is a mule (half donkey half pony) you can sometimes see near the pub. It's a lovely animal and is quite strange to look at! The audio guide told us all about the animals we would see and explained Commoners Rights and who actually owns the animals you'll see.
This New Forest Tour Red Route does pass plenty of pubs. Don't forget you really can hop on and hop off, so if you see one you fancy just get off - another bus will be along in an hour - plenty of time for a drink!
Then we headed towards the village of Brook through forest which literally met in a canopy over the top of the bus. Brook often has pigs, sheep and donkeys wandering about. Sadly, a couple of years ago a Jenny (donkey) and her little foal were killed on this stretch of the road, so care at all times please if you are in your own car etc.
We passed beautiful thatched cottages and then saw the Green Dragon pub on our right. This is a good pub for a meal or just a drink.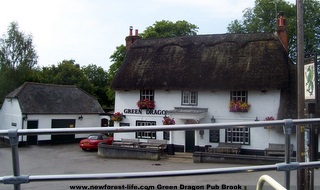 We then came off the New Forest to travel towards the picturesque village of Bartley. Here you'll see a lovely little green tin church which was built around 1900. The villagers at that time had a very long walk to get to their nearest church and so this little tin one was built for them - maybe as a temporary solution.

Again we zipped over a cattle grid - whenever you hear the sound you know that you will be entering the New Forest areas where the animals have right to roam. You should see lots of ponies, cows and sometimes donkeys, pigs and even sheep!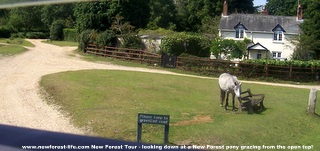 Woodlands and Ashurst was the next area we covered. There is a main line station at Ashurst, Ashurst Campsite which is run by the Forestry Commission and another pub!
The road then takes us eventually into Lyndhurst, which has been the "Capital" of the New Forest since 1079 when William the Conqueror used the area as a royal hunting ground.
The New Forest Centre is based here and it is well worth taking an hour or so to explore the Museum and Shop, the New Forest Gallery and even the Reference Library! You can get all the leaflets you could ever want here and lots of helpful advice too.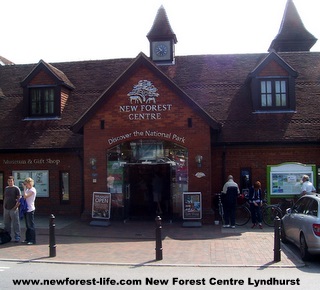 Lyndhurst has lovely little shops and tea rooms. St Micheal and All Angels Church is where Alice Liddell - the inspiration for Alice in Wonderland by Lewis Carroll - is buried. More importantly for New Forest Commoners it is where The Verderers Court is based. They oversee the animal stock and enforce often ancient laws, to protect both the heritage, animals and habitat of the New Forest.
We headed out of Lyndhurst towards Burley and passed Swan Green where thatched cottages looked over a green on which the original New Forest pony sales were held.
The New Forest Reptile Centre is on the right. I'd suggest you take a day out to visit here under your own transport. You'll see the rare sand lizard, smooth snake and poisonous adder here all basking in the sun - if it is a warm day. You can also get here on the New Forest cycle network or walk along the Reptile Trail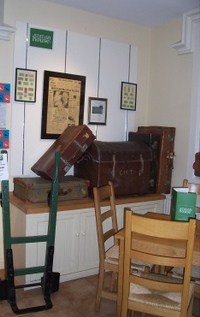 We were now going to head towards the village of Burley. First of all we passed the Old Station House Tea Room which is a good place to stop for lunch or a cream tea. It used to be the Station House for the railway line (now defunct) but has lots of railway memorabilia inside and well worth a visit.

We explored open heathland which was just turning a lovely purple. At times the heather changes colour everyday when you are out in it.
My favourite is the rich purple but the browns are also amazing to see when the light is just right.

Burley is fascinating as its history includes an Iron Age Hill Fort, tales of smuggling and witchcraft too. Many of the village shops have titles which are witch related. There are many New Forest Tea Rooms to choose from here and again worth a stop off.


From Burley we headed out towards the New Forest market town of Ringwood. A market is held here every Wednesday and its charter dates back to 1226. There is a very reasonable plant stall in this market, if you fancy a visit. You can buy New Forest local food and produce - delicious!
If you enjoy shopping there is Waitrose, Hobbs and Jaeger too - window shopping is free!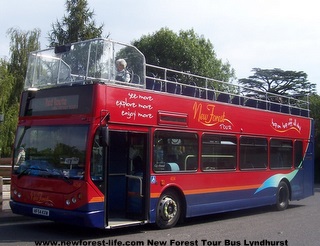 We were then off towards Fordingbridge. We passed the Rockford Lakes, a wildlife area on our right. This area has a WW2 history. Ibsley Airfield was once a very active part of WW2 Allied operations. The Control Tower can still be glimpsed, although it is in a sorry state, awaiting renovation.
As we travelled beside the River Avon, which is very popular for fishing I was amazed to learn that 30 species of fish can be found, including salmon.

The New Forest Water Park was on our left as we headed into Fordingbridge and glimpsed the 7 arches of the river bridge which gave the town its name. The bus doesn't go into the town itself but hop off and visit a pub for lunch or the Fordingbridge Museum or a wonderful shop called Timothy's which has beautiful, reasonably priced gifts for the home and lots more. I always go here for unusual Christmas gifts.
Our trip was nearly over as we headed up the hill towards Godshill again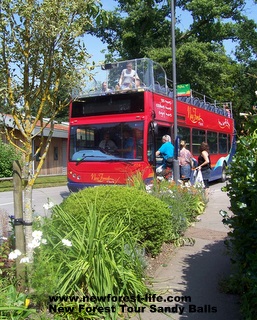 Here's why I can really recommend the New Forest Tour

Excellent value for money - you can pay for 1 day, 2 days or 5 days and see the whole of the New Forest by combining both Green and Red tours.

Petrol and parking to cover these distances would cost you more than the fare on the New Forest Tour

Flexibility - hop on, hop off and take your bike too

Stop and go for a walk - there are lots of easy, signposted routes all along the sightseeing bus routes for you to choose

It is fun to travel on an open topped bus - we even enjoyed it when we got a bit wet one year! - you can see so much more

We had a friendly, helpful driver which made the trip even better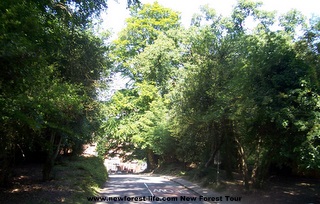 Here's how to find out more
The New Forest Tour receives a funding subsidy from the New Forest National Park Authority which is good news for both residents and visitors as it means these sort of fun activities can be made available to us. If you visit their website it is full of fascinating facts and information too!

I hope you discover this wonderful New Forest Tour sightseeing bus for yourself and that you enjoy even more of the beautiful New Forest National Park.
Read my New Forest Tour and Green Route Review to find out more.
Have a happy trip!
Back to Sightseeing Bus Page

Back to Home Page