My New Forest Tour Bus Review
Enjoy an open top sightseeing bus trip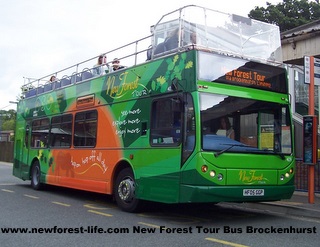 The New Forest Tour 6 July to 8 September 2019 Archive
My New Forest Tour Bus Review.
Where did I go and what did I see on this open topped sightseeing bus? Let me share with you what you will see, discover, explore and enjoy, on a day out on this circular, open topped, hop on hop off sightseeing bus. You can also take your bike on the bus - check with the driver as it will get very popular during the summer holidays!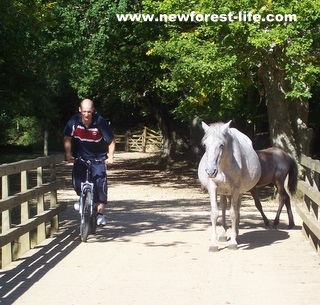 Here's what we did and what we saw.
We set off from BROCKENHURST station. Brockenhurst is one of the largest villages and is right in the heart of the New Forest UK National Park.
The bus stop is before the railway crossing if you are coming from Lyndhurst. The railway came to Brockenhurst in the 19th century, allowing the Victorian tourist to swarm here on their hols and it transformed the forest. Today it is extensively used for commuters to London and visitors to the forest.
We sat upstairs (which I would recommend) and although it took 2 days to get the tangles out of my hair, the views were well worth it!
We were soon making our way out onto the open forest, passing stunning thatched cottages on the way. The great thing about the New Forest Tour is that an audio track runs on parts of the journey and gives you snippets of local facts and stories - bit like my site!
As I have described, the New Forest UK National Park is made up of dry heaths, wet bogs and ancient woodland. We saw these mixed areas throughout the tour. The right of Commoning was explained. All the animals we saw were owned by Commoners and had to be maintained to a healthy standard. If sick, they must be taken off the New Forest to recover.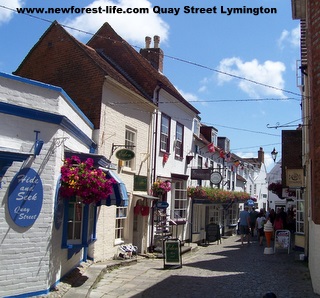 We then set off down the A337. Sway Tower was over on the right. This is a 66 metre/200 foot high gentlemans folly, built in 1879. Judge Peterson built this Grade11 Listed Building to show that concrete was a viable building material and so that fairies and pixies could be seen walking in the forest - very Victorian! - they really loved their pixies and fairies!
We carried on along the A337 nosily looking into peoples gardens and land from the top deck, until we approached LYMINGTON. We drove under the Ampress bridge which serves the Heritage Railway Line (we wanted to duck incase we hit our heads! daft eh?) and saw the Buckland Rings Iron Age Hill Fort on our right. You can walk or cycle round this lovely conservation area another day. Lymington was once a Saxon village in the 6th century called "little village near the marshy river". In the New Forest UK National Park you are never far from water and bogs and marshy ground. Lymington is a town of 3 "S's". It thrived on salt from the saltmarshes, smuggling in the little creeks and inlets and shipbuilding. There are still underground passages weaving below the streets where contraband was smuggled out of the sight of the Excise men. Near the harbour, press gangs would capture men who had too much too drink. They would find themselves far out to sea as unwitting sailors when they sobered up!

We stopped off here for an hour. You have a fantastic choice of shops, cafes, restaurants and places to see. For more history why not visit St Barbe Museum and Art Gallery it's really family friendly with lots of history to explore and enjoy.
Quay Hill is a beautiful cobbled street with many shops and cafes. It leads directly to the Town Quay where the Ship Inn offers marina side eating. Its location is great with lovely views across the quay. Children can do a bit of crabbing near the jetty or buy a fish net and see what they trawl? I haven't eaten there yet so can't actually recommend it from my own experience - I'll keep you posted though!
A stop here from the New Forest Tour also offers you a chance to read all about the great boat trips available. 

Next, we set off out of Lymington towards the port where you would catch the ferry to the Isle of Wight. Crossing the Lymington River we saw the reedbeds and saltmarshes which are a haven for water birds and wildlife - further down the coast the ponies can come right onto the mud flats and graze.
We were heading towards Beaulieu.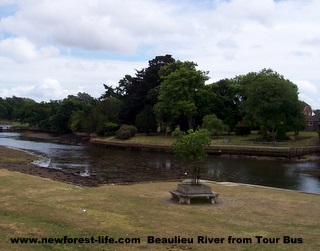 We heard a tale of murder and ghosts at one property we passed - but I'll let you find out about that when you go on the New Forest Tour yourself!
As we travelled over open heathland we saw the beautiful New Forest ponies with their little foals grazing on open commonland. We learned why burning is such an important part of conservation in this UK National Park. It keeps the gorse and heathland at a vital height for the birds and wildlife and encourages regrowth. The Dartford Warbler thrives in this unique environment.
East Boldre airfield was over to our right and was the first airfield on the New Forest and flew the Sopwith Camel.
We passed Hatchet Pond, a large area of water on our left and started to enter the Beaulieu Estate where you can enjoy a good days fishing.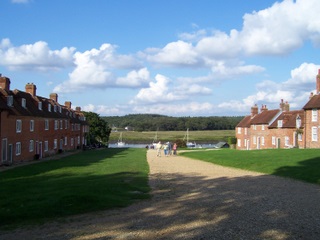 Again from our vantage point on the top deck we looked into beautiful thatched cottage gardens and the stunning Mill Pond at Beaulieu was on our right. Here reed beds nurture wildlife and the New Forest ponies and donkeys like nothing more than a long drink from the water edge. The New Forest Tour offers discounted entry here so it is well worth a stop to visit the National Motor Museum and lots more too.
Read my Beaulieu Review to find out more.
A visit to Beaulieu Village is well worth a detour too. There are some lovely shops and a great tea room. The Montague Arms offers a hotel, pub and restaurant. You can picnic either next to the Mill Pond or beside the Beaulieu River.
You can also do a riverside walk to Bucklers Hard Village which we have done, which is great. The Beaulieu River is a National Nature Reserve and before you get into Bucklers Hard village there is a "hide" you can visit amongst the reeds to see the local nature reserve birds.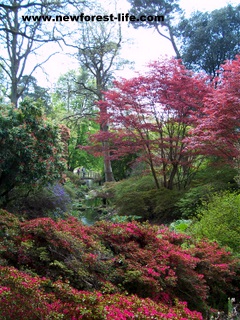 Heading off towards Exbury Gardens we again see lots of ponies, cows and donkeys on the open New Forest and also on the roads! The Exbury Estate - has a fascinating WW2 wartime history If you stop off and visit Exbury Gardens you can enjoy and explore a fun day out here too. You get a Free Steam Train trip with a voucher in the Tour Guide. This is a sweet little train which takes you round part of the garden. Apart from a stunning garden packed full of beautiful plants and trees, with quiet shady areas and restful lakes, ponds and streams you can follow the D Day Trail along the Beaulieu River and discover how vital a part the Exbury Estate played to WW2.
Back on the New Forest Tour we headed out of Beaulieu passing alongside ancient woodland where fungi can be found and where the natural cycle of nature is kept in check by the ancient woodland, rotting down to recreate its life cycle. You get a feeling of just how vital nature is to us when you see mixed woodland with trees which may be hundreds of years old.
We then headed over the forest past Beaulieu Road Station. You can see the Beaulieu Road Saleyard where the Commoners sell their New Forest stock in sales 5 times a year. The New Forest ponies and their foals come here to be sold.
We headed off towards Lyndhurst and passed the Denny Wood and Matley Wood New Forest campsites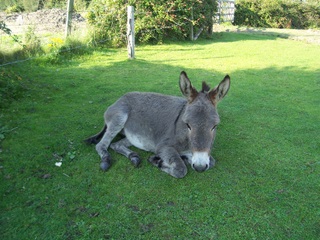 so if you are staying at the campsites it is a great place to join the New Forest Tour and have a day out.
LYNDHURST is classed as the "Capital" of the New Forest National Park, since William the Conquerer established the area as a hunting ground in 1079. The "Court of Verderers" is held here at the Queens House, to enforce the Norman Forest Law. I check their website regularly as a Commoner to see the Animal Accident figures and to see what local byelaws may be discussed. This is where I got details of my Commoners Rights. One day I might want to put New Forest ponies out on the forest.
In Lyndhurst a visit to the New Forest Centre is a must. There is a museum, gift shop and Tourist Information point to pick up leaflets and lots more info about your stay in the New Forest UK National Park. Lyndhurst has a rich history.
St Michael and All Angels Church is a huge and interesting church - the grave of Alice Liddell is here. She inspired Lewis carroll to write Alice in Wonderland. If you want a sit down and take in a view then a visit to Bolton's Bench is great. The hill is topped by a huge yew tree and is a lovely place to have a sandwich and a drink. There is a small supermarket in the High Street if you want to buy your own.
If not, Lyndhurst has lots of shops and many tearooms and you will be spoilt for choice of where to eat.
We got back on the New Forest Tour and headed out towards Brockenhurst to complete the circle. On our way we passed the showgrounds where the New Forest Show is held every year. We went this year and it is well worth a visit.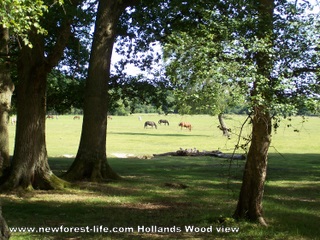 Visit my Hollands Wood Campsite review to find out more about this fantastic Forestry Commission woodland campsite. You can get on or off the New Forest Tour Bus here.
You might want to stop off for an hour or so to have a walk or visit my walking trails and routes for other parts of the route. Or perhaps visit my cycle routes, there are lots for you to choose from. There is a small "beach" beside the stream just up the road from here and it is really popular for a little dip either for you or your dog!
So our trip on the New Forest Tour has come full circle. I hope you enjoy your day out and the weather keeps fine for you to explore and enjoy all the wonderful sights and experiences the New Forest UK National Park has to offer you.

I hope you have enjoyed my New Forest Tour Review and that you will want to take a day out on this great sightseeing bus as soon as possible - it really is a good way to see the New Forest UK National Park in all it glory.
Enjoy and return soon!
Here are all the links you'll need to find out more about the trip.
Back to New Forest Tour Bus page
Back to Home Page